"Your initial thing when you get around someone that's so singular or so amazing at what they do is to try and do what they do. That's the worst thing you can do because there's already that person. The best thing to do when you get in those situations is to try and say, 'Ok, what can I do to complement what's going on here?'"
JD Simo collects gigs with other incredible guitarists like a jeweler strings beads on a necklace, except each of his "beads" is from another musical genius in fields that range from hardcore country to avant garde jazz, from delta blues to metal with meaning. And he does it with such alacrity that his latest album Songs From The House of Grease was recorded in two afternoons in his home studio and covers everyone from Mississippi Fred McDowell on "Mortgage on My Soul" to "Afro Blue" by John Coltrane.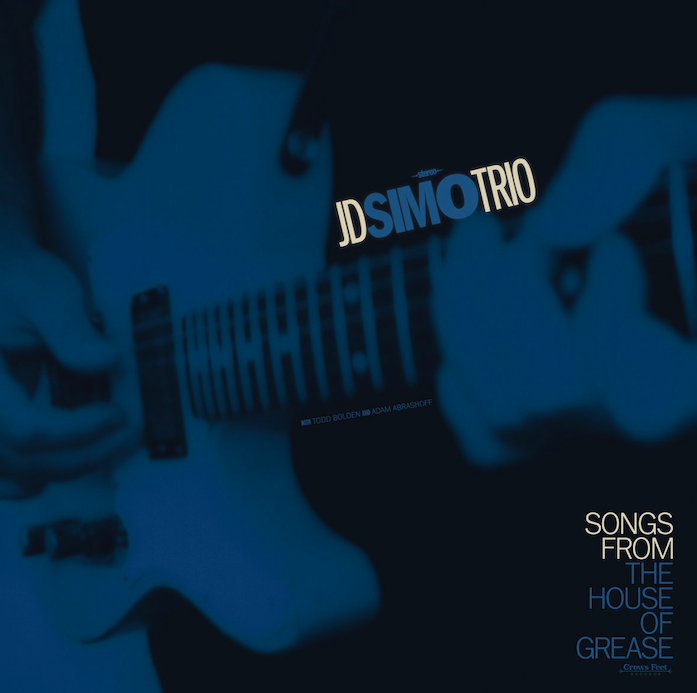 This 37-year-old musician has been playing on stage since before was in his teens and mixes and mashes styles like R.L. Burnside did on A Ass Pocket of Whiskey. "Higher Plane Part 1 and 2" is heavy metal with brains, a barren but not innocuous moonscape. "Missy's Strut" is blues on amphetamines." How Can A Poor Man Stand Such Times and Live" is a slow drag guitar with vocals sounding like they're right out of The Band's Big Pink: "Gonna put humans on the endangered species list." 
"(The actual recording time) was really short. It was two afternoons where we just leisurely got together in my studio. I think we spent more time eating lunch than working. It was a few hours one day and a few hours the next."
Simo played all the guitars on the hit film Elvis from 1956 to his death in 1977. The movie garnered rave reviews for capturing the energy and style of the music of the most important first-generation rock and roller grossing $287 million dollars worldwide. 
"We worked really hard on it. There was no stone left unturned as far as trying to make me as authentic for the myriad of different musical scenarios. It was a full circle thing for me. That's how I learned to play. Elvis was really the reason I wanted to get an instrument when I was a very young child, and not just the Elvis repertoire, but also all of the '60s rock and roll and Little Richard and the country music, Hank Snow and stuff like that, Sister Rosetta Tharpe and B. B. King and all that stuff. It's how I learned to play all that stuff.
"You just do it one fight at a time," he says about his work on Elvis. "Any big project you attack the same way. You just keep your head down, and you just try and do the best you can. I walked into it ignorant in that I didn't know who producer (Baz Luhrman) was which was a blessing because I walked into an environment to a recording studio I'd worked in with fellow friends from the recording community, fellow session guys, engineers.
"Dave Cobb was in charge of all the music supervision. He hired me to be involved in the project in the first place. I have Dave to thank for all of it, but it was wonderful as a true fan of all the things we were covering, whether it was Elvis or Sister Rosetta Tharpe for there are scenes where they wanted us to sort of assimilate Wrecking Crew-like incidental music where you're trying to sound like Tommy Tedesco. All of that stuff is like such a personal love of mine that being afforded the time and the money to try and make it as correct as possible was a dream."
The Wrecking Crew was a loose collective of Los Angeles-based session musicians who played behind hundreds of hit recordings in the 1960s and '70s. Tommy Tedesco was one of their guitarists.
"It was a dream project because we were completely enabled and encouraged to get as crazy with equipment and the actual recording process as such and to make things as accurate as possible. It was just a true joy, and it was a nerd's dream to get to do all these things, and when your head is in the work, you're not thinking about the scope of it. It's only in times when you're on break or you're listening to playback or something like that when it hits you how important what you're doing is or could be."
From blues innovator Jack White to The Grateful Dead's Phil Lesh, from Hill Country Blues' Luther Dickinson to country's back door man Cowboy Jack Clement and Chris Isaak, Simo has done it all. From little known geniuses like the Allman Brothers' Jack Pearson to Joe Bonamassa who got him signed to Mascot Records, Simo is ubiquitous.
"I was playing in bars and stuff when I was nine or 10 years old. I was one of those kind of kids, and it's a very disarming thing when you're that young, and you're not a threat. If you're humble, you know? So, I had numerous people who were really helpful in turning me on to 'you should listen to this,' or you download or whatever. It ran in all different directions. It was rock and roll. It was everything. Now, I don't claim as that young child truly grasping it all. Certainly, there was a point at 20 I suppose that I started to really unpack all of that for real. Nevertheless, I was exposed to it all, learned a good bit of it. So, fast forward to working on the film. It was a huge full circle moment for me.
"Like most young guitar players, I came into my teenage years a big Hendrix fan and all that stuff, and it was later I was well into my 20s where I had all these records, but I hadn't internalized it. I'd listened to them. I'd known them, but it wasn't until I was well into my 20s when all that stuff took a hold of me in a way that's very meaningful 'cause I think you have to be a little older and have some life experience. I think it was Mike Bloomfield who said that it's man's music, not boy's music."