Holy Moly & The Crackers have a sure-fire hit on their hands with the release of their fourth studio album Solid Gold which represents a significant shift from where they were pre-lockdown. The high flying, genre-busting six-piece band based in Newcastle upon Tyne, UK, suffered more than most when the pandemic hit right at the start of an extensive European tour. These exceptional musicians spent the next couple of years working mainly on their own but they never lost sight of their collective goal as they continued to practise, create and record music.
During that time, lead singer Ruth Lyon embarked on a successful solo career, her taste for Americana music flavored by last year's debut at the SXSW Festival in Austin, Texas. The result is that everyone's favorite festival band of frenzied folk-rockers with raw punk attitude is finding fresh musical directions without losing the essence of the soul which attracted multi-million music streams.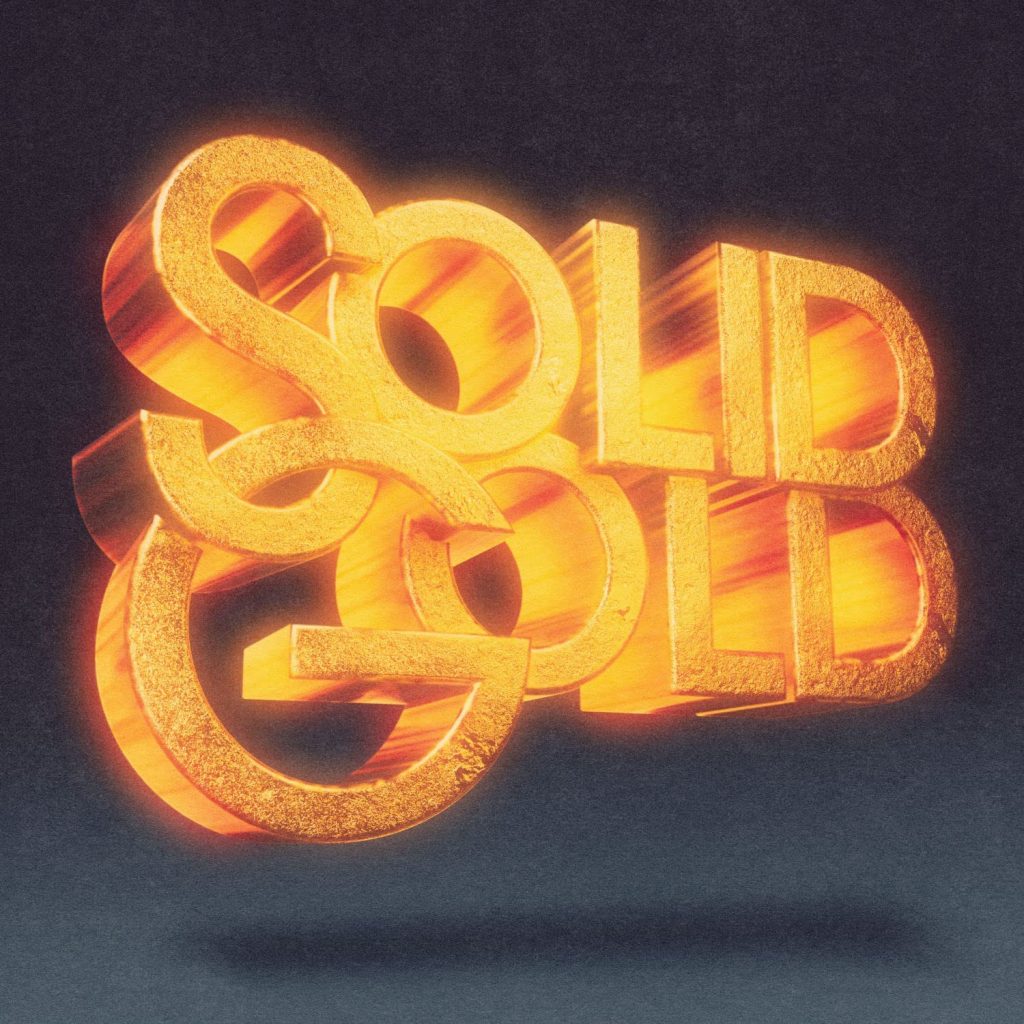 Solid Gold represents an evolution to where the band is at now and not surprisingly it's deeper into Americana whilst retaining the musical honesty, high energy and authenticity which were there from the beginning. Reassuringly, the trademark huge riffs, heavy rhythms, and grooves and adrenaline-fueled solos expected by their enormous fan base are still interspersed with and underpinned by traditional folk and blues roots. But there are changes, as band co-leader Conrad Bird explains, the lyrics have developed too: "It's about gold, money, junk, big roads, big skies, rivers, love and death. And a 'shit, I've just turned 30 in the middle of a pandemic' kind of existentialism.'" Conrad adds his own postscript to each album track.
The title track's compulsive heavy rhythm, memorable riffs and expressive vocals sets the scene for the gold rush to follow. What stands out is the increasing depth of feeling in Ruth's vocals, always perfect in terms of range and purity but here they sound even more soulful and profound.
"Tommy's been messing around with this riff for a few years now. We dug into it and found this song. It's about the dangers of playing out our dreams. We loved this as the title-track and opener. The beat, the riff – it felt like a good way to kick off the show."
"Skyline Drive," with its searing six string solos from Tyler and clever echo effects, propels Holy Moly into overdrive and shows how the band's sound is evolving with its rocking riffs, audacious vocals, sizzling guitar licks, soaring chorus lines, and late '60s anarchic psychedelic finale, all reproduced in this stunning video.
"Skyline Drive is a house in the mountains, overlooking the Colorado River deep in the heart of Texas. We were there in March 2022, staying up late drinking local rye whiskey and looking over the water… When we were kids, listening to Hank Williams and Sister Rosetta and Mississippi John Hurt and Dylan and Cash for the first time, this was the stuff dreams are made of. A few drinks in and the song came tumbling out."
When Lyon says she wants something, her attitude confirms that you better believe it as the Jack White-inspired "Bad Habit" proves.
"This began life as a poem about confusing love with addiction. Could be about a person, a drug, a life-style. We've been touring the song since 2021 as a punk garage rager, but in the studio twisted it into something with more groove and weight on the 1 and the 3. Nashville's Dead Weather's 'I Cut Like A Buffalo' was a key influence here."
Ruth's mood is more conciliatory on "Wide Sky" with its glorious backing vocals creating an ethereal vibe.
"This was another track from Texas. You've not seen skies as flat and wide. When you've toured like we've toured, you're always walking that fine line of burnout; always one stop away from getting off, but you never do. That's what this is about."
If "Come On Down" had been written by Bob Dylan and performed by Joni Mitchell and Scarlet Rivera, all three would have been proud of this song's production thanks to Conrad's emotive lyricism, vocal harmonization and Ruth's sumptuous violin interludes. This catchy, folksy track is a nostalgic return to the band's roots, enhanced in this highly evocative performance by the duo down at the lakes.
"This is a very personal song to me. When I was 17 my best friend died of cancer, two weeks from being diagnosed. We grew up together from the pram. It's taken me 15 years to write this song. That kind of tragedy is a hard thing to take when you're that age. It was my first experience of how shitty life can be. It's definitely coloured everything I've done since. You never get over that kind of grief, it just becomes part of you."
Lyrics by Conrad Bird and Ruth Lyon
"Come On Down"
The sense of injustice was too much to bear

Made my head spin like a carousel doing its rounds at the county fair

Travellers gather at a car boot sale picking up their morning bread

You left me empty handed, was it summit I said?

Come on down, down to the river we go

Come on down, down to the river we flow

I thought we had it all we wouldn't lost it till the end of days

But the future did just what it does I guess it was the only way

My oldest friend you're digging up the dirt your skull is a flower bed

It breaks my heart to think of how you left me where the rivers met

Come one down, down to the river we go

Come on down, down to the river we flow

Come one down, down to the river we go

I've been waiting for you to come on home

The night rolled in you were gone, the moon was burning red

I wish I'd said I love you and it's something I'll regret

But I'll bless the days we spent together living like we'd never die

Now all I got is a memory and that's all you can ask from life

Come one down, down to the river we go

Come on down, down to the river we flow

Come one down, down to the river we go

I've been waiting for you to come on home
The awesome "Hot Red" was the first lead single from the album and it is Americana on steroids with its rocking, mesmeric grooves, juke joint vibes, clever percussion, dramatic climaxes, synchronicity, and outstanding musicianship.
"The song is about being addicted to the road, about moving from horizon to horizon. I guess it was on our mind a lot over the last few years when we couldn't go further than the local park. It's the first track from our new album and shows off what we are trying to do musically- we focused on grooves, bass lines, finding space for the vocals to move and breathe."
"Like A River" enthralls the listener with the repetition of the line, "She moves just like a river."
"Lyrically, Dylan's Blood On The Tracks is the big inspiration here. Musically, Arctic Monkeys' AM album is all over it."
Bass and drums provide the backing for Conrad's atmospheric vocal introduction to "My Money" before Ruth joins him in the chorus with a bit of Ooh La La. Bird's trumpet interpolations are stunning.
"This is a fun one and we had a lot of fun making it, we hope you can tell. We're shamelessly stealing tropes and lyrics from American folk tradition; The gambler, the devil's red right hand: listen to Dylan's 'Walking Down The Line' from Bootleg Volume 1-3. You'll recognize the chorus."

Bird and Lyon duet on "Give Me A Hammer," their chemistry palpable on this hauntingly melodic composition enhanced by wondrous strings.
"I couldn't tell you what this is about, yet in the same breath it's the most biographical song I've written. My dad, an artist, brought me up on classical myth and biblical iconography. I'm kind of expressing moments in my life through these symbols and stories. The River Styx, Siddartha by Hesse, the moors of Northumberland, Persephone and Hades … let's have a whiskey some time, I'll try and explain it."
All good things come to an end but not before "Angeline" has her say, all musicians taking a bow on this virtuosic finale. "We wanted to lean into some big riffs and heavy beats, Weezer style. You've ever walked away from a lover, but couldn't get over them? This is this."
Not since 1982's Thriller has this reviewer heard a potential hit single from every track on an album. It was a brilliant decision to involve Nashville recording engineer Vance Powell from Sputnik Sound on this project. He has fond memories of Holy Moly & The Crackers judging from his message to American Blues Scene:
Similarly, Dutch producer Wessel Oltheten has taken the band's sound to a whole new level by maximizing the expressive performance of each musician. Conrad has the final word; "We really like this album and feel like we managed to twist out of our set formulas, to make something different and relevant to us as we are now."
Ruth Lyon – vocals & fiddle
Conrad Bird – vocals, guitar & trumpet
Tommy Arch – drums
Rosie Bristow – accordion
Jamie Shields – bass
Nick Tyler – guitar
Solid Gold was recorded in Blank Studios in Newcastle
Produced by Wessel Oltheten
Mixed by multiple-Grammy winner Vance Powell
Holy Moly & The Crackers hit the road for their biggest tour yet in April 2023, with dates in Germany, The Netherlands and the UK, including their biggest hometown show yet at Newcastle Boiler Shop, and are planning a typically frantic festival season after that. Solid Gold releases March 17 on Pink Lane Records.