Editor's note: Blues, jazz, and Americana guitarist Paul Asbell has played and recorded with Muddy Waters, John Lee Hooker, Howlin' Wolf, Lightnin' Hopkins, Otis Rush, Magic Sam, Earl Hooker, Lightnin' Slim, Paul Butterfield, Sam Lay, Pops Staples, Donny Hathaway, and numerous others while in his hometown of Chicago.
This entry originally appeared on the artist's Facebook, and has been published with Asbell's permission. ABS writer/award-winning author Don Wilcock commented on the post, "This is an insightful inside view of the trials you went through to stay focused on your art." Celebrated singer-songwriter David Bromberg once said of Asbell, "I've been a fan of Paul's guitar playing for quite a few years. I think he's one of the best-kept secrets in American music today!"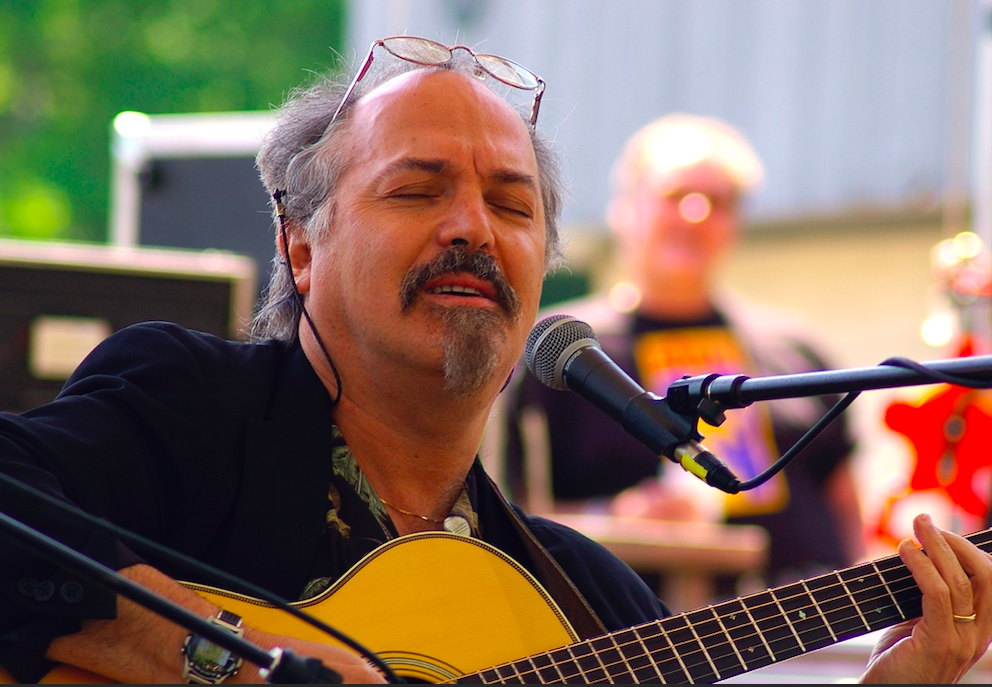 The first few months of 1968 found me living in a dingy apartment on my hometown of Chicago's south side, along with two guys I had befriended during freshman year at University of Chicago. While Peter and David began their second year at UC, I dropped out— thanks to a revelatory trip to Mexico over Christmas break, which depleted the money I had allocated as expenses for Spring Term. To make ends meet, I took a day gig as a messenger boy for the now-extinct accounting firm Arthur Anderson, working out of their skyscraper-size office building downtown.
Meanwhile, at night, I was playing blues clubs for $22/gig, working alongside men two and three times my age, and learning musical and personal skills which I still use to this day. The Arthur Anderson gig (the first and last "straight job" I ever worked) involved getting up way earlier than my lifestyle previously allowed, taking the "IC" train downtown, punching in to the office, and then spending the day running errands around the sprawling Chicago metro area. As a result, I learned a lot about the layout of the city, and neighborhoods other than the south side ones I grew up in.
I also learned a lot about the side hustles that other messenger boys at the firm were using to augment their meager salaries. One of those hustles involved travel receipts. Messenger boys were instructed to take cabs to and from our destinations, and then hand in cabbie receipts, in order to get reimbursed by the firm. But I quickly learned that in return for a generous tip, a cabbie could be persuaded to part with a fistful of blank receipts— enabling me to take cheaper public transit to and from the destination, and forge a cab receipt for reimbursement.
After a few weeks of mastering the finer points of this low-level grift, I discovered another additional benefit, which— when combined with my growing passion for the music I played at night in the clubs— became a powerful synergy of motivation. While walking from the "L" stop to my destination, I stumbled upon dozens of small record shops… many of which contained hard-to-find records of artists I needed to bone up on. (In this era of YouTube, Pandora, Google and file-sharing, it's hard to describe the "holy grail" search that blues fans once made, in order to actually hear the music of then-obscure artists like Robert Nighthawk, Doctor Clayton, Baby Face Leroy, Earl Hooker, and countless others who we only knew from reading the liner notes of out-of-print LPs… but I digress.)
Thanks to my enthusiastic pawings through the dusty bins of these record shops, I learned the names of dozens of fly-by-night record labels which released music by the lesser-known blues artists I was searching out. Labels like Cuca, Parkway, Chief, and USA soon became the focus of my quest. Of course, I was already head over heels in love with south Texas bluesman Lightnin' Hopkins— so when I found a 45 by a guy I had never heard of named Lightnin' Slim on a label out of south Louisiana called "Excello," my spidey-sense started tingling. I eagerly snapped it up, and took it home to listen to later.
Suffice it to say, my spidey-sense wasn't wrong. It was clear that Slim's style WAS in fact quite reminiscent of the much more famous Lightnin Hopkins, which presumably was why Excello Records owner Jay Dee Miller decided to give Otis Hicks the moniker "Lightnin' Slim" on his 45s, like the one I had just purchased. For years, that Excello 45 of "My Starter Won't Start" was one of my favorite finds from those record-scavenging days.
By 1971, I had managed to get a bit of a name for myself from playing with older bluesmen – on the south side where I lived, and on the tougher west side, where artists like Magic Sam, Luther Allison and Howlin' Wolf often played.
One day, I received a call to play guitar for Lightnin' Slim and Lazy Lester at the University of Chicago Folk Festival. Since I was already a fan of Slim's records, I was looking forward to playing some of his Lightnin' Hopkins-inspired deep blues on the program. But, much to my disappointment, we didn't.
Failing that, I was hoping we might play some of Hicks' brother-in-law Slim Harpo's more well-known hits, like "King Bee." Or Lester's classic tunes, like "Sugar Coated Love." But that, too, never happened. 
In fact, my recollection is that Slim played a set of fairly derivative popular tunes— including "Route 66" and a Chuck Berry tune or two. Why would an artist choose songs like that to play at a FOLK Festival, instead of the tunes he had made his mark with? Well, I suspect Slim was under the impression that white audiences in the north were more familiar with songs recorded by rock groups like the Stones than ones recorded by a deep-blues man from Louisiana. In this particular case, however, Slim's spidey-sense was sadly off-base. By 1971, audiences like the one at the UC FolkFest were clearly hoping to hear "the real deal." And in their minds, Chuck Berry and the Stones weren't it. 
The UC show left me with an uncomfortable feeling of mismatched expectations— my own, Slim's, and the audience's. Additionally, I felt a sense of mutually misunderstood cultures – something I rarely felt in the blues bars where I regularly played gigs. As a result, I soon forgot about the Lightnin' Slim show, until many decades later.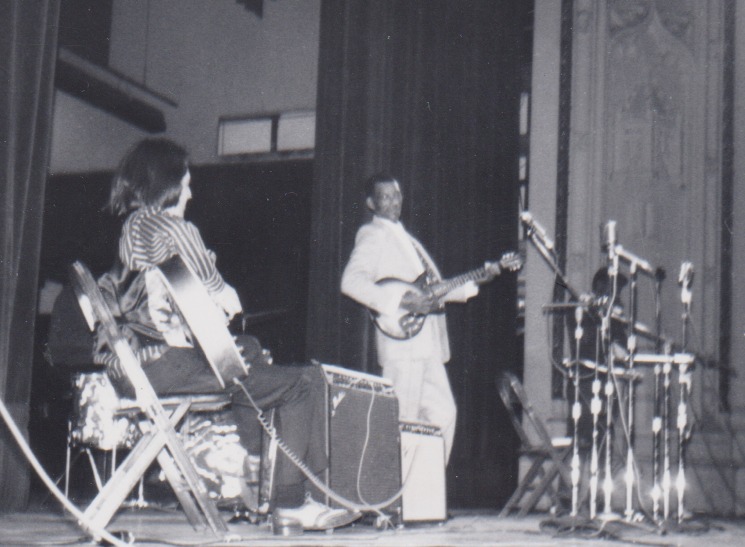 A few years ago, I received a FB friend request and a note from a guy named Fred Reif informing me that he had discovered a few grainy, lo-res photos that were taken at that show. As I soon learned, Fred was the guy who had rejuvenated Slim's career in 1970, arranged the UC Festival gig, and subsequently provided Slim with the opportunity to tour Europe in the three years that followed. Respect, my man!
Haphazard as they may be, these photos are some of the few I've ever seen of those particular days of my life, when cellphone cameras were just a gleam in Steve Jobs' eye. I'm grateful to be reminded of those days, the people I worked with, the hair that got showered down the drain, that long-gone Gibson ES-295 guitar, and those shoes. Thanks for the memories, Fred!
Otis Hicks was born 110 years ago. Happy Birthday to south Louisiana bluesman Lightnin' Slim!