I don't remember seeing a venue fill up so early in the night as when the Pistols At Dawn took the stage to a nearly packed house. Mammoth WVH played second with a short but sweet setlist that didn't disappoint the rowdy Tempe crowd. Alter Bridge highlighted the night with a show for the ages. These three bands made for an incredible night of music, and a lineup I would see again.
Fresh off their debut album, Pistols At Dawn need to be recognized; I'm sure we will be hearing a lot more of these guys in the future.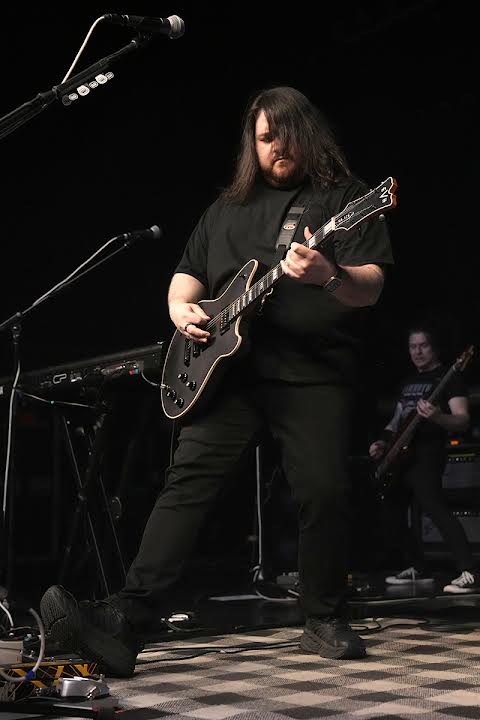 Mammoth WVH kicked off with a couple of their slower tunes but picked up the pace after playing "Distance," the band's first single off their first album, a fan favorite and top hit. Wolfgang Van Halen, lead singer/guitarist jumped back and forth playing the guitar and keyboards, and threw in some amazing guitar solos that would make his pops proud.
At the end of a short setlist, Wolfgang introduced the band as well as introducing their new single "Another Celebration At the End of the World," hot off the band's second album titled Mammoth II, which will be released August 4th of this year. The band has done it again with a powerful tune that will carry this album, with a kickass little guitar solo that was fun to experience. Later on lead singer of Alter Bridge Myles Kennedy praised the two opening acts as well as telling the sold-out crowd that rock and roll's future is safe with Mammoth WVH.
Alter Bridge finished things up with an incredible set that rocked The Marquee Theater, Myles commenting on how rowdy and loud this group of fans were. Myles, guitarist Mark Tremonti, bassist Brian Marshall and Scott Phillips on drums know how to rock and roll. AB, fresh off a new album of their own titled Pawns and Kings, performed old and new. Myles and Tremonti even switched roles, proving how talented these guys are; Tremonti sang on "Burn it Down," while Kennedy took on a guitar solo during "Watch over You."
"Sin after Sin," one from the new album, showcased the talent of these musicians. The band fed off the crowd's energy, and tune after tune it seemed like it got a little louder and louder in the packed Marquee Theatre. The make-up of this group is a special one; I love Myles when he sings with Slash, and love Tremonti's solo stuff singing Frank Sinatra. Alter Bridge is worth seeing live. Just ask Tempe, Arizona. I still can't get over how fired up this venue was. The band continues their tour before leaving for Europe.