Lectric Liz Lottmann is the founder of an all-female roots rock/R&B vocal group called Divas on Fire. The name is not hyperbole. They ARE divas, and they ARE on fire. They're second on the bill of an all-day extravaganza, headlining Paul Thorn, called The Delta Roots Music Festival on Saturday, April 22 in downtown Helena, Arkansas – brought to you by The Sonny Boy Blues Society, the same people who put on the south's premiere blues festival, King Biscuit, and have since 1986.  
Lectric Liz is a spitfire. Has been for almost half a century. Her group Divas on Fire features five veteran female singers who live up to their name and are featured performers at the third annual festival. Other vocalists in the group include Dawn Cate, daughter of Arkansas music legend, guitarist Earl Cate of the Cate Brothers Band; Ocie Fisher, Northwest Arkansas Music Awards Hall of Fame four-time Female Vocalist of the Year; Rachel Fields named The Nashville Blues Society's First Lady of the Gospel Blues; and Tori Rudolph whose been singing in church since she was four and joined the Divas at 17. Divas on Fire is accompanied by keyboardist Tom Katz and Robert Spoon on guitar. Tom and Robert are professional musicians based in Northwest Arkansas.
She described the band's sound in ways that live up to the "fire" part of its name: "Definitely rock-based blues, R&B and gospel. Rock in the sense that our sound is fat and full and pretty much in your face."
"We want to play any festival down there we can," says Liz. "It's a great honor to do it, but I don't know how they put us next to Paul Thorn. I don't know who made that decision, but I think it was the right one, (chuckle). The purpose of a music support organization is to expose these tremendous unknown artists to an audience that will take a little bit of them home with them."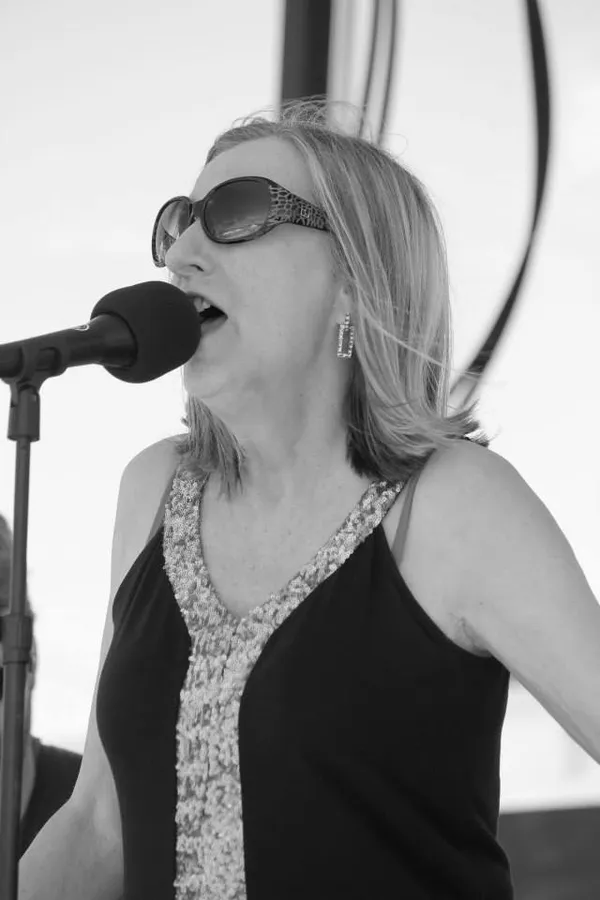 Vocalist and songwriter Lectric Liz Lottmann's 50-year career began hanging out with the hard rock band Black Oak Arkansas and recording at Sun Studios with members of Jerry Lee Lewis' band. She's played jazz and blues clubs around the world and is the music coordinator for the Pinetop Perkins Foundation's annual Homecoming in Clarksdale, Mississippi.
As a kid, Liz hung out with a bunch of guys in a garage band that later became the hard rocking band Black Oak Arkansas. They sang songs like "Fistful of Love" and "Moonshine Sonata" and were led by Jim Dandy, a guy who wore tight leather pants with a sock in his crotch.
"Thank goodness I grew up in Black Oak, Arkansas more than in Jonesboro because it gave me a healthy skepticism about everything. Our family founded a huge Baptist church in 1892. I stopped going there when I was 11. You couldn't make me go. And I started going to dances without dates when I was in high school because I didn't have a good time when I went with the boys."
She started playing what she calls barbed wire folk at 14. "I covered a lot of Joan Baez back in the weepy days of melancholia. But I had this itching. Whenever I played those songs out, I'd think this isn't me. I just did this Arkansas thing and decided I would start kicking a little butt. Even at a young age I was putting rock and roll type of sexual innuendo in my songs. I didn't know what to call it back then, but I was acoustic. I wrote my own songs, and I didn't whine.
"(Legacy blues artist) Furry Lewis played a lot of the coffee houses. I got him to show me some open tuning that I could play around with, and it also fascinated me to watch him how he played the strings. He would pull that E string back at the edge of the neck, and it would bend the note, and then he would release it and it would go (She imitates the sound) like that, and I learned how to do that. I really appreciated it. I used it a lot in my writing through the years."
As a young adult, Liz connected up with Jud Phillips, nephew to Sam Phillips who founded Sun Records and discovered Elvis. "Jud was an extremely charming person. He could get anything out of you in the studio, and he made me grow as an artist. We had a couple of real strong disagreements about how he was producing my songs, but when I look back on what he was doing, I realize I should have said, 'All right. Go for it.' The things he was doing were very sophisticated to my 'barbed wire folk' ears, and I wasn't there yet. We survived our disagreements and stayed friends for many, many years.
"The musicians I worked with were Jerry Lee Lewis' drummer, Tarp, and Sandra Rhodes, Donna Rhodes, and Charlie Chalmers. All these extraordinary musicians gave me confidence to go on to be in bands because I knew how to talk to musicians by then. I knew how to talk to sound guys.
"I was not a chick singer. I was a musician vocalist — a Memphis musician. Looking back, I realize that was probably a great thing that happened because I just wasn't a singer backed up by somebody in the studio. I was an artist. So, in the long run it was good. But it really did come from Arkansas where I was raised up the road from Helena in Jonesboro, and from listening to 'King Biscuit Time' down there. So, that was my background, and I put it to work.
"In the '70s, people were outraged at what I did and said, how I sang and what I was on stage. And my attitude was 'Get over it. This is me.' I didn't even realize it at the time, but a lot of my phrasing and the recklessness with which I sang it was so liberating — just like a lot of the Delta blues artists. I don't remember ever imitating any women I heard. I was imitating the men, and they're the ones that gave me what I felt to be power in the type of music I did. Women back then were still singing about their broken hearts and how bad their men treated them. I mean I just wasn't about that. I was the one that was going to mess you up.
"I was fighting back. I was like 'Don't tread on me.' If you don't like what I did, how I dressed, how I sang for a white girl, then stand back there and be outraged, I don't care. But I got your money. I think that other women didn't make themselves feel more elevated in the way women are supposed to be. I was kind of like their platform to step on, but there was something I always told men when they were all high and mighty. They put a woman up on a pedestal, but all they want to do is look up your skirts."
A diva was born.
Decades later, Liz finally met Sunshine Sonny Payne, the patriarch of "King Biscuit Time," the first radio show on KFFA in Helena, Arkansas to feature live blues music in 1941. "When I was 14, I had my first band. It was called The Miss Chords, and we were an all-girl band. It's so funny because now it's come full circle with the Diva females. We played a lot of dances, such as graduations at the Helena Country Club. Sonny's trio would play every Friday night. I didn't know that.""
When Liz finally met Sonny decades later, he asked her when she started playing.
"I told him I had a band in Jonesboro when I was 14 called Miss Chords, and as a matter of fact we played Helena Country Club one time back in the '60s. He looked at me, stared at me, and he said, 'It was you!' I said, 'What do you mean it was me?' He said 'You (cheated) me out of a gig one night.' He pretended to be so mad at me. Then, he started laughing and said, 'Good for you. You've been at it for a long time.'
Liz talks about playing with artists in Memphis such as Bukka White, Furry Lewis, and Lightnin' John Hopkins. "We were playing the same clubs. They were our buds. We didn't know they were famous. The Brits coming in the '60s were digging up the roots and making them famous. To us they were just our buds."
Other acts appearing include The Oxford AllStars, Earl & Them, Calvin Lee, John Mohead, CW Gatlin, The Bill Jeter Band, and Fonky Donkey.