The Tedeschi Trucks Band is arguably the most unassuming band in music today.  There's no swagger.  No flamboyance.  No showboating.  It's all about the music.  But if the old adage "Let the music do the talking" is true, The Tedeschi Trucks Band do a heck of a lot of talkin'.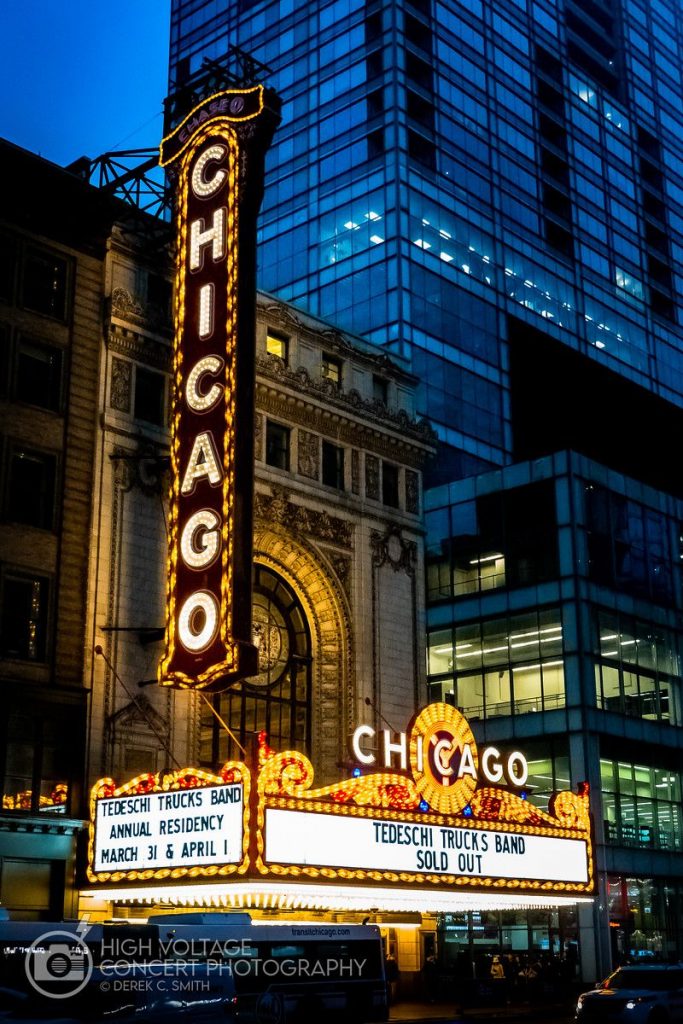 Ending their annual residency at The Chicago Theatre on March 31st and April 1st (it began two weekends earlier with shows on March 17th and 18th), the band played nearly 40 songs over two nights that screamed of blues and R&B superiority.
The music was anything but modest. It was both fiery and mesmerizing. Two extraordinary nights that would leave any music fan flabbergasted about their performance.
The band's ability to astonish is certainly helped by the prowess of Derek Trucks. His combination of speed, dexterity, and phrasing is unmatched. Even to see it in person, however, is not a guarantee to believe it. No matter how many times I have seen him perform, I am always astonished at his wizardry. He is truly magical, but never overindulgent – consistently serving the music, not his ego.
At the Chicago Theatre, Trucks once again dazzled, the highlights of which included "Pasaquan" from the first of the band's four album release in 2022, I Am The Moon: I. Crescent, as well as "I Want More" from their 2016 release Let Me Get By, "Get What You Deserve" from Trucks' own 2009 release Already Free, The Allman Brothers Band's "Don't Keep Me Wonderin'," Derek and the Dominos' "Keep on Growing," and O.V. Wright's "I'd Rather Be Blind, Crippled and Crazy." "Pasaquan" was a particular treat as it came early in the set of the first evening – a spot rarely reserved for 20-minute epic jams. It also highlighted the co-anchors of the band – drummers Tyler "Falcon" Greenwell and Isaac Eady – who went head-to-head on an extended drum battle that had the crowd hollering in excitement.
During the ensuing night, the band opened their second set with the aforementioned cover of "I'd Rather Be Blind, Crippled and Crazy" before heading into "Laugh About It" from Let Me Get By. Trucks broke a string during the song, opting to replace it himself while the band continued playing. Without missing a beat, keyboardist and vocalist Gabe Dixon performed an impromptu solo. It was an electrifying moment, but not surprising in the least for fans of Dixon who are well aware of his skill in consistently laying down the funk (and vocals) for this band, such as he did at the Chicago Theatre on "Don't Keep Me Wonderin'," "Gravity" (from I Am The Moon: I. Crescent), and "Ain't That Something" (from I Am The Moon: II. Ascension).
The other great gunslinger in the band, as fans also know, is Susan Tedeschi. She tore it up both nights, digging deep into her emotional well for the soulful and bluesy "Misunderstood" and "Whiskey Legs" (both from the 2013 release, Made Up Mind), "I Want More" (from Let Me Get By), "Yes We Will" (from I Am The Moon: III. The Fall) and Bobby "Blue" Bland's "That Did It."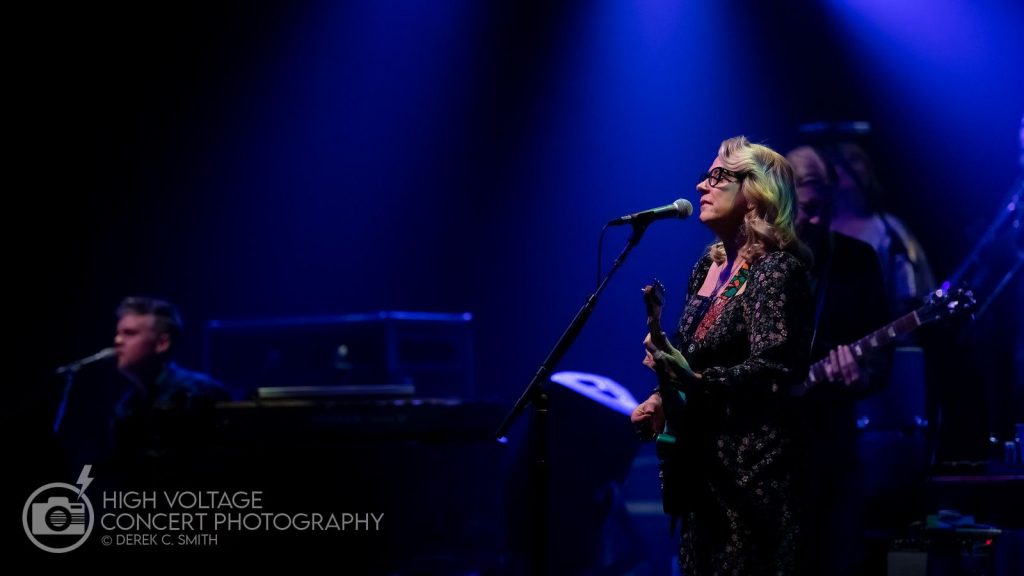 Tedeschi's vocals and guitar playing, however, are not all fire and brimstone. She can equally bring down the house with her beautiful tenderness. She did just that at the Chicago Theatre with such fan favorites as John Prine's "Angel from Montgomery" and "Midnight in Harlem" (from the band's 2011 release Revelator). Other Tedeschi-fronted highlights from the weekend included her take on Willie Nelson's "Somebody Pick Up My Pieces" and three great songs from I Am The Moon – "Rainy Day," "Take Me As I Am," and "D'Gary."
No music fan could really ask for more from either night, but the Tedeschi Trucks Band always has so much more to give.  And they gave a lot more at the Chicago Theatre, with the gravelly-voiced Mike Mattison transporting the audience to the juke joints of the Mississippi Delta with his always sensational takes on Bessie Smith's "Gin House Blues," Bob Dylan's "Down in the Flood," and Sleepy John Estes' "Leaving Trunk" – not to mention the aforementioned "Get What You Deserve."
But even that does not complete the sound of the Tedeschi Trucks Band. Elizabeth Lea (trombone), Ephraim Owens (trumpet), Kebbi Williams (saxophone), Mark Rivers (harmony vocals), Alecia Chakour (harmony vocals) and Brandon Boone (bass guitar) are not mere cogs in the machine that is the Tedeschi Trucks Band, but rather essential to creating the distinctive sound that allows this band to ascend beyond the bounds of a traditional blues and rock band. The band culminated this ascent at the Chicago Theatre by closing their residency with two lengthy jams that highlighted the collective contributions of all twelve members – Billy Taylor's "I Wish I Knew How It Would Feel to be Free" and The Coasters' "Let's Go Get Stoned."
Another great residency, but with this band, perhaps four dates was still not enough.
For more information on upcoming tour dates, including their recently announced headlining show at Madison Square Garden, head to the band's website.
All images: © Derek Smith / High Voltage Concert Photography for American Blues Scene