From the streets of New Orleans to sharing the studio and stage with some of the greatest musicians in the world, Trombone Shorty's career has been one of incredible highs. After many years of elevating others' compositions, the charismatic musician's solo work has taken on a life of its own. And since signing with the legendary Blue Note records in 2017, he's garnered an even stronger fanbase across the globe.
American Blues Scene caught up with the multi-instrumentalist in Australia before his long-awaited performance at Bluesfest Byron Bay (ABS's Top 10 Moments) to chat playing the Whitehouse alongside BB King, his new album Lifted, working with Gary Clark Jr, lessons from musical heroes, the joy of the blues, and the exciting new project that's to come.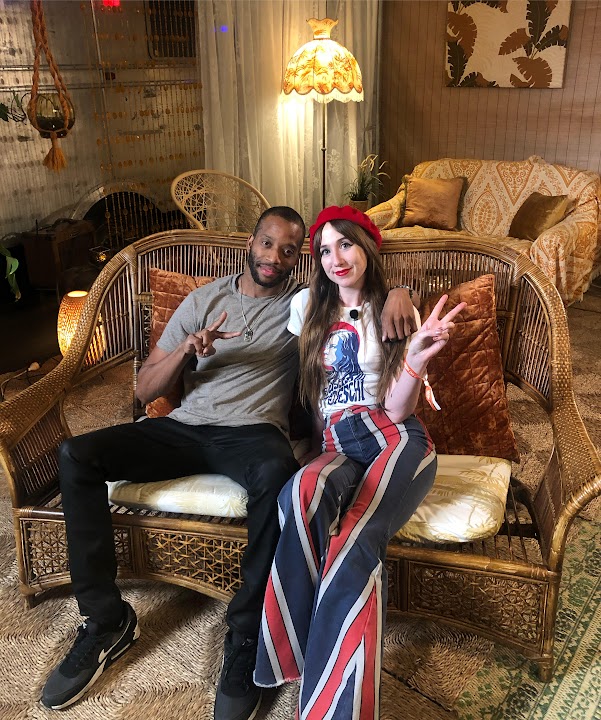 You're back at Bluesfest again. We love you here! What's your favorite thing about playing the festival?
I've been looking forward to playing Bluesfest again for many years now and the energy of the people here is just mind-blowing and since the first time I played it I've thought, "I have to get back here as much as I can."

It's just an incredible festival. I'm always excited and honored to be asked to play here. I've had this on the calendar for a few years, but the pandemic slowed everything down. So I'm happy to be returning here and getting this love from the people and giving them the love back. It's one of the most exciting festivals that I love to play.
Yeah, Bluesfest is a unique festival in that way. Being that we're at a blues & roots festival, how have the blues inspired you and what does it mean to you?
The blues is all in me. We play blues, and my grandfather was Jessie Hill, rhythm and blues singer in the '60s and '70s in New Orleans. We played the blues on the streets of New Orleans, so blues music is part of that fabric I come from; it's very important. Blues is in everything that we hear. It's the soul. It's the spirit. It's the excitement of that guitar, of the stories that are being told. The blues is in everything we do.
Speaking of blues, in 2012 you played the Whitehouse alongside blues royalty BB King. What was it like to share the stage with him?
It was amazing to share the stage with BB King, to be there on stage with him and Mick Jagger, Booker T of Booker T and The MGs, Gary Clark Jr, Susan Tedeschi, and Derek Trucks. And to then open my eyes and see the first lady and president there. But to be able to play with BB King, I remember watching him here in those days and being able to just watch him perform, learn from him, and take some things from his show that I could use on my own. It was just an amazing feeling, and I always wanted to play with him so to do it that one time on stage at the Whitehouse was just incredible.
How astounding! What a special moment. Now, you mentioned Gary Clark Jr, he's featured on your latest album. How did that collaboration come about?
Gary Clark and I have been collaborating live for a long time. We always share the stage with one another. He'll come down to New Orleans with me, or I'll play with him. And I just had this song "Standing Here," and I thought it would be wonderful for his style of guitar which is very blues-rock-based and soulful. I just thought it would be wonderful. So, I reached out to him, and he was gracious enough to bless the album.
Awesome. Lifted is your second album with the iconic Blue Note, what's your favorite song from the album to perform?
Right now, there are two of them: "Lifted" and "Standing Here." Those two songs are really giving me a lot of energy and taking me back to rocking out the crawl, but my favorites could change tomorrow.
You've worked with so many amazing musicians in your time. Do you have any one piece of advice that a hero has given you that's really stuck with you?
It's just really to be authentic, be who you are, and find a way to learn from everyone. Soak everything in, but make it your own and then put it back out. For me, a lot of heroes and legends and people I look up to have just told me to be myself, and it's just a mutual honor to play with each other because we both learn from each other even though I'm trying to get more of a lesson from them.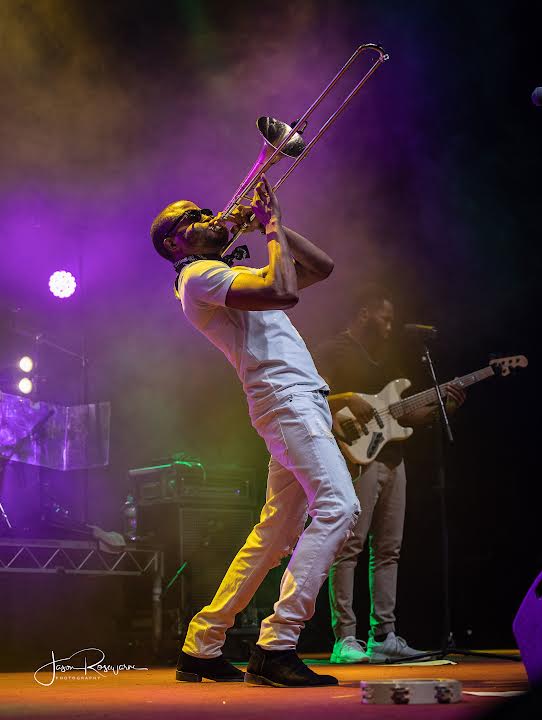 Great. Now I must ask, what is it about the trombone that has had you hooked for so many years?
I don't think I had a choice with the trombone. Growing up, my brother played the trumpet, so in the house we didn't need another trumpet player. I played trumpet, too, but he had me as his sidekick; every trumpet player in New Orleans normally has a sidekick trombone player, so growing up underneath him he pushed me towards that. I didn't have a choice and I just stayed with it. It chose me.
What was inspiring you at the time of writing your new album?
I think we just wanted to play and put the joy of music out there and put smiles on people's faces, even if we're singing a sad song. Where I come from we're still dancing. It's kind of like Bob Marley's "I Shot The Sherrif" – you're still smiling and having a great time so that's just what we wanted to do.

I don't think I have any mindset of what I want it to be about; I just go in there and create music and then we shape up the album based on which tracks sound like they could be cohesive and put them together. It just happens like that. Each day you may feel different, or something might trigger some type of inspiration, and that's just basically what it is.
I love that! What's next for you? What are you currently working on?
I just finished a record. I produced and played on an album for the New Breed Brass Band that's coming out later this month before our jazz festival in New Orleans. I played on the whole album, and I co-wrote part of it.

I'm really excited about that because some of them are my family members. My little cousins and nephews and people from the Treme neighborhood. I'm excited to be able to give them a launching pad to start their career, and hopefully they can come to the Bluesfest one day!

So, that's what I'm working on right now. I'm excited to get back home and to perform with those guys and to play some of the music that I grew up playing.