The Dan Montgomery Interview
Let's start with the process of recording the new album including the vibe in the studio.
Due to the pandemic and its inherent restrictions – and the fact that we're not the kind of band to record remotely – this album was recorded pretty fast. The basic tracks were done in four two-hour sessions. There were pretty minimal overdubs as well.

We recorded at The Shack in the Back, our drummer James Cunningham's studio here in Memphis. It's a very small space but he gets amazing sounds there. We don't use headphones other than James as he's engineering as well as drumming. We've done our last three or four projects there now, so the vibe is homey and relaxed.
How did the album launch go?
It's gone great so far! We partnered with Howard Wuelfing's company (Howlin' Wuelf), and it's really helped a lot. Making a record and promoting a record are two very different muscles for sure. But doing these interviews and such, it's nice to feel like the record is actually being released rather than… escaped.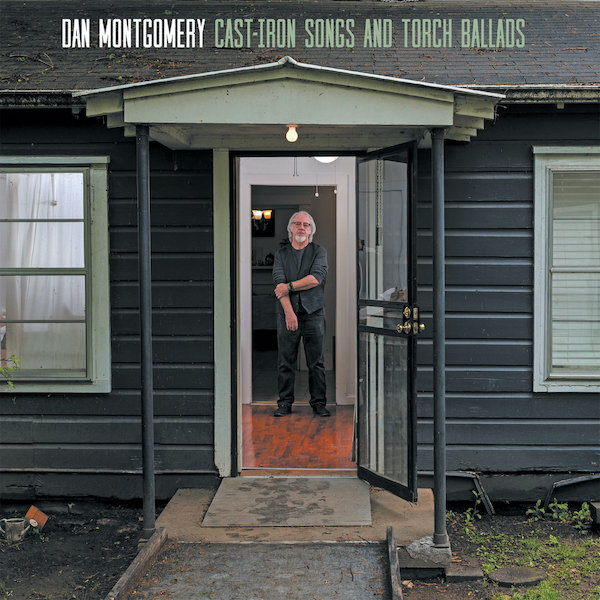 Tell me about your band both as individual musicians and collectively?
The core of my band has been in place for about six or seven years now, so we can read each other really well. That cuts out a lot of the hemming and hawing when you start a new album. Usually I have ten to fifteen songs to pull from but this time it was two songs per session. The band consists of:

Dan Montgomery – Vocals, guitar, keyboards

Robert Mache – Guitar, keyboards, percussion, vocals

Candace Mache – Vocals

James Cunningham – Drums, percussion

Tom Arndt – Bass, vocals

We had additional help from Jim Spake – Sax and Rick Steff – Keyboards
What is your overall assessment of your seventh album? Have you achieved what you set out to achieve?
It's probably not the record I intended to make, but it turned out to be the album I'd always wanted to make! It covers a lot of ground musically and lyrically. It was such an easy and very immediate album to make that you can feel suspicious that enough blood wasn't spilled (laughs). Which is ridiculous, of course.
Give us some insights into your childhood and earliest musical memories. What was the first record you bought?
My first record bought would have been a Grass Roots 45. Maybe Lovin' Things. I had most of them pretty quickly. I was lucky in that my sisters were ten and twelve years older than me, so I inherited a lot of '50s doo wop and R&B and British Invasion stuff. When I was 13 I had a paper route in Camden, NJ. A guy that kept ducking me about paying his bill when I caught up with him asked me if I liked music. I said yeah and he came back with a big stack of LPs. He said, "This is really weird music and you seem like a really weird kid." It was mostly San Fran Psych stuff but in the middle of them was an original copy of White Light/White Heat by the Velvet Underground which honestly scared the bejesus out of me but later became a manifesto for living (badly!). I never did get the six dollars the guy owed me, but that copy of WL/WH goes for a whole lot more, so…

I didn't have a lot of bread for records so I really didn't get a lot of the really big records (Floyd, Sabbath, Zep) since all my friends did and I would tape their copies (sorry music industry…) and got some more left field picks (Cowsills, NY Dolls, Audience) generally. It was more economics than striving to be an outsider musically.
Summarize your career as a musician and the influences from the places you have lived.
I grew up in the South Jersey/Philadelphia area at a time when radio was really great and really eclectic. Both AM and FM! As a musician, I started playing in cover bands at 14 and later did the solo singer songwriter rounds at coffee shops and colle folk clubs. Punk happened and that really had a big effect on me, especially in terms of performances.

I've had nomadic periods and ended up in the CA desert or the hinterlands of Michigan or now Memphis. I wouldn't try to ape the city's style but after enough time you can't help but absorb a lot even if just by osmosis.
Have you pursued other careers or interests?
I have made several attempts at a "Real Life" in jobs and such but once a freak, always a freak I guess. My resume is wildly varied. You would look at it and say either "This guy can do anything" or "Damn, this guy can't hold a job!. Despite that, I've always had a musical pursuit as the motivating source in my life.
Which musicians have inspired you most, and why?
So many and luckily the list keeps growing! The one-two punch that made me want to be a songwriter was Jackson Browne's Late for the Sky album (which also had a huge effect on my tastes for guitar tones and a love of slide guitar thanks to the great David Lindley!) and then I heard Randy Newman's song "Marie" and I thought "You can write a love song and still be the bad guy" and I thought that was really interesting. Which funnily enough was the stance of a lot of Punk songs, so it's all connected.

A grounding in basic Rock and Roll but longing for lyrical depth brings me to Lou Reed. I've always said I don't mind being called a Singer – Songwriter as long as you realize my definition of that includes Lou Reed and Chuck Berry.

Anybody that keeps going and keeps growing has my respect!
Your lyricism is impressive. Can you talk about the process you engage in when writing songs? Do the ideas come first, or the melodies?
More often than not, I'll read or hear (and often mis-hear) a phrase or a comment or something you might blurt out either in exasperation or hopefully joy and build it from there. I love to be in a diner and the couple in the next booth is getting into something. I want to leave before they resolve it so I can decide how the story ends (If it ends…). Sometimes the music is immediate and you hear it in your head as you're writing it just walking from the store. Sometimes you sweat over those changes like you do a rhyme that just won't come together.

On my third album You'll Never Be a Bird I wrote all the music first more as an experiment and a chance to shake things up. In retrospect, it's probably my most melodic record. I'm actually trying something similar currently…Results vary…

On Cast-Iron Songs and Torch Ballads it was an experiment in a lot of writing spontaneously and trusting my belief in myself as a writer rather than needing a "muse" or "Grand Inspiration" I was kind of surprised and suspicious of how easy it was honestly. A fellow writer said "This is your seventh album. You've put in your ten thousand hours dude. Enjoy it!.
What keeps you motivated to carry on playing?
A lack of common sense? Searching for that rhyme for Orange?

I enjoy it more and more both as an intellectual pursuit and as a visceral communication between us and the listeners. There's a dozen of really good reasons not to continue these days; the money is worse, the opportunities are fewer, the field is ever more crowded. Feel free to add your own.

The reason to carry on? I honestly feel I'm getting better and I don't feel like I'm rewriting the same song over and over. The two worst words to rhyme in the English language are Life and Love. All the rhymes suck or are limiting and cliched. And when you break it all down, all we write about is Life and Love really. It's all about new ways to say these things without using those actual words.

With the release of Cast-Iron Songs and Torch Ballads I realized that I needed to write and release fifteen more songs in order to be at one hundred original songs released. Not to put a cap on anything but it seems like a goal to reach for.
What is your opinion of the current rock and blues scene in America (and the UK)? Do you have particular favorite artists?
The State of Rock talk… Ouch. Rock as a business is in a worse than usual period of getting from artists and not giving back much. The decks are getting more stacked all the time. Maybe the final straw is venues taking a chunk of your merchandise sales. It used to be that the Indie artist was on the Indie label and they acted as a kind of Farm Team ideally, but now there's no time for development before recouping.

Rock as an art form is booming despite sales figures. Rock and Roll isn't the dominant force in the market anymore. I don't think that's such a bad thing. Take away the trappings and you'll take away people only in it for the trappings. It leaves the True Believers!

I keep reading rock is dead, but I saw a list of all the albums being released the same day as Cast-Iron songs and Torch Ballads, and it's a long list. If rock is dead, nobody told the rockers!
What is next for you Dan?
We're doing a brief East Coast tour in June as the record finds its way to people. Then probably more touring and there's always the hope of going to Europe to play. I've started writing again and given how long it takes to get a record pressed, I'd love to get back in the Shack and roll tape!
Dan adds his own postscript to each track on what is his seventh critically acclaimed album.
The desert sunset video film is the perfect introduction to "Start Again" and indeed the whole album. The laid-back vocals and sumptuous slide guitar set the scene, the latter haunting and gloriously atmospheric. The subtle changes of pace and mood as the journey progresses reflect the careful attention given to the arrangement of the band's material.
The lyrics of "If I Said It" demonstrate Dan's no nonsense approach to his song writing, he talks sense and says it as it is without pretention in a song which is pure rock and roll with a country vocal sound and an edgier instrumental vibe:
Somebody's been taking up all your time
Tugging on your coat sleeve and tellin' lies
Well to tell you the truth – I've made my mistakes
But I think me and you – We got what it takes
If you look in my eyes – You'll see no disguise = You'll see no lies
The consummate storyteller, Dan maintains the suspense as he recounts how his friend who moved in with a drunken sailor couldn't keep things ship shape in "Beaumont."
The clever percussion introduction is maintained effectively throughout the catchy, mesmeric "Sort It All Out" which has all the ingredients of a volatile relationship but with a sense of optimism.
The slow balladic "Glitter" provides a contrast to what has come before and showcases perfectly Dan's vocal and guitar versatility and his lyricism. "Well it seemed so sweet so sinful – Looked so much better in the dark/ Now it seems so simple – And you wear it like a scar."
James Cunningham's dynamic drumming and Tom's pulsating bass once again feature prominently for the duration of "In For A Penny." The infectious enthusiasm of a live band enjoying playing is palpable.
"Baby Your Luck's Running Bad" is another torch ballad sung with feeling and integrity and with only the slightest hint of irony: "I'm not the kind to run into a fire – There's better ways to be burned" and "Nobody stays a loser forever – We all love a second act."
It couldn't be a blues album without a train song, especially one which is racing along accompanied by gorgeous vocal harmonies and slick guitar licks like "Lonesome Train."
"All That Matters Now" stands out as the tour de force of a very good album, epitomized in the first verse:
If I should wake up and this is all just a dream
I hope I forget all these things I've seen
And just remember what you mean to me
And that's all that matters now
This would make a great single release as a tribute to Dan, his musicians and the production team.
It sounds as if the Stones have arrived with "Rock Hard," a stomping finale which makes the listener appreciate what it is that takes the band to this level. The answer of course is talent, enthusiasm, the love of sharing music, the chemistry between the musicians and their reconnection with classic, raw rock.
Overall, this is an honest, unpretentious, back-to-the-roots album from a troubadour who has paid his dues and musicians who clearly love music and want to share it with the world. It is both a step back in time and a window into the joys and tribulations of life today.
Dan Montgomery – Vocals, Electric and Acoustic Guitar, Keyboards
Robert Mache – Electric, Acoustic Guitars, Keyboards, Percussion, Vocals
Candace Mache – Vocals
James Cunningham – Drums, Percussion
Tom Arndt – Bass, Vocals
with Rick Steff – Keyboards
Jim Spake – Saxophone
Recorded at The Shack in the Back studio in Memphis, TN
Production by Dan Montgomery and Robert Mache
Engineered by James Cunningham
Mixed by Robert Mache
Issued on 12" vinyl LP, digital download and via streaming services by Fantastic Yes Records.
Released April 7, 2023

All songs written by Dan Montgomery 2023 Fantastic Yes Music/BMI