Giles Robson made the short journey to France from the British Crown Channel Island of Jersey to record this original 5-track EP live with his French touring band. Robson is no stranger to American blues fans as winner of the Acoustic Album Of The Year category at the 2019 Blues Music Awards in Memphis. Widely acclaimed as one of the world's leading harmonica players, he is the first European blues artist to sign up for Chicago's legendary Alligator Records.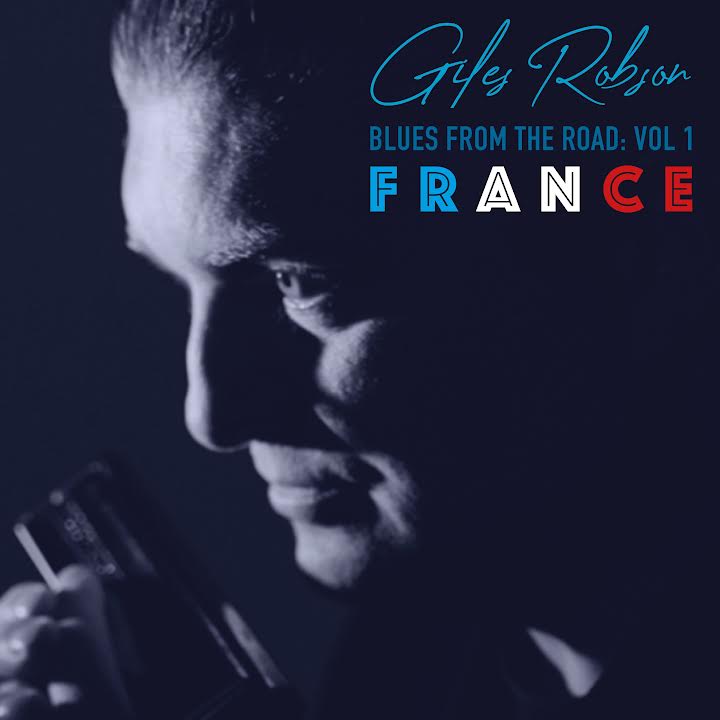 The EP, Blues From The Road 1: France, features Giles with an all star line-up which includes Paris-born guitarist and vocalist Franck Goldwasser who emigrated to California in the early 80s and quickly made a name for himself on the West Coast blues scene. The rhythm section comprises Bordeaux bassist Mig Torquereau and drummer Pascal Delmas, the latter having worked for five years in London with Otis Grand who was a major part of the UK blues evolution.
The opening track, "Too Hot For The Devil," is trademark Robson the consummate storyteller with the tale of a woman way too hot to handle: "Well I thought that I loved you baby/ Thought I'd love for the rest of my life/ But you're too hot for the devil/ There is no way in the world you can be my wife." Giles and Franck exchange riffs effortlessly before delivering contrasting solos of intricate guitar strings and stunning harp attacks. This is down home authentic blues at its best.
Next up is Giles alongside the renowned pianist Philippe Lejeune who studied under Memphis Slim and learned how to mix jazz with boogie woogie and blues. The duo delivers "These Deep Blues" with passion and expression, reflected in Robson's piercing, wailing harp and vocal angst complemented by the fluid, deft, atmospheric keys. What sets Giles apart is his engagement and empathy with other musicians and the chemistry between them rather than the typical call and response solos.
The instrumental "Stompin' At Lolo's Place" does exactly what the title says as it moves along at rapid speed, the mesmeric harp with its scintillating vibrato in perfect synergy with the pulsating bass and dynamic drumming. Franck and Giles co-wrote "Turnin' and Burnin" with its embittered lyrics of lies and deceit; "Telling me that you loved me was like turning lead into gold," Franck delivering a brilliant jazz-infused solo. Another classic instrumental, the slow burning "Blues For Toulouse" brings Philippe's sober keys back onto center stage alongside Giles' innovative and captivating harp interpolations, a fitting finale for two outstanding musicians.
This short glimpse into the life and work of Giles Robson shows why he has earned the monikers "blues giant" and "harp master." His phrasing, tonality and technique are virtuosic but above all Giles sings and plays with his heart, soul and a spellbinding outpouring of emotion.
Available on all major streaming platforms including Spotify.