The 5th Annual Central Virginia Blues Festival returns on Saturday, June 10th, 2023, with an outstanding lineup of powerful music, delicious food, cool refreshments, and a variety of vendors.
The performing artists for 2023:
The Gabe Stillman Band is a three-piece machine that runs at full tilt for every performance. While their sound is unmistakably rooted in the blues, the band draws from the deep well of all American roots music.
"One of the most promising young blues talents on the scene today. Gabe is a fine songwriter, excellent guitarist and strong singer, plus he puts on an exciting, energized show…Don't miss him!" – Alligator Records
For over 50 years, The Nighthawks have been traveling the country, playing low down dirty blues and roots-rock…with original singer/harmonica Mark Wenner at the helm, their music continues to be a free-wheeling mix of blues, R&B, honky-tonk country, gospel, and rockabilly.
"The Nighthawks show no signs of slowing down….a throwback sound, hearkening back to the '50s when R&B and rock 'n' roll were converging." – Glide Magazine
The Sol Roots Band performs a mix of raw funk, deep blues, heartfelt jazz and soul, and hypnotic rhythms. Sol is known as a fierce guitarist and soulful singer, and has toured around with world with many musical legends.
"Sol's vocalizing reminds me of Mose Allison…Van Morrison, and Mississippi Hill Country blues performers." – Big City Rhythm & Blues Magazine
Mike Goudreau is a skilled jazz and blues guitarist who has backed up many international artists such as Lee Oskar, John Primer, Diunna Greenleaf, John Hammond and more.
"Quality Canadian blues…solid and unpretentious …swings with snappy sincerity and crisp energy." – Blues Revue Magazine
Ken Farmer is a guitarist and vocalist who leads a talented band of Central Virginia musicians. If you feel good and want to feel better, or if you need to chase away your blues, Ken Farmer & The Authenticators is the only prescription. The band performs real, authentic music from the heart and soul.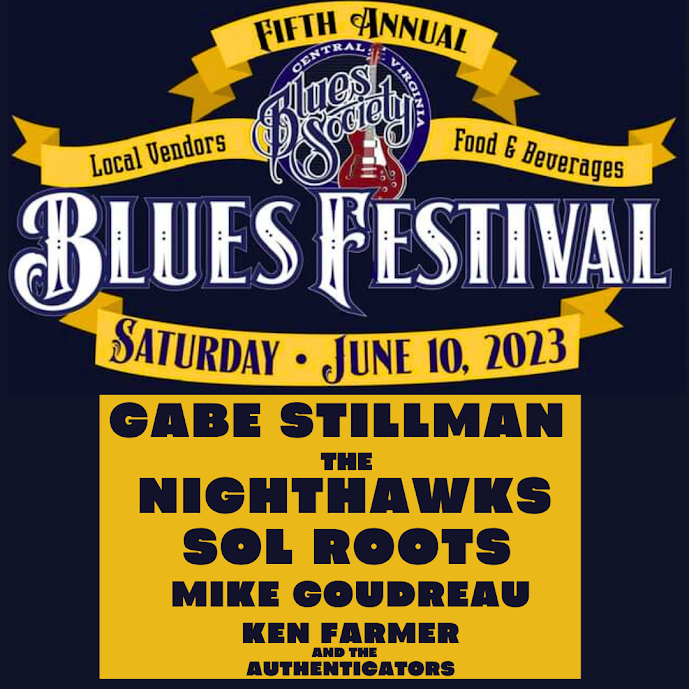 Tickets are only $20.00 this year and record crowds are anticipated. There will be delicious food, beer and wine for sale, and exceptional merchandise from a variety of vendors, including from Central Virginia Blues Society.
The festival site is located close by the Charlottesville and Harrisonburg areas at the scenic Rockfish Valley Center in Afton, Virginia. The Central Virginia Blues Society is a 501(c)(3) non-profit arts organization that recognizes and celebrates the Blues as one of the most enduring, important and influential forms of American music.
This festival is a rain or shine event! Get tickets here.