Throughout her career, internationally renowned guitarist Ana Popovic has found different ways to highlight themes of female empowerment – everything from juggle-struggles as a working mom to challenging and confronting male dominance, to acknowledging the men who actually support women in these efforts. Notably, she was the only female guitarist to be included in the 2014-2018 all-star Experience Hendrix tribute, a national tour celebrating the music and legacy of Jimi Hendrix that included Buddy Guy and Eric Johnson. On "Recipe for Romance," which premiered exclusively on American Blues Scene, the theme is love. But first and foremost, self-love as a key to empowerment.
The song and video serve as a Powerful preview of the album. "The story that people see is: a romantic music video of a woman getting ready for her date, getting the right clothes, cooking her best meal, looking at the cookbook while taking a bath, at her own speed," she explains to me. "It's a laid back day of her getting ready for the evening. But the hidden message here is women are being diagnosed with what seems like a devastating prognosis every day on this planet.
"Some women are being left by their partners to battle it alone. Can you believe that?! Some are being left with what the world see as less 'woman' than before. This is basically a POWERful message that you can still feel good in your skin, feel attractive, feel sexy just a few months after a treatment and you can get on with your new life. There is a future! You can reinvent and embrace your new look, your new self, and love it and let the world around you witness your strength and your beauty while you discover a new YOU. Apart from that it's a gorgeous song and a showcase to some awesome jazzy licks on my D'Angelico guitar and even Yamaha nylon string guitar played simultaneously."
Popovic has been quoted as saying, "From the moment a guitar is made in the factory, to the point where I get that instrument, put the band together, arrange the material, record the songs, press it and get it out to the world, we can brighten their day. It feeds my passion and brings me purpose." I asked her how she would describe the guitar as being an extension of the songwriter's voice, and she told me the song "Doin This" from the new album refers to this subject.
"Just a joy of someone owning an instrument that he/she loves and a joy of making songs and playing them to the audience. This song is giving life to an instrument like that. And a purpose! Guitar is made to a purpose bigger than we anticipate in the first place. It's touching many hearts. Making the record POWER made me really think what is that very emotion/feeling that I don't want to live without? And it's just that one thing that makes you truly happy: your passion in life, your main hobby- well that's performing with my guitar in my hands and doing music.
In 2020, when the world was in the throes of the pandemic, Popovic found herself in her own dire situation: diagnosed with breast cancer. Left with many uncertainties, she considered abandoning her music career. Then her bass player and musical director, Buthel Burns, told her, "You can't retire! You're born for this. We've got work to do. We need to touch people with our music." Between 14 chemotherapy treatments and flights back and forth between L.A. and Amsterdam where she received her treatments, Popovic and Burns connected on Zoom to write the material that became the new album. They scheduled demos, recordings, re-recordings, and live shows with her band between her treatments. She never missed a show.
"As you can probably notice by listening to all the tracks and reading the lyrics, there are no pity-party songs on it. No dark songs. No doubts, no depressive subjects. That tells you where I was with my mental strength that the making of this record made possible. I would wake up, and on my way to the hospital talk/zoom/think: songs. When I had sleepless nights – I didn't have many but if I did I would turn my thoughts towards the song's arrangements and where I want which song to go.
"I mean, music just brightens your image of the world. It makes everything look and feel better. Many people openly battle depression and talk about mental health issues. The world around us is so demanding, and on top of that life throws all kinds of situations at you. And you need to swim. But you need that motor to keep you going. You need to see and recognize joy in things around you. Hold on to what your passion in life, what makes you truly happy."
"I witnessed many times how music fills people with joy- I am notorious for talking to fans after the shows. I love the feedback and I love the chat. And they always talk: 'This concert made me so happy. I'm filled with positive energy. I was down, but you guys brought me back tonight,' etc. But this is the first time in my career I witnessed first hand what music can do in the healing process, your spirit and body. It gives you purpose but also you feel weak. You can't sing. Your fingers are moving slow due to chemo. My doctors had to adjust my therapy to keep the nerves intact that were going to keep me playing for many years to come. your hands are not doing what you want them to do, so what you do- you keep practicing at your own pace. Give yourself time. Time is what we have! Keep writing. Keep loving what you do. Keep improving."
Buthel has been in her band for five years. "Before writing with me he basically never wrote apart from a few simple blues songs. We found out that although we grew up in totally different places – Saginaw MI and Belgrade Serbia, we have same taste for music and want the same from songs and from the live show. Out upbringings were so similar although he grew up in a African american music loving family in Michigan and I in east European in Serbia.
Of the other musicians, she continues, "Chris Coleman is another Saginaw MI – musician. Sagnasty, baby! Buthel and Chris grew up together. He's one of the best drummers in the world today; played with Stevie Wonder, Beck, Chaka Khan, Prince.. Most of the tracks on the record are played by Chris. His groove is unapologetic. It's old school but hip. He was definitely on my list of the drummers I wanted to play with and touring and recording with him was an amazing experience. Having him on the project really gave me hope for the record and an additional fuel that those songs needed.
"Michele Papadia, with me for 17 years from Italy, sent me keys parts for the first demos of the songs and I kept them all. I didn't let him redo them! We re-recorded everything around it but kept the original keys parts. He was complaining,- 'Ana, I didn't even play through a Lesley cabinet. You said demos!' Tough luck- I'm keeping them all! Claudio Giovagnoli and Davide Ghidoni from Italy in my band for about eight years also kept sending me horn parts, and I would mix and match them with Mark Mullins parts ( New Orleans) who has been writing for me for quite a few records. I know exactly what I want to hear from the horn parts and feel very confident to pick and choose what the song needs. But it helps to get awesome parts to work with.
"Jerry Kelley provides awesome vocal arrangements for the songs and he sings background parts on most of the songs and plays drums on two tracks. He's my full time drummer in my band. Brandon Showtime Bland from Detroit was a great addition for hip-church-Detroit sounding hammond organ on a few tracks, and we are taking him on the road with us. We had Noelle Burns and Tasha Parker with soulful vocals from Saginaw MI, they also grew up with Buthel, so we kept it in the 'family.' Joe Foster is a great rhythm guitarist from Detroit. That whole Detroit scene really was a huge discovery for me. The way they play in the church/gospel scene is so incredibly unique and underestimated. It opened a whole new set of opportunities in the matter of sound for my music for sure. Very exciting."
There is power in unity, which the album's message reflects, starting with the cover. "I wanted a timeless cover. When you see the Dark Side of the moon cover – you may not even be familiar with music but you know the cover. I wanted something that matters. I want people to associate UNITY with POWER. I wanted two hands, black and white. without the title- for people to know- oh, that's Ana's record: POWER. And that I think that Unity's gonna change this world for the better. Being white in polarized America and the rest of the world is either you turn a blind eye to injustice or you try to help make the world a better place for our children. It takes active upbringing of our white children (in my case) how to treat and respect other races.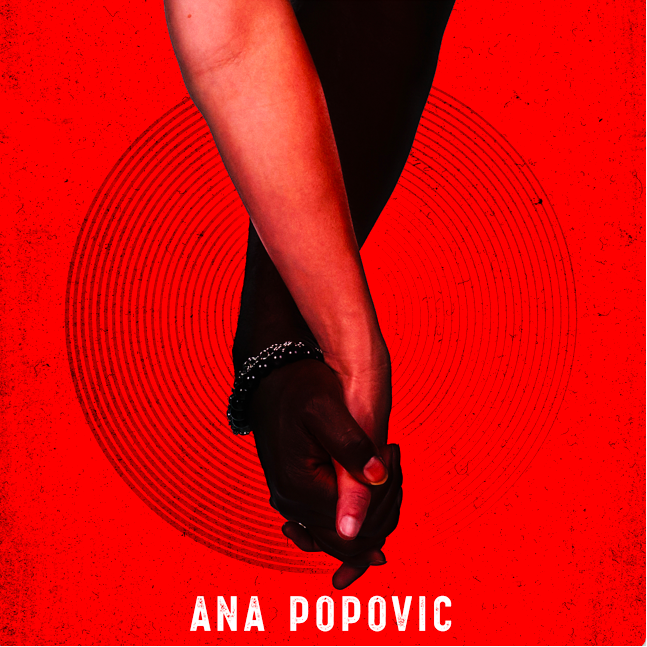 "Just the thought of black Americans having to live with an idea that they were less beautiful because of their skin tone, darker being the less favorable, is making me sick to my stomach. It's hard to digest. All these children that think they need to adjust to be more beautiful. That's crazy. So there's my standpoint on that- UNITY is POWER.
"Unity will save this world. We need to actively try to correct what's wrong in the world, not just stand beside and watch. Black lives matter, female suffering in the world because of religion, LGBT rights, homeless people on streets of LA. It needs to be a call for action. Starting with Unity. 'Rise Up' is a song I didn't write ( Kenny Wayne Shepherd), but we did rearrange the music to carry this anthemic message of unity and making a world a better place. It's a POWERful opening track."