"I grew up as a hard rock kid. When I got into blues, I still considered myself a rock and roll guy, but blues has always been my favorite music. I never saw any real line (between rock and blues). I always thought it was blues in a way that I got turned onto. I got turned onto B.B. King, (but to me) The Allman Brothers, Stevie Ray Vaughan, Edgar Winter, and Led Zeppelin are the same. To me it was like this is all great music." 
Alastair Greene has played with trailblazers in blues-rock, from drummer Aynsley Dunbar (The Aynsley Dunbar Revolution, Journey) to Walter Trout, from Mickey Thomas to Tab Benoit who produced his new live album Alive in The New World on Benoit's label Whiskey Bayou.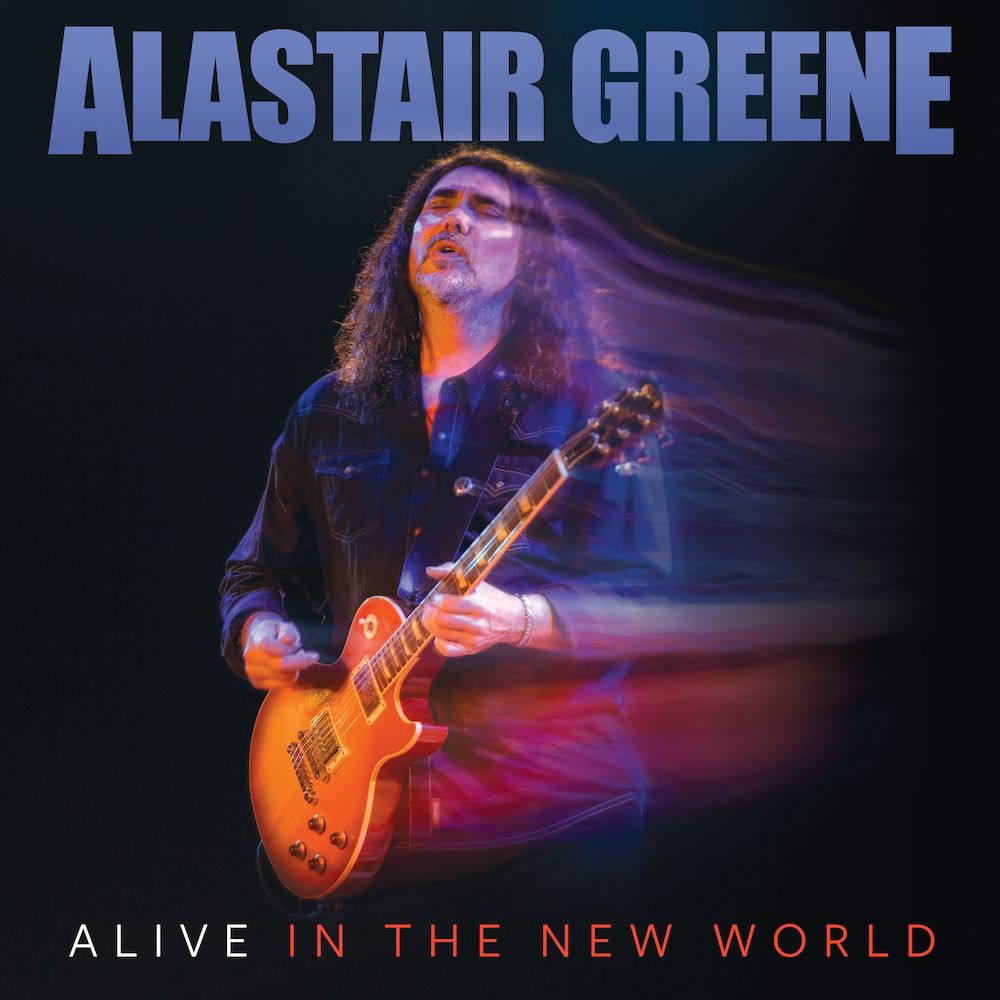 Alastair's guitar playing is fluid hard rock mercury in a canister shot full of bullet holes. The jazz magazine of record Downbeat credits him with breathing in sulfuric fumes and exhaling blazing fire. On the 10 cuts of this, his third live album, he thrusts his guitar from stop into fifth gear, with the other four gears stripped except on "Heroes," for him a uniquely emotional cut.
"I think occasionally you write something that you connect with on different levels. I don't play it live a lot, but obviously we did (for this record.) We've all had people in our lives we've looked up to and some of 'em are gone. A lot of 'em are gone. So, I wanted to write something in tribute in a general way to the people that have been instrumental in inspiring us in our lives and write a song around that theme.
"The song came about when we were recording the studio record, and I was just playing some chords that I had been playing around a little bit, and Cory (Duplechin, bass player) was 'Hey, what's that?' And I'm like 'That's a song I've been noodling around with for a decade.' And Tab just said, 'I think it sounded like it's a song about everyone.' And I said, 'Well, I'm off to the races. Let me go write it.'
At 52 and with 10 original albums to his credit, Alastair has played with a lot of his heroes. One of them is Walter Trout with whom he's recently toured the United Kingdom.
"Walter Trout is one of my favorite people in the world. I spent two weeks in a Sprint van with him. Hey, man, I love Walter. He's been a friend and an influence for a while, and any time you get to be friends with a guy like that I can't help but feel a little mentored. Even though I'm 52, he's got 20 years on me, and there's always something to learn from a guy like that."
Towards the end of the tour, Alastair put a gash in his finger. "It was terrifying, man. I cut myself after my set in a food-related accident. It was pretty bad actually. I ended up sitting in with Walter every night on one of his songs, and I just did it on slide. After I got done sitting in with him (the night of the accident), I grabbed all my stuff and went to the emergency room in Newcastle upon Tyne on a Friday night, and if you've never been to an emergency room in a major city, let me tell ya…
"It was interesting. Somehow, I was able to get in to see a doctor pretty quickly. I got a couple of stitches, got it wrapped up and was able to finish the tour about a week later. I do have a little bit of numbness where I cut myself. It may or may not get better. But I can play which is good. It was pretty scary, and I played the last two shows of the Walter Trout UK tour with my finger tacked up playing all slide guitar."
All the songs on Alive in The New World are Alastair Greene originals. "Bayou Mile" was co-written with Tab Benoit who also produced the album. "He just started picking off these lines, these lyrics, and I was just like only somebody who grew up down there in that part of the country would have come up with, and that's how it came about. I basically wrote the music and the words bayou mile and a couple of lines. He came up with the lion's share of the lyrics, and we both kinda came up with the music together. That might be my favorite song in some ways, because it's a real collaboration with him, and it definitely has a bluesy swampy vibe, but it also has a little bit of my rock and roll, too. So, I really like that one."
"Living Today" at first blush seems to be a post-pandemic primal scream with the lyric "The whole world has gone crazy/ the whole world has gone mad… Remember to let your love shine through."
"Nope! Everything on the record was written before the pandemic and recorded before the pandemic. I don't claim to be a good prophet, but damn if that song didn't become more pertinent as times went on."
Alastair is currently on tour promoting the new album recorded live at City Winery Chicago. He sees the relationship with Tab Benoit as a very healthy and helpful one. "His music is definitely a melting pot of influences, and he's a huge blues fan obviously," says Alastair about Tab.
"He's recorded lots of blues songs, being that he comes from Louisiana and whatnot. He's also got Cajun and Zydeco influences and a little bit of rock and roll in there and, yeah, his shows are great. I've probably done between 60 and 100 dates supporting him in the last two and a half years, and he gets it every night. I'm impressed by his work ethic. When he goes out on stage, he entertains these people. I've learned a lot being around him and working with him. He's an incredible showman."