Blues rocker Alastair Greene pays tribute to late British blues guitar legend Peter Green with his cover of the Fleetwood Mac song "If You Be My Baby."
"I had originally recorded this song at the end of a session I was doing with my band back in California in the fall of 2020. We had a little bit of extra time and so I just wanted to get this one down for posterity. When I returned months later to listen to it I realized that with a little bit of tweaking and some additions of horns and piano it could really be an inspired tribute to one of my favorite guitar players."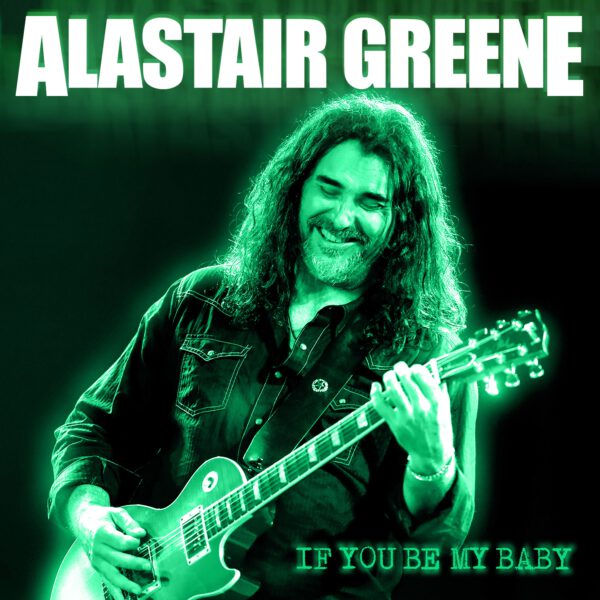 Having recently relocated to Austin, TX, Greene brought in Blues Music Award winners Jimmy Carpenter to play tenor saxophone and Lisa Mann to handle bass. Austin-based keyboard legend Red Young covers the piano part and Southern California-based Austin Beede (who has performed with Greene for years and appears on many of his studio albums) delivered on drums.
"When I sent the track out for Jimmy, Lisa, and Red to put overdubs on I was a little trepidatious. They're all such accomplished musicians and this song and its arrangement are very simple and somewhat traditional. That said, you can really hear their years of experience and virtuosity on their instruments playing even the simplest of parts."
Greene had been aware of Peter Green for some time but didn't become a fan until the early 2000s.
"I had the unique opportunity of playing in Aynsley Dunbar's band in 2001. Unfortunately, the band never played live, but we worked up a bunch of great material. We did some recording that ended up on Aynsley's 2007 solo record Mutiny. Of the material that I developed with Aynsley were some of his songs from his time with Journey, Frank Zappa, David Bowie, and his British blues band Aynsley Dunbar's Retaliation. We also did a couple of my tunes, and a song called 'Another Kind of Love' from the record that he was on with John Mayall's Bluesbreakers."
Aynsley Dunbar also played on John Mayall's A Hard Road record which features Peter Green, then having just replaced Eric Clapton in the legendary band:
"That was really my first exposure to Peter's guitar playing, although I'd heard his name thrown around for years. I immediately went out and got A Hard Road and fell in love with it. As much as I love the classic Beano album featuring Eric Clapton, I prefer A Hard Road in many ways because of Peter's inspired playing and the song selection."
Shortly after that, Alastair dug info all the early Fleetwood Mac recordings, and Peter became one of his biggest influences and heroes.
People familiar with Alastair's work as a solo artist may be surprised at the traditional leanings in his approach to "If You Be My Baby."
"Peter did veer off and get into some rock 'n' roll realms, but he definitely was a disciple of the blues and a huge B.B. King fan. Peter deserves to be talked about and mentioned in all conversations regarding '60s British blues, and blues guitar in general, in my opinion," affirms Greene.
Alastair Greene Summer Tour Dates:
June 9 Fri – Humble, TX – Green Oaks Tavern
June 10 Sat – Houston, TX – The Big Easy
June 12 Mon – Memphis, TN – Rum Boogie Cafe
June 15 Thu – Tuckerton, NJ – Lizzie Rose
June 16 Fri – West Yarmouth, MA – The Music Room
June 17 Sat – Portsmouth, NH – Jimmy's Jazz & Blues
June 20 Tue – Lima, NY – Fanatics
June 22 Thu – Evansville, IN – Mojo's Boneyard
June 23 Fri – Jacksonville, IL – Downtown Festival
June 24 Sat – Berwyn, IL – Fitzgeralds
June 25 Sun – Chicago, IL – Buddy Guy's Legends
June 26 Mon – Springfield, IL – The Alamo
July 7 Fri – Phoenix, AZ – The Rhythm Room
July 8 Sat – Las Vegas, NV – The Sand Dollar Lounge
July 9 Sun – Bakersfield, CA – 18th Street Bar & Grill
July 12 Wed – Redwood City, CA – Club Fox
July 13 Thu – Fresno, CA – Fulton 55
July 14 Fri – Santa Barbara, CA – Soho Music Club
July 15 Sat – Morro Bay, CA – The Siren
July 18 Tues – North Lake Tahoe, CA – Bluesdays at The Village
July 20 Thu – Fruita, CO – Thursday Night Concert Series
July 21 Fri – Colorado Springs, CO – Stargazers Theater
July 22 Sat – Paonia, CO – Top Of The Rockies Bike Rally
July 23 Sun – Boulder, CO – Buffalo Rose
Jul7 24 Mon – Fort Collins, CO – Private Event
July 26 Wed – Lincoln, NE – The Zoo Bar
July 27 Thu – Burlington, IA – The Washington
July 28 Fri – Whitestown, IN – Moontown Brewing Co.
July 29 Sat – Canal Winchester, OH – Ribs and Blues Festival