After nearly a decade of performing in Alaska's rowdy bar scene, Juneau folk singer Annie Bartholomew became haunted by the stories of sex workers during the 19th century after touring the brothel museum at Skagway's Red Onion Saloon. In contrast to the art created for tourists, Annie envisioned a musical work that would embody stories of women in Victorian-era Alaska, stories that have been largely left out of mining history.
For Sisters of White Chapel, her debut LP, Annie spent years (and won several grants) researching their stories and learned banjo for the project. Through archival materials, personal history, and Alaska's stringband traditions, she brings these women to life. The music accompanies the play that she wrote, Sisters of White Chapel: A Short But True Story, which premiered to acclaim in Bartholomew's hometown of Juneau.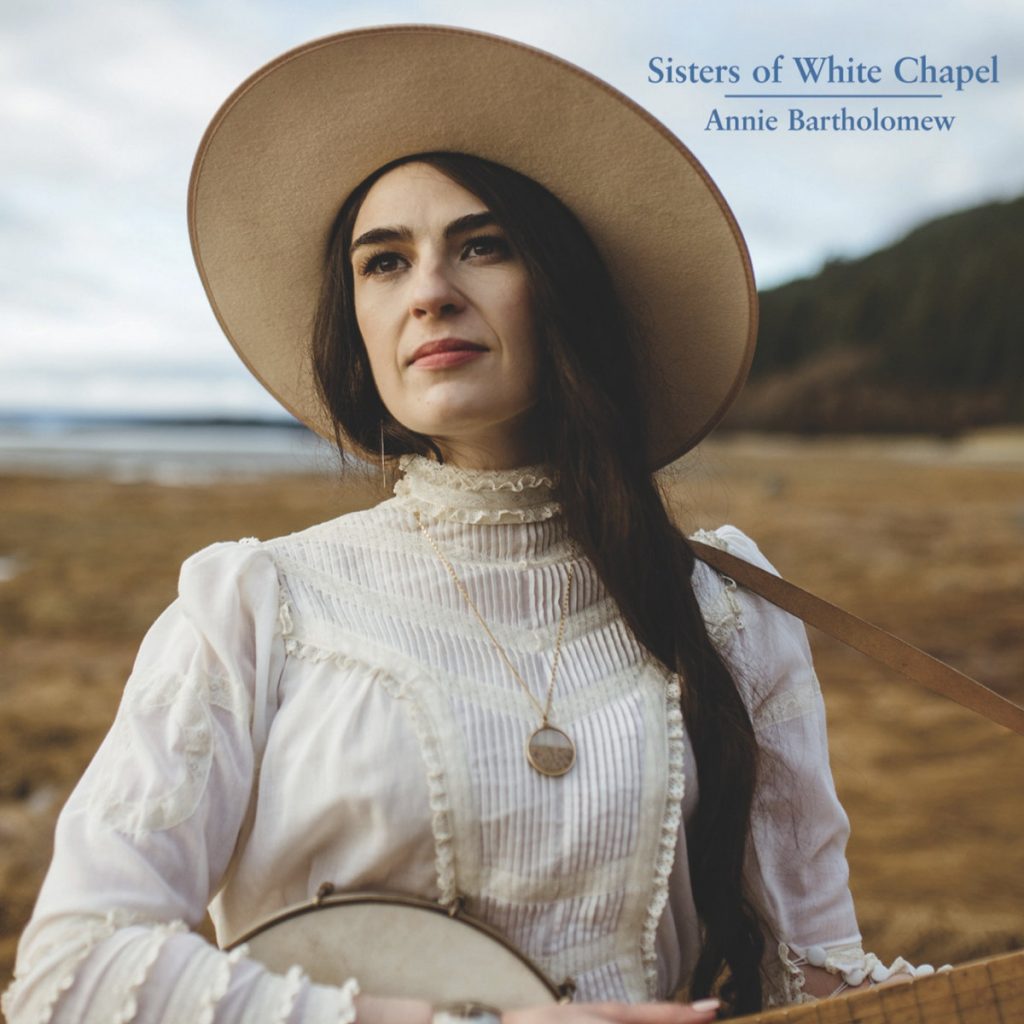 Recorded in a timber frame log cabin with Gustavus-based producer Justin Smith and a cast of Alaskan artists, the folk sounds on Sisters of White Chapel personify these characters and paint the world of Alaska and the Yukon with acoustic guitars, banjos, fiddles, piano, upright bass, and mandolins. Already a guitarist, Annie learned to play Clawhammer from Kaia Kater, studied with Evie Ladin during the pandemic, and has worked most closely with old-time music master and banjo maker Riley Baugus. She received a Rasmuson Project Award to commission the banjo featured on the album, and a Connie Boochever Fellowship through the Alaska Arts and Culture Foundation to adapt the play. 
Bartholomew threw herself into the research, in-person through Alaska and into the Yukon as well as archival material, historical memoirs, interviews with living historians, and the Library of Congress newspaper archives. One particular piece in the Klondike Nugget newspaper entitled "A Short But True Story"—about a woman who loses her provisions on the journey has to make the difficult choice to enter sex work—gave her a core storyline and opened the door to a whole world of hidden history.
Of "Feel My Sin," premiering exclusively today, Annie tells ABS:
In turn of the century Alaska, she found women escaping abusive marriages, women seeking rich husbands and economic opportunity, those changing their identity to work as dancehall girls (women paid to dance with men) or other sex-work, and gals playing banjos and mandolins. "Presenting these women as complex, whole people is important to me," she says. A first-time playwright working with historic texts, her new craft was helped by her background as a journalist and audio storyteller.
Along the way, the project became personal to Bartholomew. "I feel like narrowing the focus ended up revealing a lot about myself in the music," she says, "I tried to put myself in the shoes of these gals, internalize a lot of their thoughts. So much hasn't changed." She could relate to these women and to the frontier culture that's still alive in Alaska. She emphasizes how this history has shaped generations, saying, "There is a legacy of oppression. Every woman has a mother or grandmother or great-grandmother who had to be strong and had to bend to the will of men in their lives, whether they were husbands or boyfriends or judges or children."
Bartholomew also relates to the boomtown nature of Alaska that lives on, something she especially experienced playing in a band in college in far-north Fairbanks, a place that attracts those who don't fit in elsewhere. "Fairbanks is part of my fabric as an artist – taught me that you can do anything you want. It's radical acceptance. You had to create a culture or else you won't have one."