Keb' Mo' has been playing blues for more than half a century. In the early '70s he played guitar behind Papa John Creach best known for his work with the Jefferson Airplane. I asked him what the biggest changes have been in how he records and makes music in 50-plus years.
"I participate in the process way more. (Back then I was) a bystander with a guitar saying, 'How was that?' And I listen to melody, you know. The more you record in the studio, the more you pay attention to detail. You're always trying to top what you did before." At 71, Keb' Mo' is on the glide path on his latest album, Good to Be…
When you have nothing left to prove, there's a sense of freedom where new songs can come to you in 10 minutes. Half century old songs fall into place like autumn leaves on a windless day. And, in Keb's case, he has a strong and large fan base for a blues singer that's more universal than the late B.B. King, not to mention cushioned in lyrics that are as comfortable as a toddler's favorite blanket.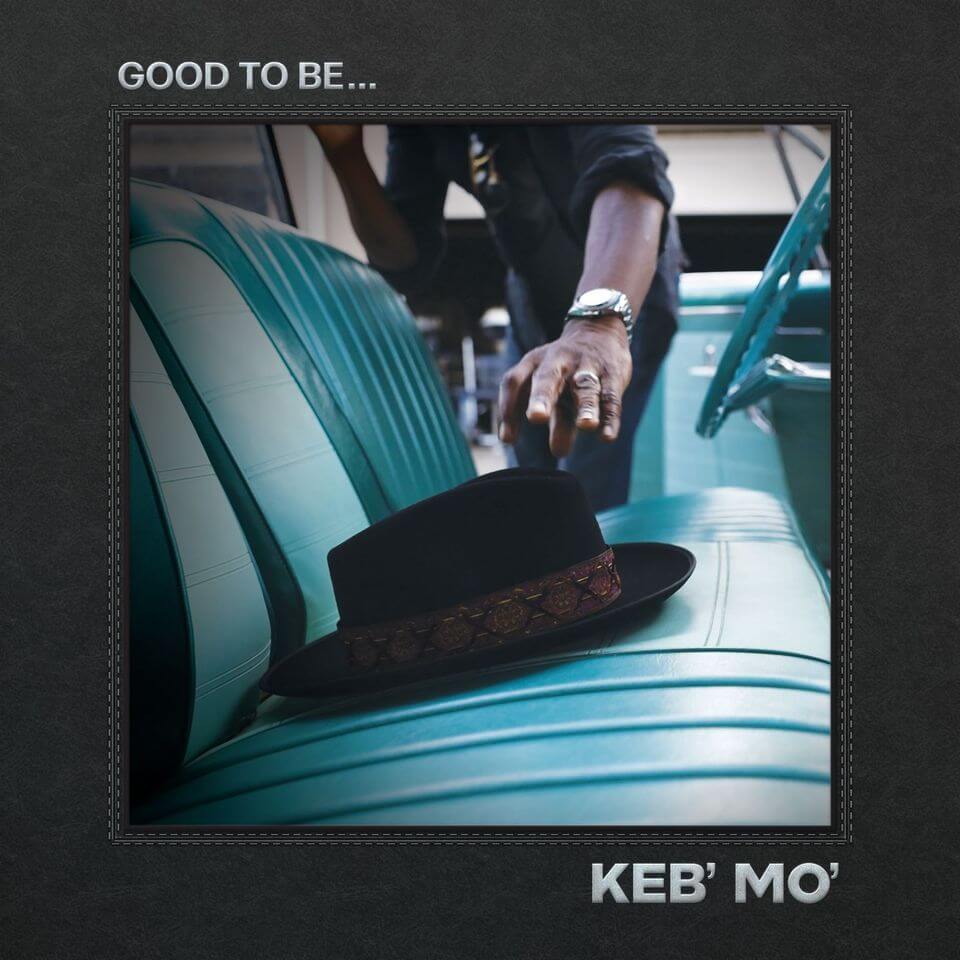 As a 79-year-old music journalist, I asked him if he finds that being in his 70s gives him more freedom as a still active creative musician. I find myself rid of any fear of how others think about me because they may think I'm old and in the way, anyway.
"You just don't give a fuck anymore," he shot back. "And at 79, man, you REALLY don't give a fuck."
There's one cover in an album of 13 otherwise original songs, Bill Withers' "Lean on Me." He explains, "Certain artists you just don't do. I've covered Marvin Gaye, Diane Hathaway… because I think it's fun. Because it's an exercise. The only weapon you have is doing a proper cover. You ain't gonna top it. The only thing you can do is be yourself.
"(I credit) Terry McCormack for teaching me this lesson. He challenged me to do one of Stevie Wonder's songs. A guy like me doesn't cover Stevie Wonder, you know what I mean? You gotta be a crooner to cover Stevie Wonder, you know? And there's another one I wasn't supposed to cover: 'Family Affair' by Sly and The Family Stone."
When I look at Keb' Mo's resume and what he's done in the time since I first interviewed him decades ago, his accomplishments are eye-popping.
"Well, it's not my doing."
Oh, yeah? Who is he going to give credit to?
"It's the doing of people who have been gracious enough to give me opportunities."
It's very humble of him to say that, but I told him he's full of shit!
"All right, Wilcock."
Hey, we're in our 70s, I told him. We have to be honest with one another here. He can't just look down at the ground and move his feet back and forth and say, 'Aw shucks.' He's gotta be real.
Keb' Mo' IS real.
He laughs. "You're a character, man. God damn it."
The lineup of guests on this album is impressive to say the least: Nashville guitar juggernaut Vince Gill; the ubiquitous blues songwriter and Buddy Guy drummer Tom Hambridge; Darius Rucker; and Old Crow Medicine Show. And that's just the beginning of a very long list.
So, how many of them phoned in their performances?
"None! Nobody phoned it in."
Nobody phoned it in?
"I don't call people – If people phone it in, I don't call' em."
That's amazing.
He chuckles.
"There's one musician that did it, and I can't tell you the name because just in case she clips the name. I've been to her apartment three times before; it wasn't quite right.
And how does he know when it's right?
"Because you feel it. You know it. It's the right part. So, having a guest on a record in my humble opinion is you're just calling in a person. They're not a guest. They're not a musician, you know? A special guest. But we all, myself included, have to abide by the rules of making a decent record. I mean, nobody gets to phone it in."
Keb' Mo' has won five Grammys in blues where there's only two categories, traditional and contemporary. "A lot of people have won in that category (contemporary blues), a lot of times: Buddy Guy, Robert Cray, you know. They've won it more than I have. I ain't alone. I've only won three altogether."
I remind him that there are four in the contemporary blues category and one in Americana.
"Yeah, but the blues never outsells pop. It's an important genre, and I don't know if I'm even in the blues genre. They might kick me out. I might do too much other stuff."
Do most of his songs come really fast, or did some of them come really slow?
"Some take a long time. Some take years. Some take 10 minutes. It just depends on how fast the creative stream is moving and how open you are."
If he's lying in bed and getting ready to go to sleep, his toes are pushing up against the clean sheets, and he comes up with an idea in his head, is he smart enough to put it down before he goes to sleep? "There's one on the record like that. 'Good Strong Woman' was a Nashville song with two guys named Jason Gant and Jason Nix. I thought we were writing songs to pitch to country artists. It wasn't about me. You know songwriters in Nashville – they like writing. They're not country writers. They're WRITERS."
There is no fine line between country and blues anyway, does he think? "A song is a song. I mean, a country song is a country song. If you put a twang to it, it's a country song."
At 71, Keb' is arguably as sharp or shaper than he's ever been. "Well, I'm trying to catch up with you." He respects his elders. "Marvelous to Me" was written by John Lewis Parker, his principal co-writer. "He's my oldest partner. He wrote songs for Papa John Creach back in the '70s, and he was the keyboard player with Papa John Creach. My band calls me Pappy.
"Quiet Moments" is the oldest song on the album. "That song is by myself and a guy named David Oliver, and we wrote it in '78! I wasn't sure people would play it, but I never recorded it. There was no place for a song like that for me.
"I couldn't figure out where to put it, how to do it. So, David taught me those. 'Hey, man, I'm getting married. Why don't you record that song as a wedding present to me.' (chuckle). But I said, 'Ok, I'll figure it out.'
"So, I went out to L.A. We rented a studio for about four hours, and we just went in there and recorded it. We went in there with guitar and vocals, and we tweaked it – tweaked the vocals because basically the song written in '77 was more advanced than our music. We had to pull it off."
Keb' Mo's songs all come from many different experiences: some old, some new, some borrowed, some blues.