Whether recorded in an ad-hoc basement studio, a hotel room, or a house surrounded by verdant scenery, the isolation album is forged out of a desire to make art removed from the influence of the everyday. And its origins can be traced back as early as Robert Johnson's "Cross Road Blues" from 1936. Some desolate and inhabited by haunted characters. Some hedonistic, 24-karat rock and roll. Some centered on love and revelation. All seem to be made by potent practitioners of the songcraft, one might argue, at the apex of their creative genius – Bruce Springsteen's Nebraska, Rolling Stones' Exile on Main Street, and Taylor Swift's Folklore, to give specific examples.
The pandemic had its own way of forcing artists to isolate and take stock of their lives. Philadelphia-based singer-songwriters/twin brothers Rich and Rob Kwait, who have performed as Cabin Dogs since the early 2000s, escaped to the same cabin in upstate New York every six months over a three-year period (including during the pandemic) to work on music. The fruits of these efforts can be heard on their sixth full-length release, On The Creek, out now.
"The songs on this record have a bittersweet quality. There's darkness, but never a loss of hope" explains Rob. "There's also a theme of keeping it simple – that life might be tough, but you just gotta get home for supper time." The video for the last song written for the record, "Wolves," premiered exclusively on ABS. "We watched a family of foxes near the country house – studio where we were recording," the Kwait brothers tell us. "At some point, 'Foxes' got changed to 'Wolves.' It's a hopeful song. A song about finding forgiveness, and of having someone on your side no matter what."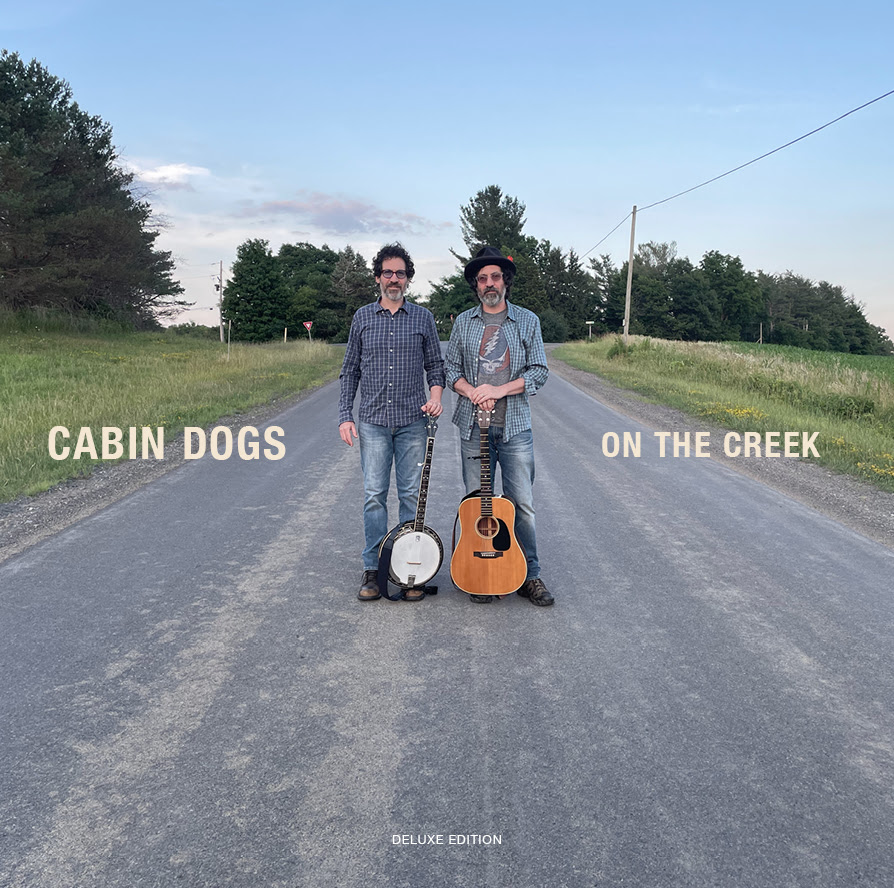 Produced by the brothers, On The Creek features performances from drummer Ron DiSilvestro, pedal and lap steel player, Isaac Stanford, mandolin player, Adam Monaco, pianist David Streim, keyboardist John Hildenbrand and vocalist, Christina Kubiak. Rich Kwait handles most of the lead vocals, guitar, harmonica, percussion, piano and organ, while Rob takes care of the bass, banjo and percussion in addition to vocals. The album as a whole finds the brothers drawing energy from one another, and hangs in a delicate balance between analog sonics, '70s grooves, and country roots' crossover into modern Americana.
Walk me through what the recording process of On The Creek — what it was like in the upstate NY cabin and how the environment contributed to the creativity?
Rob: We found a house that was perfect, between Lake Cayuga and Lake Seneca, and we would go every few months, pretty much all during the pandemic. We'd load up two cars with gear and instruments and drums and then go to the local grocery store and proceed never to leave the house for a week, and just work on songs day and night. Getting away like that helps us focus and gets us inspired by the surroundings, but also it helps to lock in what we're doing. To make us commit to it.

All of sudden, because we did something or wrote something up there, then we just assume it was meant to be, rather than second guess it too much. And slowly but surely this gets us in the vicinity of finishing a record. Now, is there still some serious re-treading when it comes to arrangements and a few words here and there and other shaping and editing? Sure. But the core of it is usually locked in (sort of).
Can you describe how the album moves the listener through perspectives of the artist as well as characters that inhabit the album?
Rich: There's nothing major planned out as far as a concept or a theme. Usually, our records come from the perspective of certain alter ego characters that are perhaps hanging out in a rural type setting, taking stock of life or thinking about a girl or getting tipsy around a fire or banging on a kitchen door or talking to the dog. Stuff like that.
What are thoughts on how instruments like banjo, steel, mandolin, etc. can move the listener through the different emotions of the song as well?
Rich: Most of the instruments are there because they are what we brought with us and what we can lay down. The basic tracks we do up at the house/cabin are guitars, bass, banjo, percussion stuff, scratch drums and very basic organ and piano. And then we take it back home and supplement with real drums, piano, pedal steel. At least that's what we've done on the last three records; a lot of layering, especially for such simple songs.

Those instruments – the rootsy, grounded, analog stuff – still are the sonics we like. But we also inject some effects pedal stuff and subtle synth tones from time to time to add to the funkiness and give it a blast of '70s groove.
Were there any songs that presented challenges while writing that you are especially proud of because of said challenges?
Rob: A couple songs were kind of on the brink, but we were able to salvage them by making them shorter – addition by subtraction. "I believe in Something" and "M. Moon" are two examples. Also some songs were helped by having a patiently building arrangement, with instruments layering in – especially having the drums come in later in the song. "Sunsetter" and "Grover" are two examples.
I hear sonic elements ranging from Jakob Dylan, Tom Petty, and Neil Young. Were any of these artists at any point an inspiration for you?
Rich: We love those guys. Neil Young seems to have seeped into some of the other songs as well – "Creekside Woman" is one, we're told. Definitely an inspiration.
How is writing/composing carried out between the two of you? Can you give insights as to what often comes first, the lyrics or the melodies?
Rob: I think we are more melody-first writers. One of us might come up with something that can be strummed and hummed and then we sort of work it out and eventually take it to the band and play it live. Or surprise the band during a show (always fun). Or just directly put it on a record.
Tell me about all the musicians that appear on the album, individually and collectively.
Rich: Some guys in the Philadelphia area who we know either directly or through other musicians/band members. Ron DiSilvestro was in a band on a co-bill with us 15 years ago…and we got to talking at the bar and from that conversation, he's been our mix/engineer and studio drummer on our last three records. Isaac Stanford is from a family of musicians and we used to be on co-bills with one of this brothers and we live near another one of his brothers and his sister and he's got his own band called Slowey and the Boats. And he's our been our pedal steel go-to guy on our last couple of records.

Adam Monaco plays with guys in our band in an off-shoot Grateful Dead project called "Four Lean Hounds" and has his own solo project and plays with another rootsy band called Under the Oak. David Streim plays with other guys who are friends with guys in our band. Jon Hildenbrand, who's now the newest member of our live band, also plays in the Four Lean Hounds and a couple other bands – Stereo League, The Commission and Apple Juice Jones. Christina Kubiak used to sing in a few bands around town and now is Rich's sister-in-law. All great guys and gal!
In terms of tone, sequencing, writing, recording, did you achieve what you set out to do?
Rob: Who knows? We are still too close to it, as with all of our records. And I'm not sure we've ever been totally satisfied. But it's for the eyes and ears of the beholder now, I suppose. It's done and out there, which sort of says that we are ok with it – or too exhausted to do anything more with it!
How would you describe the Philly scene? And does it factor into Cabin Dogs' sound?
Rich: Philadelphia has always been a musician friendly town because there's a freedom. The cost of living isn't bad (relatively speaking) and it's not too big and imposing to stifle your creativity. It's sort of inviting and inspiring that way. And so there are lots of bands and individuals just doing their thing and there's still venues where you can play.

We are lucky to be in Philadelphia. With that said, as far as the Cabin Dogs sound, I'm not sure our music is necessarily what most think of when you say Philadelphia. People are always telling us to either go south or back to upstate NY or overseas. I think they just want us out of town!
What is on the horizon for Cabin Dogs?
Rich: I think Rob and I may be secretly clamoring to go back into the cabin and start writing for the next record. We've been very encouraged by how this last record has been received and it's actually energized us to see what we can do as a follow up.
Cabin Dogs recently wrapped up a string of concerts, including a duo show opening for Lucy Kaplansky. They are slated for a full band show at White's Road Park Concert Series in Lansdale, PA on August 1st.
Connect with Cabin Dogs: Official | Instagram | Facebook | Twitter