"I believe in the truth. I will always fight for the truth. I think the propaganda of lies is despicable, and I will struggle against that forever."
At 84 with 55 albums to her credit and a current tour that would exhaust some artists one-fourth her age, Judy Collins is living proof of the adage that with age comes wisdom. And a fluid command of creativity. While she's been writing songs for 54 years, Spellbound released last year is her first album of all originals. It features 12 new recently-written folk songs. She dedicates Spellbound to folk masters Pete Seeger and Woody Guthrie.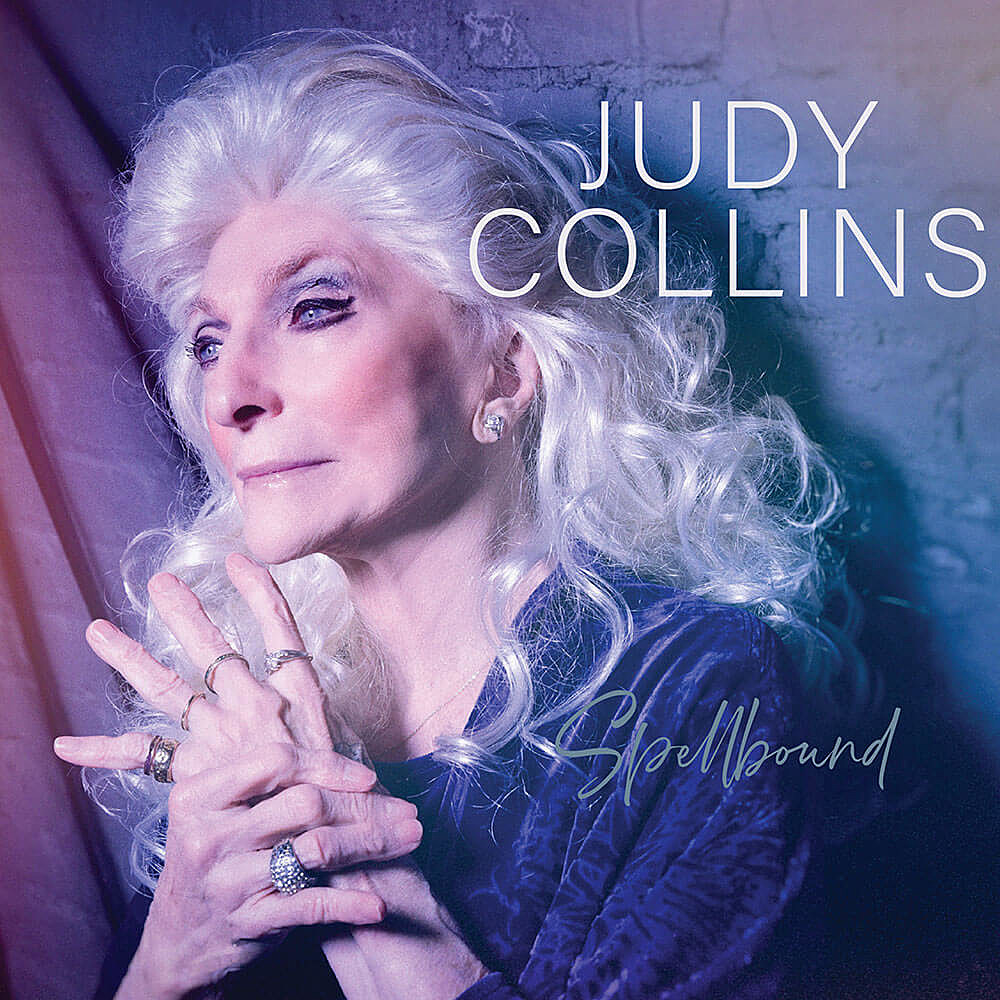 To her, the pandemic was a godsend. After not only surviving her son's death three decades ago, but breaking a cultural taboo of the time by writing about it on book called Sanity and Grace: A Journey of Suicide, Survival, and Strength, she saw the pandemic as an opportunity to create new poetry and turn that poetry into music on Spellbound. She varies her extensive repertoire every night, using her presentation of the songs as inspiration to relay anecdotes of a life well spent.
"(Variation) is a very important aspect of the show because a lot of what I do is tell stories, and I need to get a set together that's going to increase the possibility that the stories will be fresh and new. So, I work on that aspect with the sequencing.
"The pandemic gave me the time. I hadn't been on a vacation in 40 years. So, it gave me the time to contemplate and work on these songs, and that was fantastic. That's a great gift, an incredible gift."
Covid restrictions were not a problem. "We did our first recording session on this album in 2019. Then, we found this studio that was operating in 2020, and we did another session, and then we did two more in 2021. No, we didn't have difficulties. We found people that are working and studios that were good, and we had a great time doing that. It was wonderful."
In other words, for someone who discovered Joni Mitchell and walked away from a relationship with Steven Stills who wrote "(Suite) Judy Blue Eyes" to woo her back, the pandemic became a gift more than a challenge.
Losing her son Clark Taylor to suicide in 1992 was different story. "It's always painful, but it comes and goes. There's a shadow, but I've done a lot of work on it, and hopefully offered help to other people and feel that it's something that we have to acknowledge is part of being human."
She wrote Sanity and Grace: A Journal of Suicide, Survival, and Strength about her loss and how she dealt with it.
"It's always been a possibility, and some people do it, and some people don't. Probably there are ways to deal with the taboo. I think that's the most important part of it that people don't talk about it very much, and I think there's been enough talk that's gone on since he committed suicide that there was never at that point.
"In 1992 there really wasn't very much about it in the bookstores or any resource. Now it's all over the place, and people talk about it, and they're open about it. It's really shifted. The taboo has shifted from it. People are willing to discuss it and understand that they need help with it, and I think that's magnificent progress."
Her song "Born to The Breed" contains the lyric: "I've watched you grow thru all these years/You've seen me stumble I've watched your tears/Sometimes there were roses, sometimes it was thorns/But I know you're gonna make it as sure as you were born/And I hope from what you wanted you get what you need/I know your gonna make it you were born to the breed."
I've interviewed Judy Collins 10 times in my career. She's a link between the traditionalists that dominated the coffeehouse scene in the mid-60s and today's Americana artists. I told her in this interview that her voice is timeless. The way she sings about who she is. I don't want to say she's the same person she was back in those days, but there's certainly a consistency there. She sings and talks about honesty. She's a very honest person.
"Well, I try. I try! I like to tell it like it is. Play it as it plays."
On her current tour she plays guitar accompanied by piano and pedal steel. "We do a lot of material from Spellbound as well as some of the old popular things, certainly some of the hits." Her choice of material on any given night is critical to keeping things fresh. "It's a very important aspect of the show because a lot of what I do is tell stories and need to get a set together that's going to increase the possibility that the stories will be fresh and new. So, I work on that aspect with the sequencing."
In her book Morning, Noon, and Night – Living the Creative Life, Judy writes "Five percent of inspiration is where the magic happens and 95% is about technique. The 5% is the spellbinding, the gripping, the intoxicating. The 5% is what art is all about."
I asked her at the time (2005) how she knew where that 5% is. "You don't. You don't have a clue. You just do the work, and you are the recipient of whatever is going on. You take dictation whatever the form you are using is whether it's music or painting or art. You do what you feel moves you."
Does her audience determine what that 5% is? "No, no. I think it's probably based on both factual and imagined ideas of what art is. It probably has to do with what moves people, and that's very mysterious."