Jefferson Berry & The UAC dropped their latest album, Prairie Fire, on June 9th with an official record release party held on June 22nd at suburban Philadelphia's The Living Room.
Berry is a teacher, and a published and cited historian. Perhaps that is why his songs paint pictures only a keen observer could portray. "The songs on this record tell stories of relationships that I hope will be familiar," Berry elaborates, "they are political relationships, love relationships and those relationships with one's own path… those circumstances of 'wherever you go, there you are.'"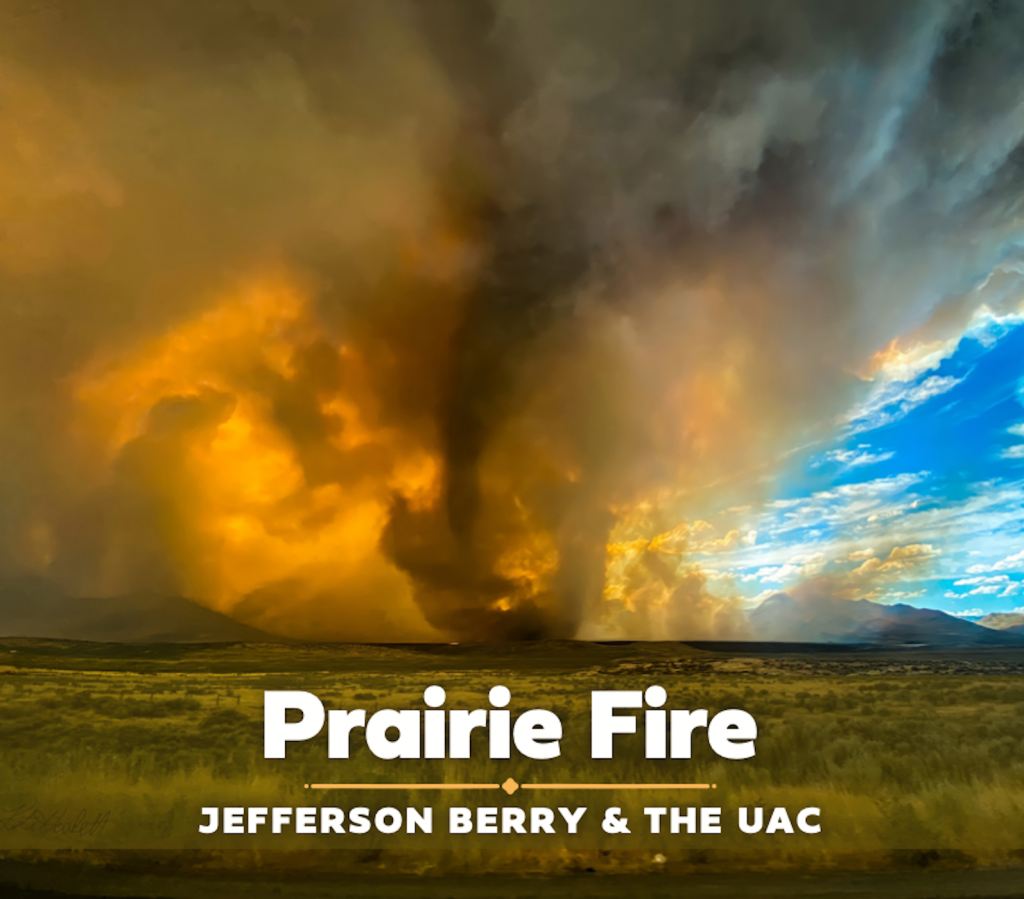 "That Was Me" is the first single released from the album. Harmony vocals are provided courtesy of Philadelphia's talented and rising singer-songwriter Emily Drinker. Berry says the song "makes a subtle reference to the most infamous grifter of all-times" but then again, we all know someone who is all too willing to take credit for something they didn't do – and deny responsibility for their actions that have gone wrong. This latter theme is explored more fully in "Someone To Blame."
"You Could Do Anything" featuring Philadelphia's "Dr. Sax" Kenny Ulansey conveys the hopes and frustrations of an urban retail worker recalling the advice of her mother. "Baby, you could do anything." The choices before her are something else again. As for romantic relationships, "Can't Stop Thinking Of You" tells the all too familiar story about a once promising love gone wrong.
"What All Magic Needs" starts out with an amusing, cautionary announcement that "the cruise magician is drunk." His rabbit won't leave the hat. Even the woman he cuts in half won't clean up her own mess. "Prairie Fire" takes the listener to the edge of an angry political rally and places it in the historical context of the country's other turbulent times.
In addition to Jefferson Berry, The Urban Acoustic Coalition is anchored by the virtuosity of Bud Burroughs, Dave Brown and Marky B! Berkowitz. While acoustic by nature, the locked-in bass/drums drive of Uncle Mike Damora with Adam Strandburg and Fred Berman completes the sound.
Jefferson Berry is a storyteller. He has demonstrated that through his various albums from Deadbolt Logic to Soon! to Dreams Of Modern Living and now in Prairie Fire. As a teacher, a historian, and a keen observer of modern life, he has a deep well of material to draw from. Let's hope the well doesn't run dry anytime soon.