Each time Ireland blues icon and multi-award winner Grainne Duffy releases a new album it is inevitably a classic and Dirt Woman Blues, her sixth in an illustrious career-spanning 16 years, is no exception. Indeed this latest release of nine original crafted songs written by Grainne and guitarist husband Paul Sherry is arguably her best yet and propels her into a stratosphere occupied by compatriot and spiritual predecessor Rory Gallagher.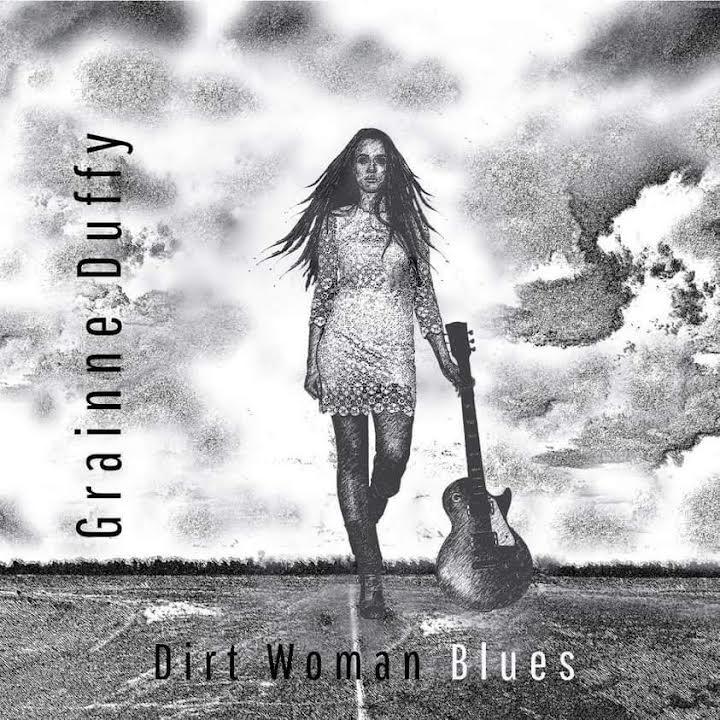 Having seen both of these Celtic warriors perform live, albeit half a century apart, the comparisons are inevitable. Softly spoken and modest individuals in private but on stage transformed into high energy, instinctive, raw blues and rock giants whose music flows from deep within their souls. Duffy is unique in respect of her vocal range, famously described as the perfect blend of 'shrapnel and honey,' incisive lyrics, six-string dexterity, and rapport with fellow band musicians.
What makes Dirt Woman Blues special is the authentic, back to roots sound and production as if it had been born in Irish Celtic traditions and nurtured by the Mississippi Delta.
Grainne takes up the story:
All of the qualities in the personnel cited above come together in the slow burning title track with its gorgeous, intricate opening strings, poignant, dramatic lyrics, searing guitar interpolations and clever, atmospheric distortion. Duffy starts with a gentle introduction: "See a sign for love/And walk down the road/Been down here before/See the tracks that I laid' before launching into a chorus of increasing emotion and intensity; 'Find me some love/So I can be strong/ Find me some hope/So I can move on/Show me a way/ Come take my hand/Tell me now I need you to understand…Got these Dirt Woman Blues."
At screaming pitch comes the impassioned declaration, "High and low/I'll say your name/Scream It out so it's not in vain/Turn it up/Burn it down/Move it on/To what I found/Nothing to find/Nothing to lose." Not even heaven or hell can help her from the devil within this blues classic worthy of the Delta.
The album's jaunty and infectious opener, "Well Well Well," with its sumptuous slide guitar and powerful percussion sets the pace if not the entire mood of the album which is a roller coaster ride of sounds and emotions. Axeheads will be in seventh heaven with the plethora of lead guitarists sharing their considerable talents courtesy of Grainne, Paul, and Marc.
A more laid back country vibe runs through the joyful "What's It Going To Be?" in the tradition of Bonnie Raitt but distinctly Duffy in its innovative arrangement and vocal delivery. The balladic "Running Back To You" with its elegant, tasteful exchanges between all three guitarists showcases Grainne's extraordinary vocal skills. Drummer JJ and Elijah on bass provide the perfect rhythm section for the ethereal "Rise Above," a song rooted in Celtic culture.
"Sweet Liberation" is where Southern rock meets boogie-woogie in a barnstorming track of contrasting styles brought together by Grainne's exceptional, versatile vocals. Grainne proves her credentials as a consummate storyteller on "Hold On To You" which showcases the exquisite jazz piano of Peter Levin alongside some neat fingerpicking guitar. The heavy and hard rocking "Yes I Am" with its waves of crescendos, thrilling trio of guitars and dynamic JJ Johnson drumming will appeal to listeners at the head banging rocker end of the musical spectrum on offer here.
By contrast and a fitting finale, "Killycrum," an acoustic homage to Grainne's home in County Monaghan, is both pastoral and nostalgic.
This album was written during the second Covid lockdown between locations in Grainne's home studio and a studio in Encinitas, California. Grainne explains: "My new record reflects my love of the blues mixed with my love of songwriting. Chris and Marc producing on this album brought together a perfect mix of Irish and American music influences."
Within days of its release on May 19th, Dirt Woman Blues had reached No. 1 in blues and roots album charts across the world and was voted album of the week by numerous broadcasters and international music publications.