From stage to studio, guitarist/vocalist/producer Mike Wilson has long been a supremely sought-after musician. It all started in the mid-90s when straight away from college he worked in artist management for David Krebs, perhaps best known for the Broadway hit Beatlemania. They managed producer Paul O'Neill, who founded Trans-Siberian Orchestra. Having spent many studio hours with those guys, for his work Wilson was rewarded with a gold and platinum record.
In 2005, he joined composer/producer Neil Berg's internationally touring 100 Years of Broadway, supporting Broadway stars such as six-time Tony Award winner Audra McDonald, Stephanie Block (Wicked, The Mystery of Edwin Drood), Rob Evan (Jeckyl & Hyde, Les Miserables, Trans-Siberian Orchestra), and Tony Vincent (American Idiot, NBC TV's The Voice), among many others. He has appeared in several Broadway hits including Tina: The Tina Turner Musical, Smokey Joe's Cafe, Almost Famous, and more.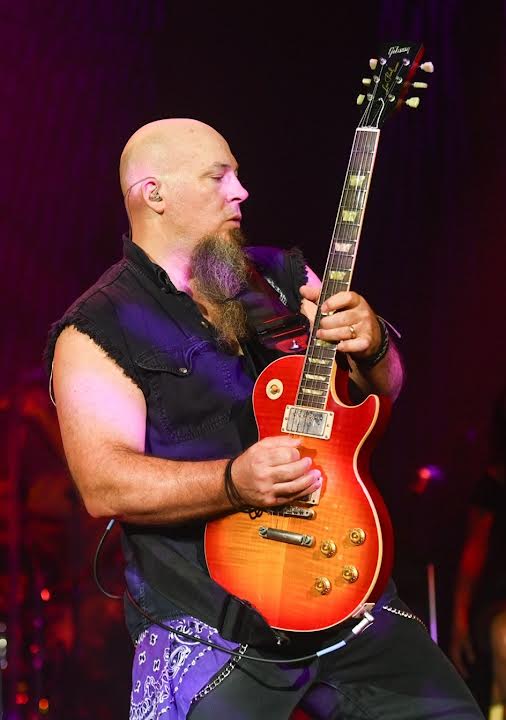 Currently he is a guitarist, vocalist, and musical director in Neil Berg's 50 Years of Rock and Roll, a chronological history of the genre which of course emerged from the blues. So the show runs the gamut from "The Father of Rock and Roll," Robert Johnson, all the way to the early days of MTV. A successful national touring concert for over 15 years, Wilson plays nearly nine months out of the year.
Fresh off the latest 50 Years of Rock and Roll tour, I caught up with the stadium-level hired gun now back at his home base, from which he plays in the Georgia 5. 30 years strong, they are Rockland, New York's original and longest-running '80s party band. Consisting of John Carson (vocals, guitar), Ron Wilson (drums), Tom Ryan (keyboards, guitar), Dave Baron (bass), and Michael Wilson (guitar, vocals), the band picks up where 50 Years of Rock and Roll ends. Namely, they open each show with the first song to ever be premiered on MTV: "Video Killed the Radio Star" by The Buggles.
Georgia 5 bassist/founder Dave Baron joined our conversation. An in-demand musician in his own right, he's played bass in many original and cover projects including The New Romans, which featured violinist Allison Cornell (Joe Jackson, Cyndi Lauper). He, too, has played in a Neil Berg musical, The Twelve. His previous work as a motion picture camera assistant afforded him opportunities to jam with celebrities like Jeff Bridges and Kevin Bacon, as well as work on season four of the NBC show 30 Rock.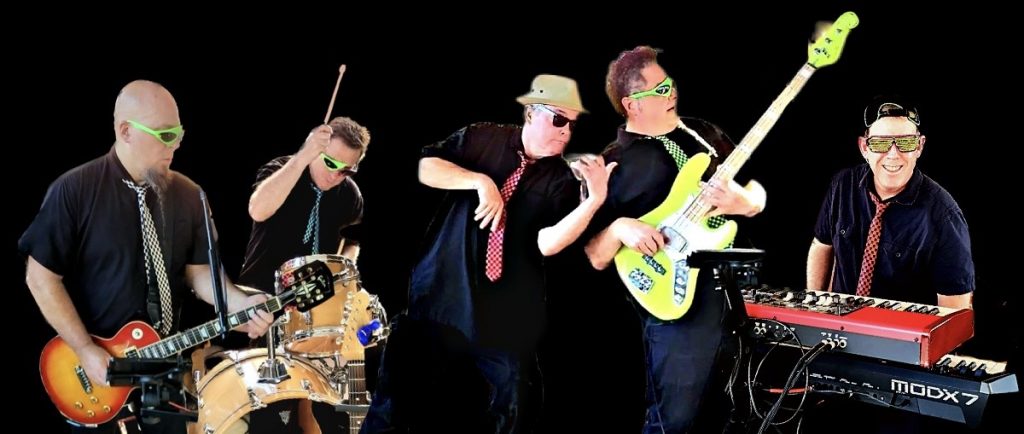 Mike, how was your tour?
It was 50 years of Rock and Roll, and then we did The '60s – Peace, Love, and Rock and Roll. The last couple of weeks was that. Besides all the touring stuff that I do, I have the Georgia 5, which is the band I've been in for years at home.
Walk me through a typical Georgia 5 set.
Dave: We do mostly '80s kind of party rock stuff. We don't really get into hair bands. We'll open with "Video Killed the Radio Star," the first video that MTV ever played. And we'll go into maybe "My Sharona" and then "Melt With You" or "867-5309." We definitely hit on some of the one-hit wonders. We used to do Joe Jackson and Squeeze, but unfortunately they are just a little too obscure. It just doesn't go over sometimes, depending on the crowd. We find that it only takes one song to lose the audience these days. They'll tune you out, so you have to keep them.
You probably have so many different age groups.
Mike: Well, it depends on the venue, I think.
Dave: At some of these venues and these outdoor venues in the summer, like these breweries that we play at, kids are welcome, dogs are welcome… So, you have a much wider age range.
Mike: And I think there's a contingent of college-aged kids that seem to know a lot of this stuff. I pulled one aside after a show one night. I said, "First of all, how do you guys know this?" They'd be in the front row singing all the lyrics. I'm like, "How do you guys know this?" It's all in Guardians of the Galaxy. There's been a resurgence.
So it really depends on the venue, but I think for the most part the majority of our audience is going to be people who grew up or at least were teenagers or college-aged in the '80s. I'd say 35-65 is the demographic.
In your words, what sets you apart from other tribute bands? Be it the unique talents of each member, stage antics, song selection…
Dave: Something we think about a lot, because in our area there's at least 10 other '80s bands, and those are our direct competition. So we try to separate ourselves from them by making the show a little more interactive. We try not to be just a jukebox that's playing one song after another. Our lead singer is not ashamed to don a wig or two and take a wireless mic out to the audience and get them involved. You know, break the ice. Because people can be a little reserved. So when they see a guy in an outfit, it kind of breaks the ice. 
I think what sets us apart is all three of those things that you mentioned. I think, as musicians, we've been playing – even just individually as musicians – a long, long time. And we've played a lot of different types of stuff. So as musicians we're pretty advanced. We're all pretty good musicians.
Do you have favorite artists that influence your respective styles?
Dave: Well, for me, the Police and Joe Jackson were the bands in high school that really caught my ear and inspired me to play.
Mike: I started when I was very, very young. I was seven, I think, when I started and that was the mid-seventies. So for me, a lot of the '60s and '70s music was what was around at the time. So when the '80s came around, I'd already been playing for a few years. I definitely have a lot of the '70s and '60s guitar influences. But because I came of age really in the '80s, that was the soundtrack of my adolescence.
Even at the time I hated certain bands that were hugely popular in the '80s that I now have an immense soft spot for. Besides all the new wave stuff that we play, which I love, I also loved metal in the '80s. But all of the '80s bands delve too much into the metal stuff, and I kind of feel like I don't know if it's necessary for us to do that. A lot of the material we do is stuff that very few, if any of the other '80s bands around here, do.
Dave: We've been honing (the setlist) for 30 years.
Do you guys have any funny memories that stick out?
Mike: How about the most recent one, Dave?
Dave: Dave: This is a little embarrassing. I had kind of a Spinal Tap moment. Up north of the city is a Resorts World hotel in the Catskills that we play at pretty frequently. There's nothing up there except trees and mountains and the casino. We played there on saturday night, and I carpooled with some of the guys. When we got up there to unload, I realized I had forgotten my bass. I was over an hour from home in the middle of nowhere. 
I'm sure someone had a bass, right?
Dave: Well, thankfully, Mike's from up in that area and he knew of a local music store (Steve's Music Center) that was only a couple miles away. So I gave them a call. This was at six o'clock, the show was at eight o'clock. They were just about to close. The owner, Steve, said, "Why don't you come down and I'll stay open for you?" So I raced over there and he had a bass all set up and ready for me to rent. He even told me I could drop it off at his house after the show so I didn't have to come all the way back up there on Monday morning. That was super nice of him. He really saved the day.
If it was a Guitar Center, they probably would have closed at six and that would have been that. They're not going to stay open for one person. So it's nice that there's still some mom and pop shops that are physical stores that you can walk into, as opposed to online.
Mike: I got a funny one. Three or four years ago, I had a gig booked on a night that we had a gig booked elsewhere. So I said, "Dave, I'm gonna be late." And he said, "No problem." A friend of ours was playing guitar for me for the first set. So I made it there during the first set and I couldn't get in. I went to the front door to drag my equipment in and the guy at the door said, "I'm sorry, we're full." Because there was a line down the block of people trying to get in. I said, "Well, I'm the guitar player." And he said, "No, you're not. The guitar player's over there playing." I'm trying to explain to him. He's like, "Yeah, sure. You can't get in." So I had to stand outside until I could get into my own show.
No one could vouch for you because they were all on stage.
Mike: No. They were all busy at the time.
That's pretty funny.
Just typical rock and roll stuff. That's stuff that will only happen to me. If you play often enough and long enough, this stuff will happen to you.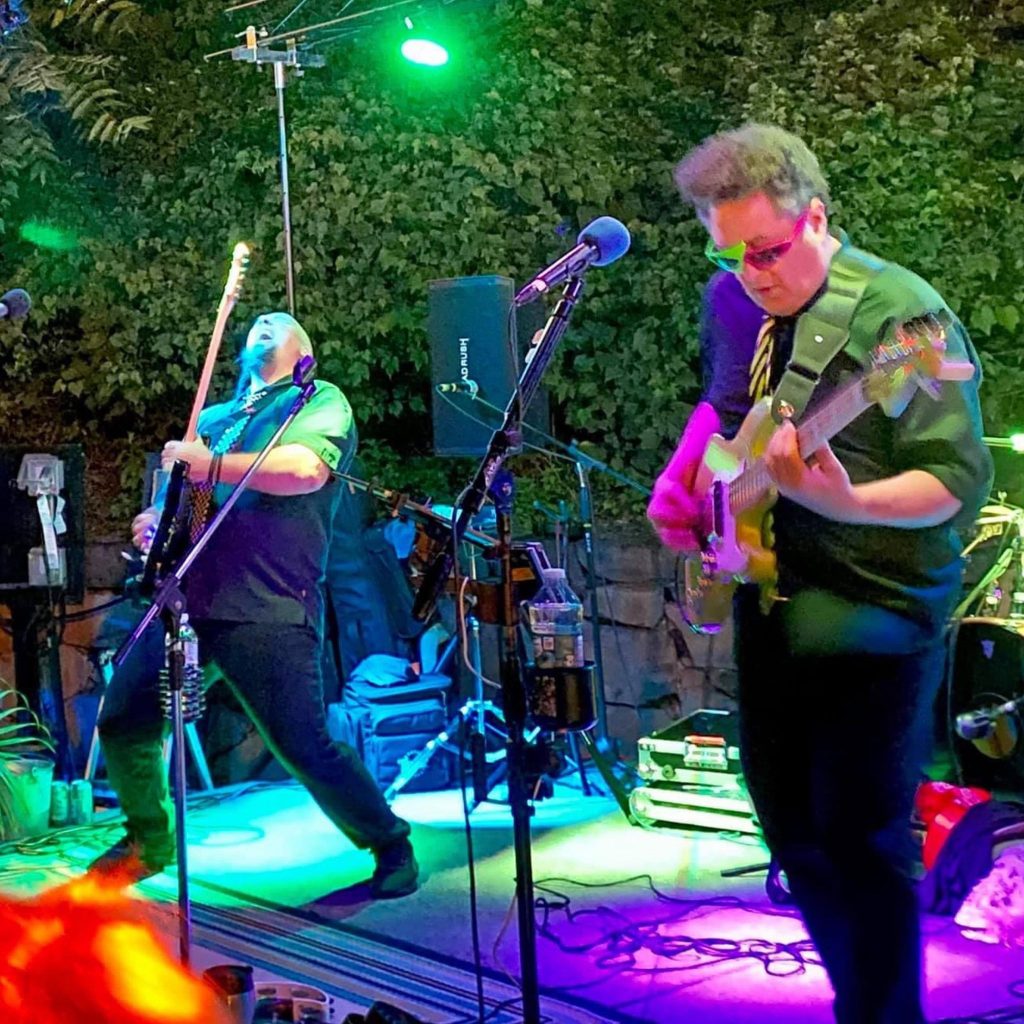 Do you change the set list pretty frequently?
Dave: I try to change it every show a little bit.
Mike: Dave is in charge of the set list, and he does a really good job with it. So we let Dave do that. He's the best.
Dave: It's never exactly the same twice, but we get into modules of songs. Groups of maybe two, three, four songs that kind of go together. We want to move quickly between songs because you gotta compete with the DJs who do that. They have no gaps ever, so we try to have no gaps between songs for at least a block of four or five songs. Mike's brother, the drummer, he's really good at keeping the show moving.
Mike: For me, as far as favorite songs that we do, it can vary because we are constantly adding new material to the set – stuff that we haven't tried or stuff that we feel we maybe can do. Sometimes the new song that we do will be my favorite song. We recently started doing "Your Love" by The Outfield.
I love that song. My son loves that song.
Mike: Everybody does. And again, that's one of those songs in one of those bands that I just completely ignored in the '80s. Now I listen to it and go, these guys were awesome. So right now, that's my favorite song that we do.
He's such an underrated singer, with a similar timbre to Sting.
Dave: Mike sent me the stems of the vocals from that track; it's pretty impressive.
Mike: And a lot of times my favorites aren't necessarily the ones that are challenging musically, or satisfying as a musician, but ones that the audience loves. That makes you feel really good.
Dave: Personally, I like all the Police stuff that we do, but it's vocally challenging, so I don't put it in the set too often. But that's my favorite to play. As I said earlier, I wish we could do the Joe Jackson stuff more because we love it.
Maybe put "Steppin' Out" in the set list. And you can thank me later.
Dave: I totally will.
Do you plan on touring anywhere else at some point?
Mike: We keep expanding our territory. Our territory for a long time was pretty limited to within 20 miles of where we were based out of. And we keep expanding and expanding.
Dave: We're trying to get into Pennsylvania.
Mike: Yeah, so that's the goal at this point is we're working hard on expanding and ultimately we want to start playing bigger and bigger places to more and more people. We would like to start touring a bit and traveling. It's also been difficult because a lot of us are really busy doing other things. For the rest of the spring and summer, most of us are not as busy with our other gigs so we have a lot more time to dedicate to this.
Do you have any hobbies or interests that actually fuel your passion for making music?
Mike: I think the thing that fuels me the most is that I get to do a lot of really, really different stuff musically. Stuff that's outside of my comfort zone, outside of my wheelhouse. It's difficult, and there's a lot of pressure there, but it makes you really enjoy it. And it makes me inspired to do all of the other things that I get to do.
Honestly, Georgia 5 is one of the most fun things that I get to do. Because I feel like there's less pressure there and it's just about the fun. The most fun we have is the load-in and the setup and the sound check. That's the most fun half the time, because we're joking and laughing and we have our inside jokes.
Dave: It's important not to take it too seriously as far as the presentation.
I want to pivot to Mike for a second. How involved in Broadway are you currently?
Mike: Well, let's see. I did the Tina Turner musical for its entire run. After that closed, I was involved with the Almost Famous musical. I love that movie, and the Broadway show was exactly like it! They really did a great job of making it just like the movie. And Cameron Crowe, who wrote the movie, was there. And you know, he wrote the book for the Broadway show. So he was heavily involved.
And I've got some stuff in the hopper coming up with regards to Broadway that I can't really talk about yet.
Right. And I know you have to sign NDAs with some of your session work.
Yeah, sometimes. So yeah, Broadway's still there. And I will be back there.
You've been involved in so many really cool projects. I was reading about Smokey Joe's Cafe Revival.
Mike: That was the first thing I ever did on Broadway.
I noticed that Lou Rawls was in an earlier iteration.
Mike: That's right. That was long before I did.
Are you going to go back out with 50 Years of Rock and Roll?
Mike: Our touring season is done until September. We generally run late September to May, so it's nice to have the back half of spring and summers off. That's when the Georgia 5 tends to be really busy anyway.
Have you and Dave ever done anything else together musically besides the Georgia 5?
Dave: We had an original band. Tripping Monsters.
Mike: We were in it at the same time?
Dave: No, we weren't really but we did some shows together. So we've known each other a long time, done some pick-up gigs here and there with different bands.
Mike: And I subbed in bands that you were in a number of times.
Dave: Yeah, Mike started as a sub in the Georgia 5. Tom Ryan and myself are the only two original members left. Mike joined the band 12 years ago, and we were lucky to get him.
Summer 2023 is almost upon us, and the Georgia 5 have lots of new venues and outdoor shows to play the biggest hits from the first wave of MTV. They promise an "entertaining good time, every time. No ballads, no slow songs. Energy from the first note to the last note." And so that the same thing doesn't happen to you that happened to Mike during that first set, get there early.