Blues guitarist Brant Buckley shares an early listen to his new song paying tribute to his grandfather who passed away last year. "Drink Malört – Chicago Spirit" will be available on Spotify, Apple Itunes, and all other platforms August 31. With a clear, crisp speak-singing style, Buckley injects a certain cowpunk energy to his own blues formula.
All at once Buckley sings an ode to his grandfather and great grandmother; Wrigley Field and the Chicago Cubs; and the Swedish immigrant Carl Jeppson who marketed his homemade, medicinal brew in Chicago. "Addison Avenue Feels Red & Blue / Kind of like a Vortex of Energy & Big-League Chew. Back in the day the great Carl Jeppson caught a home run ball / But he died before he could see the Cubs win it all."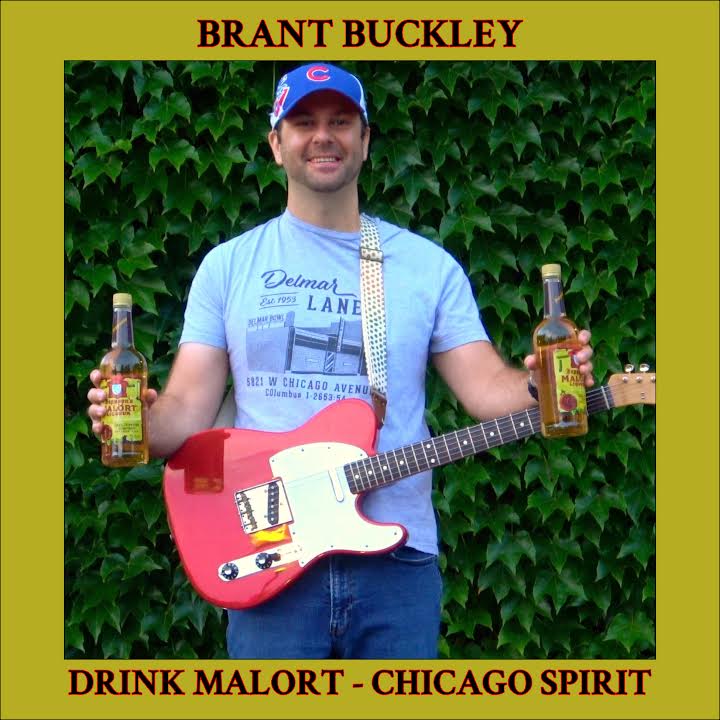 Of the song, he tells American Blues Scene:
Brant Buckley is a Berklee College of Music graduate with a Bachelor of Music in Songwriting. Born outside of Chicago (Hinsdale), he lived in Costa Rica and spent most of his life in Philadelphia. East Coast folk music and the coffeehouse scene (James Taylor, Bob Dylan, Neil Young, Kenn Kweder, and Nick Drake) inspired his early sound.
In 2012, Buckley released his first album, My Life, which was featured in The Times of India (India's CNN.) In 2013, Brant met bluesman Jesse Graves. Graves was Philadelphia's premier bluesman during the 1970s and played with Muddy Waters, John Lee Hooker, Bonnie Raitt, Hound Dog Taylor, Arthur "Big Boy" Crudup, and Tom Waits. Jesse learned from Reverend Gary Davis and passed on blues and Native American Spirituality to Buckley. In 2014, inspired by Jesse, he moved to Chicago to learn more about the blues. Working as a tennis pro, he experienced the blues for himself after having a career-ending tennis injury. In 2015, he released Chicago Summer, a three-song EP.
April 2021 saw the release of his single "Don't Shoot Your Blues Away," getting radio airplay on Uncle Buc Plays The Blues Show. In May 2021, he released his second full length album, Times Strange. His song "Nerve Damage Blues" was featured on The Monster Blues Show and "Mystical Muddy Man" on XM Sirius Radio. In November 2022, he created Flowers For Chicago Blues: A Grave Tour, honoring twenty-one of the greatest blues artists buried in the Chicagoland area.
As a contributing author for American Blues Scene, Buckley has over 100 published interviews/reviews. Check out his author page here.