Born Moses Tillmon in Jefferson County, Georgia, Smiley Tillmon grew up with a musical diet consisting of gospel, country, and blues. He moved to Fort Lauderdale when he was ten and was exposed to calypso and Caribbean music. He started playing guitar and backed Miami R&B singer Billy Miranda.
He joined Sammy Ambrose & the Afro-Beats touring Canada and New York. He moved to Chicago in 1962 and met Jimmy Johnson, Left Dizz, Lonnie Brooks, Junior Wells, and Jimmy Reed. He established himself on the blues circuit playing with Billy "The Kid" Emerson, Denise LaSalle, and other South Side musicians until getting a day job at a school in 1977. Currently, his band consists of Kate Moss on guitar, Tom Rezetko on bass, and George Baumann on drums.
The Smiley Tillmon band will be playing at WingOut Chicago, a wing food festival held at Gallagher Way next to Wrigley Field in Chicago. The band will perform Saturday September 2nd (1:45 p.m. – 3:45 p.m.) Tickets for WingOut Chicago can be purchased here.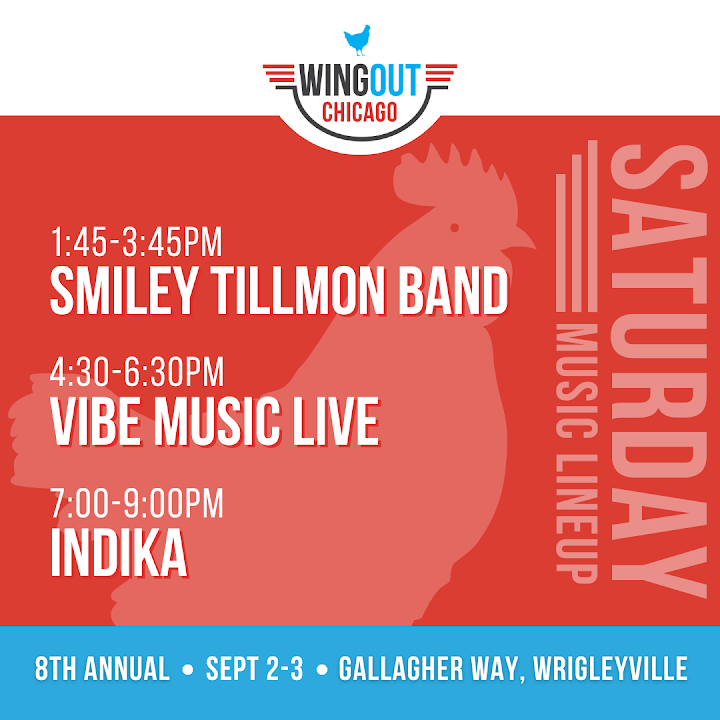 You are playing at WingOut Chicago on September 2nd. Have you ever played this close to Wrigley Field before?
We play at Smoke Daddy BBQ a lot. We also play at the one in Wicker Park. We have played at the new one right across from Wrigley Field. We used to always see people playing concerts at Gallagher Way. I have never played at Wrigley Field but I have played at Smoke Daddy BBQ which is right across the street from the Cubs Park. We work around town a lot. We play at The House of Blues and Buddy Guy's Legends. We have been pretty busy.
Is your setlist different when playing a festival versus if people are specifically paying to see you perform?
No. Usually it all depends on the venue and what the protocol is. We have been doing a lot of outdoor concerts this year. We just did one last Sunday for a beer brewery company, Lagunitas, that was in Oak Park, IL. We have been doing a lot of back porch blues things at parks and golf clubs. We have been lucky and have been pretty busy with the band. Things are pretty good.
Who is in your band and what makes each player special?
I am one of the luckiest guys in the world and I have been playing for a long time. Tom Rezetko and I were playing for a band we didn't care much for. We made up our mind to see what we could do. He and I went to a place in Evergreen Park called Hartes. Tom and I sat in with the band and the owner liked us. That was sixteen years ago. Tom and I put a band together.

At the time, we didn't have all the people we needed to fit what we wanted to do. We kept on playing and eventually we got some good players. There is a lady named Kate Moss who can play really well. She is wonderful and has been with me for ten years. We have a very fine drummer named George Baumann. He has been with me for about nine years. Tom is a wonderful bass player and Kate is the guitar player and George is the drummer. We do very well.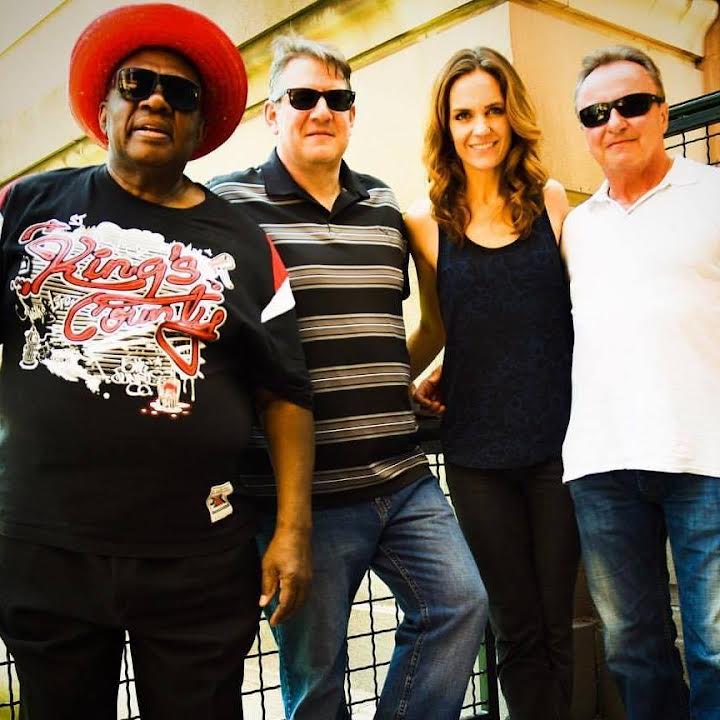 What do you feel makes your sound unique compared to other Chicago blues artists?
I bring a lot of age. It is hard to bring it because I am old now. I have been bringing it for sixty-five years. I just like to play. I was born in Georgia and raised in Florida in Fort Lauderdale. I went to school with a lot of kids from the Bahamas. We played calypso music at the time. I just knew I liked music. I didn't know enough about it to put a name or label on it. I was just having fun doing what I was doing. I started playing Caribbean music and I did good. I went to New York, Canada, the Catskill Mountains, and Madison Square Garden. I ended up meeting some people in Canada that were from Chicago; a guy named Jump Jackson and some other people. 

When I came to Chicago, Jump Jackson gave me a name of a guy named Singing Sam Chatman. His dad was this old dude named Sam Chatman too. He was from Mississippi and back in the day he had a group called The Mississippi Sheiks. They had a song called "Sittin' on Top of the World." His dad did that and I joined Singing Sam's band. Every summer his dad used to come up to Chicago and he played that Delta blues with the fingerstyle. He was really good. I met Sam at a place called The Trocadero on the South Side of Chicago. This was is in 1962 and is where a lot of the players that I met used to hang out. I met Jimmy Johnson, Lonnie Brooks, Jody Williams, and Lefty Dizz. I met all these people.

I was playing Calypso but I knew the changes. I had my bricks, nails, and hammer. I just didn't know what they wanted me to build. When I came to Chicago it was a hotbed for the blues. I didn't know all the stuff but I knew the changes. Everyone was very kind to me because I didn't know anyone. I got a job within two weeks of being in Chicago. By the grace of God, I have been playing ever since. I had to be prepared to play anything. The same songs I was using for calypso could be used for the blues. It's just a different feeling and beat. It's a little slower and a little funkier. That was a while back.

I played with Junior Wells and I play at Buddy Guy's Legends a lot. I knew James Cotton, too, and knew all of those guys. What I try to bring to the blues is honesty and sincerity. I care for the people and I love the people. I like to play for the people because without the people, it doesn't mean too much. It doesn't mean nothing really if you don't have the people there. Kate is unique because she is such a good player. Her husband is Nick Moss who is a fine player and has a great band too. Things are going well for me. I like to bring it and give the people what they want and I try to keep it funky. 
Can you talk about your Hohner electric guitar and your stickers on it?
The stickers are silly. I love to play and I am very serious about playing. The only way I can have fun is if I do my work properly and the best I can. Then I can have fun. The sticker is from a meat market from back in the day called Moo and Oink. Every time holidays would come around, they would advertise. I saw the stickers and being silly I stuck it on my guitar.

I have had the guitar for about thirty-five years and it is a great guitar. Its like a solid rock and is old and beat up just like me. It has scars on it but it has great action. I love it. It is my war horse and battle-axe. I love the Hohner.
Do you have a favorite Chicago venue to play at?
We play all over the place. We have been playing Bourbon Street for about fourteen years. I play Mardi Gras every year. It has to be at the top of the list. I am not from New Orleans but I like the music and I can play it pretty well. We work with a great group called Hurricane Gumbo. They are really cool. I love Bourbon Street and I have been playing the House of Blues for about ten years. I have been playing Buddy Guy's for about nine years.

These are the places that we do a lot of returns to. We have a great gig now at the Hard Rock Casino. We have been working there for about two years and that is in northern Indiana. We have been doing a lot of outside parties and the people in my band are wonderful people. We get along well. This has been one of our best years yet. I thank God for it. 
Can you talk about the thirty-year period you retired from music?
I was still playing weekend gigs but not regularly. I had five kids and wasn't going to be waiting around for twenty- or thirty-dollar gigs when my kids needed milk and stuff. I had to make a decision. I wasn't going to leave them. I kept looking around and I got this job in maintenance and special ed at a school. I figured I would stay there until the gigs got better. It worked out for me. The blessing is that I now have a pension and social security.

I wasn't getting that playing music. It is pretty cool. I was still playing but I wasn't going out of town. Every two weeks the postman shows up with the pension and it is pretty cool. I remember at my retirement party reading my pension statement and it said I will never outlive my pension. I don't remember what else the contract said but I remember that. As long as I am still around, I keep getting a check every month. That was the best move I made. The school thing was really good for me. 
What's next for you?
Looking back on it I feel very well. I don't need too much of anything or material stuff. I am good. I am playing gigs that I never played before. I just played at O'Hare for the people that were departing and coming in from their trips. That was good.

I have good people around me and you have to have good players around. Tom is great and he is more like my son. He is a great person. I am doing pretty good and feeling good. I thank God for the good people I am running into and the club owners are good, too. We have good jobs and are doing okay.