Electro-Fi Records proudly announces the powerful new album, SoulFunkn'BLUES, from the Blackburn Brothers. The Brothers are already multi-award winning heroes in their native Canada, with a legacy that traces back through their acclaimed father, R&B star Bobby Dean Blackburn, and a family history that goes proudly back to the Underground Railroad and an escaped slave who made his way to freedom in the very early 1800s.
To any newcomer to the Blackburns' music, the album is a revelation – relentless, funky driving rhythms, deep and complex layers of vocals and instrumentation that take off from steady rocking groves and fly with abandon before sticking a perfect landing. Lead vocals combine in harmony, alternate conversationally or meld via vocoder with guitar lines and effects, while tightly arranged background vocals and punchy horns work with the keys and guitars in a mix that's thickly layered yet somehow magically transparent. The songs deliver soulful, uplifting messages of love, freedom, and inspiration.
"SoulFunkn'BLUES is an eleven-track tribute to all the trailblazers and all the ancestors and forgotten tribes who taught the Blackburn Brothers the importance of history, blues, soul, groove, rhythm, and life." writes Shakura S'Aida in the album's liner notes.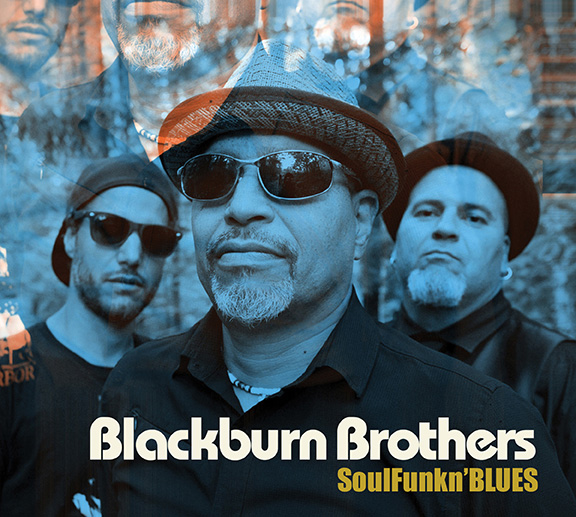 The Blackburn Brothers – Duane (lead vocals, organ, piano, vocorder), Brooke (guitar, bass, background vocals), Cory (drums percussion, background vocals), Robert (guitar, background vocals), and cousin Nathan (bass guitar) – evoke comparison with the great funky, bluesy soul groups of the past, adding their signature touches that make them totally unique.
The band received the Maple Blues Award for BEST NEW BAND in 2010, and a JUNO nomination for BLUES ALBUM OF THE YEAR in 2016, with numerous award nominations and accolades following.
In case you missed it, American Blues Scene featured the track "Bobby's Blues," a musical acknowledgment to their father written by Brooke. "From local clubs to mainstage events, he has captivated audiences with his groove and musical repertoire of blues, soul, and rock and roll, and he did it his way. He's still producing quality music to this day and entertaining people at major festivals."