A pathway to harmony can be found by talking about some of the hard things. "Will music move your heart and mind," singer-songwriter/multi-instrumentalist Chris Pierce sings. "Will our song arrest you / American silence is a crime." And there's something in a simple guitar + harmonica combination™ that makes a song. Just ask Neil Young, who asked the Los Angeles-based Americana-soul singer to open his entire July tour. 
David Bowie once said, "A song has to take on character, shape, body and influence people to an extent that they use it for their own devices. It must affect them not just as a song, but as a lifestyle." I feel that this quote especially speaks to Pierce's music, wherein speaking up and out is as essential as air, food and water – a spirit that comes from watching his parents as a child speak up and stand up and fight for their rights to be together as an interracial couple. "I watched them demonstrate that," he tells me, "and somehow they always found the spirit and the energy to stand up for the people around them – folks they knew, folks they didn't know. They were very involved in the community. My mother was a public school teacher and ended up working with at-risk high school students for most of her career and really stood up for those kids. My father was always part of the community. That kind of optimistic approach to life, I saw them do that all through love. In the end, love is really all that matters."
Right down to its title Pierce's new album, Let All Who Will, offers solutions in its perspectives. In fact, Pierce rarely writes without at least offering a way through to a solution. The title suggests that each individual has a choice every day that they wake up, to make decisions about how they're going to lead their lives and affect others' lives. "And how vulnerable they're willing to be," he explains, "and what kind of change we can make in our communities and even farther reaches than our communities. I feel like those of us who are willing to wake up and be thankful and try to take a moment – I feel like everybody wakes up these days and immediately looks at their phones. I'd like to challenge that and say, 'Take a moment. How can I leave some historical evidence of goodwill?' I think that's extremely important. And if we all did that it would create beautiful energy with a lot of solutions and at least a lot of conversation."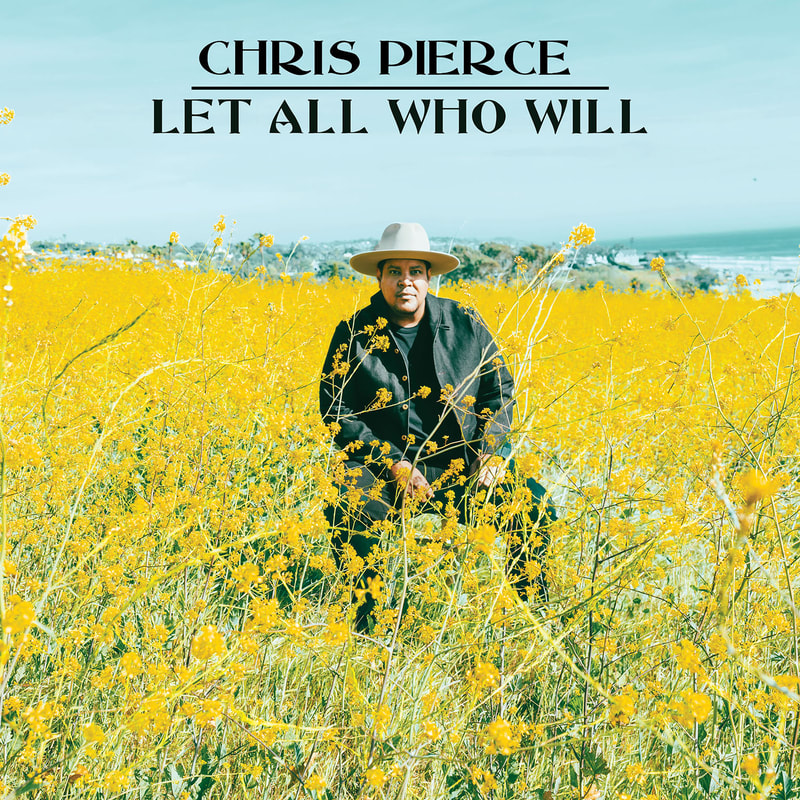 Pierce's voice cuts through this static on "Meet Me At The Bottom." As his bluest blues fly on gossamer wings all the way up the hill to higher ground, he's singing to any soul lost in the fray. "It's a universal song. 'Meet Me At The Bottom,' for me – the pandemic was a reminder of the vulnerability of everybody going through something together." Thoughtful use of a piano's deep descent and rapid ascent further reflects the song's uplift. "That's the great Dave Palmer on piano," he enthuses.
The album, a follow-up to 2021's acoustic American Silence, was co-produced by Niko Bolas (Neil Young, The Mavericks) and Dave Resnik (Sonia Dada, Mavis Staples) and recorded in Hollywood, CA at the legendary Sunset Sound. Personnel includes Doug Pettibone (Lucinda Williams, Ray LaMontagne), Sunny War, Michael Jerome (Richard Thompson, Blind Boys of Alabama), Kaveh Rastegar (John Legend, Bruce Springsteen), Kelvin Holly (Little Richard, Peggi Young), Deron Johnson (Miles Davis, Seal), Dave Palmer (Joe Henry, Susan Tedeschi, Fiona Apple), Maiya Sykes (Macy Gray, Postmodern Jukebox), Jessica Childress (Aloe Blacc, Rod Stewart), Charles Jones (Jennifer Hudson, Joy Oladokun), and Ginger Murphy (Kamasi Washington, Kendrick Lamar).
"Everybody involved in the making of the album are dear friends that I've worked with, so that made it a really special session. We had Dave Palmer play on a handful of songs, and then we had Deron Johnson on piano, who I met when I was opening for Seal almost 20 years ago. He was playing piano with Seal, and we became great friends. He's an incredible pianist, both pop and jazz music. He was actually Miles Davis' last piano player. There's Ginger Murphy on cello. She came in and did a beautiful job. Michael Jerome Moore on drums; he's on the whole record. Kaveh Rastegar (bassist) is on the whole record, and also the great Doug Pettibone on guitars. And then Kelvin Holly is on guitars. He's from Muscle Shoals.
"Niko Bolas co-produced with Dave Resnick, who I've known since '93. Dave had a band called Sonia Dada and I did some touring with them when I was just a teenager. Niko has actually worked with Neil Young for many years, so there's that connection as well. Working with the two of them was an incredibly inspiring and beautiful experience. I do a lot of cooking analogies; I feel like they're the kind of chefs that say, 'Here's the base, here's the ingredients, here's what's important for the recipe. Now make it yours.' It really speaks to how professional and seasoned they both are. They know how to get out of the artist's way and let the music do the work, and then add their expertise to make the vision realized."
In addition to touring with Neil Young and Seal, he has shared worldwide stages with B.B. King, Aaron Neville, Al Green, and Toots and the Maytals. He feels like each tour has been "a magic carpet ride," each its own edifying journey. "Kind of learning how to navigate at a different pace with different circumstances and bigger audiences. Every tour has been unique and special. With Seal it was my first time really touring internationally. Having that chance an and him taking the chance on me was really special, and they were sold out shows. He's just a very generous individual as far as treating me like part of the family. It's been the same way all the way to Neil Young.
"And B.B. King was getting very old at the time. Watching him tell stories and play music for two and a half to three hours every night was incredible, and standing backstage watching that every night. I'll never forget this: he invited me on stage every single night to take a bow with him at the end of the show. It's thoughtful and it's old school. And it told me that he valued me being a part of the overall spectrum of the show. Fast forward to Neil Young this summer. The fact that I got to do that was one of the biggest honors of my musical life. Watching him up there every night stand behind his beautiful music and just be completely authentic was incredible."
Pierce had to overcome obstacles on his way to greatness, and he's done so with the ultimate renewable resource: the healing powers of music (which happens to be the name of his 2012 TEDx Talk). At 15, if you don't have the right trending tennis shoes or you find yourself at home on a Friday night, your life is over. But what about going deaf? "I was already writing songs; I already knew that this was what I'd be doing until I grew old. To go deaf was just completely devastating. It was this kind of pivotal moment. It was like a choice. I had the choice to fight for my voice or to let the circumstances define my journey with music. I decided to face the mountain and start climbing. Even though I was able to have the surgery and regain partial hearing on one of my ears it's been, for the past 35 years, a daily constant struggle."
That kind of struggle is a deep, internal one that is hard to talk about or relate to people. "When I get on an airplane and my ears are feeling screwed up and I can't hear." People don't think about these things in their day-to-day, that someone's worst fear might be not hearing a fire alarm or law enforcement command. "It's wild. I've had times where I've been at a hotel in the middle of a tour, and I'll go down to the lobby and they'll tell me that a fire alarm went off. But it was a false alarm. And I was asleep on my good ear and couldn't hear it. Mostly it's just getting by and communicating with people, which I love to do, but just have such a hard time doing sometimes."
In opener "Batten Down the Hatches," a vernal breeze of a folk arrangement, the track slows down to Pierce singing, "When will we learn that peace in our hearts can't be purchased or bartered or sold / What's it gonna take on this mountain of mistakes to rise together and and break down the mold." The track picks back up with the chorus; and like water gushing out of a dam, there's a sudden burst of a cappella within the chorus. Spending so much time in his own head has made him reach deeper when trying to communicate, and this adaptation to change has fine-tuned his musical vision and has made his singing that much better. "When I'm on stage, I think it makes me pull and push harder. Because I can't hear the full spectrum, and I don't know what everybody's hearing. So it makes me really pull from a place of soulfulness, a place of my heart that I probably wouldn't normally pull from if I had perfect hearing."
"Home," with its hypnotic hambone rhythm, was written with Kaveh Rastegar who plays bass on the album. They wanted to write an empathetic piece dealing with home as not a literal place but the feeling of home in people's hearts. "Because we had this discussion that whether or not you make mistakes and may go on a different path than your family and friends want you to go on, and maybe have some really hard times, even the feeling of home and the feeling that folks are forgiving and compassionate, can be lifesaving. It can make your life not only brighter but it can save people's lives.
"So we wanted to write a song that has three different vignettes. It talks about a man, a woman, and then it talks to the people that we feel should be empathetic to these situations. Who made you the jury and judge? Don't hold grudges. Let folks into your lives; let them back into your heart even though they may have done some things that you personally disapprove of. To me that song is extremely universal. And Kaveh and I have been on both sides of the situation, so we were able to write about it from personal experience. It's an important song. We wanted it to feel like a celebration, not a lament. We did that on purpose."
On "Tulsa Town," the raw emotion of Pierce's vocals is punctuated by an undulating waltz beat as he explores the story and legacy of one of the worst domestic terrorist attacks in U.S. history. "If you build it up / they'll break it down." I think of the Tulsa race massacre, buried in history like the unmarked graves whose locations were never recorded, as a microcosm. Atrocities from over a century ago to now, where there's no apologies or accountability, are like cancer cells on the body of America. Black success was seen as an existential threat, and white supremacy flourished after the massacre which killed hundreds.
"There's a lot of things puzzling about it, yet at the same time there's a lot of things that aren't surprising knowing our history. You know, one of the most puzzling things is the local newspaper the day after it happened described it as an overzealous act of justice. I do know that it took over 70 years to be investigated. I do know that even though Tulsa is just beginning to see the light of day as far as the race massacre, that this kind of thing happened all over the country. I wrote it with my dear friend Mark Malone. To me, it being from the perspective of a man being hung is really heavy. It shoes that even he, as he was being hung, had to find some kind of empathy and compassion and try to figure out why this was happening. It really speaks to the Black experience in America. We still have to try and find some kind of compassion for the people doing these injustices and try to forgive them. I hope everybody not only listens to that song, but I hope they do their own research as well."
Having read an essay Pierce wrote called "Life in Stereo," in which he writes, "If you've spoken to me and I walked away… If I've abruptly ended a conversation with you… If I've repeated what you just said, word for word… Thank you for your patience" — I had the Cars' song "Moving in Stereo" in my head. And then I realized a rootsy rendition of the Cars' "Drive" is on Let All Who Will. I was already wondering if Pierce's eclectic influences trickled into the album. With Americana and traditional folk as the throughline, if you pull the songs apart they all start with an acoustic guitar. "The treatments evolved over time. If you listen to 'Tulsa Town, that's basically kind of an old country song. I have a lot of soul and R&B influences. You hear some jazz influence on 'Sidney Poitier,' and the piano is beautifully treated by Deron Johnson on that. Sunny War and I wrote this song 'Time Bomb,' and that's very soulful and kind of R&B." And as for "Drive," the song has always been one of his favorites, and it's dedicated to the memory of his dear friend who passed away not long ago. "I remembered him doing a cover of it and then telling me, 'Man you know, yeah, man, you should do a cover sometime. I did it as kind of a tribute to him as well."
From "ain't no hatches to batten anymore" to "Ain't No Better Time," to all points in between, "It's about freedom. It's about pain. It's about frustration. And I hope that it takes folks on the most emotional journey that it could possibly take them on with these songs." Pierce wants listeners to take this in the way we used to take albums in, or the way you feel after a live show where your heart is racing the whole drive home. "I want folks to get caught up in the emotion and embrace that."