Baby, You're The Man Who Would Be King follows the internationally critically acclaimed The Beautiful Madness, an album Jerry Joseph recorded with Patterson Hood producing and Drive-by Truckers as his backing band – as well as its companion album, Tick, which features demos and unused studio tracks from the recording of The Beautiful Madness on side one with live recordings with Joseph backed by The Truckers at the 40 Watt on side two. The album was produced by Eric "Roscoe" Ambel and recorded at Cowboy Technical Services.
The excitement over the success of TBM and the plans to tour Europe with Drive-by Truckers quickly turned to disappointment as he watched everything getting canceled. It was with that frame of mind that King came about. The idea of making a New York City album has been something Joseph has long talked about. The city is important to him, he lived there for several years and one of his children was born there, and he has always been a fan of those iconic albums that capture the city's feel. He met Ambel in 2018 when Eric sat in with his band at a show at Rough Trade in Brooklyn and the seed was planted.
In the summer of 2021, Joseph traveled to NYC to record the album with Ambel at his Brooklyn studio, Cowboy Technical Services. Ambel assembled a band of stellar musicians including Jeremy Chatzky on Bass, Phil Cimino on Drums, Charlie Giordano on Hammond Organ, Wurlitzer Electric Piano & Accordion and himself on Electric Guitars, Acoustic Guitars, Keyboards, Percussion & Harmony Vocals with Casey Neil on Harmony, Joe Flood on Fiddle, Mary Lee Kortes on Harmony Vocals, and Cody Nilsen on Pedal Steel, adding their skills to a song each. The album was mostly recorded in a week with Mario Viele engineering after which Ambel added some additional recording from his home studio, Evie's Terrace.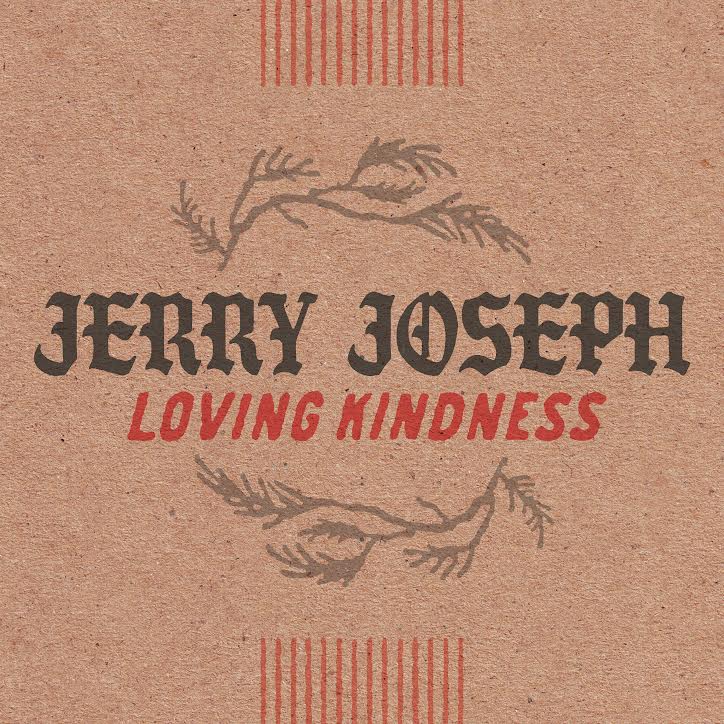 Premiering exclusively on American Blues Scene is "Loving Kindness," the third single in advance of the new album. Born from a soul-searching discussion with a close friend, the song is about forgiving oneself as a path to healing and freedom. "Loving Kindness" was one of the songs Joseph wrote in a borrowed vintage camping trailer parked in his driveway in the midst of the pandemic. His neighbor lent it to him to give him a quiet place to write while his entire family was home. The group of songs he wrote there eventually became King, but they don't really have a theme or a common thread beyond when and where they were written, although most of them deal with some of the bigger issues we were all grappling with at that time.
Eric Ambel recounts the recording of the song, "Jerry reached deep and sang his ass off on this track; we were honestly just trying to keep up with him. I played the B-Bender guitar on the basic track and Charlie Giordano played the Wurlitzer and Hammond. After we had it pretty close Jerry called me and said, 'What about some sort of Nicky Hopkins piano'? It was my good fortune that the song was in the key of C so I did that myself later at (Ambel's home studio) Evie's." The song also features Jeremy Chatzky on Bass and Phil Cimino on Drums.
Jerry Joseph will be on tour this summer and fall, with European dates coming this winter.
Check here for more dates being announced.
September 7 Greensboro Cultural Center – Greensboro, NC (with Jackmormons)
September 8 Shiloh & Gaines – Asheville, NC (with Jackmormons)
September 9 The Palm Room – Wrightsville Beach, NC (with Jackmormons)
September 10 Heist Brewery – Charlotte, NC (with Jackmormons)
October 7 The Old Church – Portland, OR *Record Release Show
October 19 Talent Club – Talent, OR *w/ Casey Neill and the Norway Rats
October 20 Arcata Playhouse – Arcata, CA *w/ Casey Neill and the Norway Rats
October 21 Ivy Room – Albany, CA *w/ Casey Neill and the Norway Rats
October 22 Old Princeton Landing – Half Moon Bay, CA *w/ Casey Neill and the Norway Rats
October 25 Sweetwater Music Hall – Mill Valley, CA *w/ Casey Neill and the Norway Rats
December 5 Water Rats – London, England *Record Release Show