Five artists appearing at the prestigious King Biscuit Blues Festival, beginning Wednesday, October 4th, record for Little Village: D. K. Harrell, Sonny Green, Memphissippi Sounds, Tia Carroll, and Candice Ivory.
Little Village is a 501c3 nonprofit record company that seeks to shine the light of awareness on musicians who might not otherwise be heard, and in doing so further the belief that a life filled with diverse music builds empathy making for stronger communities and a better world. Little Village defines itself as "a record label that seeks out, discovers, and records music that might not otherwise be heard."
"We're really just selling awareness," says Little Village CEO Jim Pugh. "The more people that know who you are, the more opportunities you'll have to make money."
A keyboardist by trade, Jim Pugh has a long and successful history in the business. "I worked for Robert Cray for 24 years and eight months – I call it 25 years. Before that, I worked for Etta James for 10 years. I really got to the point at 60 where I just decided to combine my passions. The point being, if you do something you really like doing, it's not work at all.
"We're having a good time. It's growing. I've done small projects before, but this was really something like starting your own company."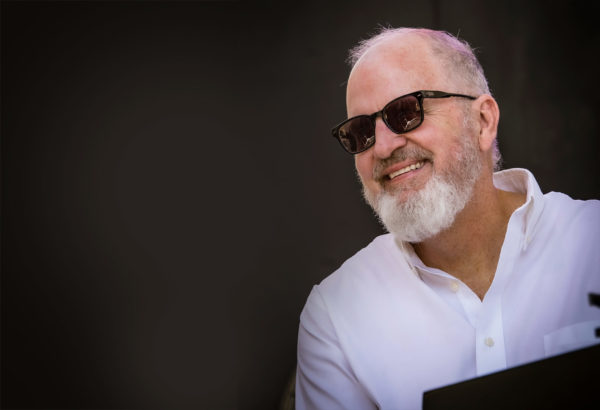 Jim offers to record their artists' music at no expense to the artist at all. Sometimes, this is the very first time the artist has been recorded. Not only is there no expense to the artist, but the label gives each artist 1000 copies of their CD to sell on tour. The artists retain their "intellectual property," and Little Village sets up all retail accounts for the sales of CDs in the artists' names. This happens with generous public donations and grants.
"Little Village was going to be four releases a year and separately we would go from four artists one year to 10 artists the next year," explains Jim. "It turned out to be somewhat more like eight to 10 releases in one year, and it's not separate year to year. I'm working with artists from five to six years ago. It's cumulative. So, the thing isn't getting smaller. It's getting bigger. It's still my passion. I spend a lot of days being in my pajamas from 7 o'clock in the morning to 7 o'clock at night, and then some. It's a lot of work."
D. K. Harrell is Little Village's rising star. He plays King Biscuit's main stage, Friday, October 6th. See my two-part interview with him in American Blues Scene later this week. He says, "It's not the cover of the book that defines the book, it's the first page. The blues kind of filled some holes my mother can't fill, and it's just been my best friend ever since." This 24-year-old never spoke a word or uttered a cry until he heard his grandfather play B. B. King's "The Thrill Is Gone" on the car stereo at age two. Out of the blue, he started to sing along.
Sonny Green is an 81-year-old gospel-drenched blues singer who was the singer on Big Jay McNeely "There's Something on Your Mind," was the featured singer for The Tyrone Davis Revue, and was a classmate of Mighty Sam McClain at 16. The "old school" soul/blues singer released eight 45s in the 1960s and '70s, but his Little Village album Found One Soul Singer is his first album. Kid Andersen produced the album, co-wrote three of the songs and plays guitar. Jim Pugh plays Hammond B-3 organ. Other songs are by a who's who of great talents: "I'm So Tired" by Bobby Blue Bland, Little Milton's "If Walls Could Talk," Rick Estrin's "I Beg Your Pardon," and an Alabama Mike original, "Trouble," featuring a duet with Sonny and Alabama Mike.
Memphissippi Sounds' Welcome to The Land is their debut album of originals. Jim Pugh is the executive producer. Drummer Cameron Kimbrough is the grandson of Junior Kimbrough and a Mississippi hill country native. Damion "Yella P" Pearson plays harmonica. Kimbrough had grown up hearing the blues at his grandfather's juke joint, and he later taught himself to play. Yella P was also self-taught on the harmonica and grew up listening to Metallica's "No Leaf Clover" with the San Francisco Symphony, System of a Down, Nirvana, Incubus, and rap. Dennis McNally describes their music "original blues, the one-chord trance drone chant that preceded what we now think of as the traditional 12-bar structure."
Tia Carroll's American debut album You Gotta Have It! on Little Village is the product of a Bay Area blues and soul singer with a powerful voice that demands you pay attention to her need for love. She has 30 years' experience performing with her own band in California and recording with bands in Italy and Brazil. The standout cut here is "Our Last Time" by Jim Pugh that he and Robert Cray recorded during their years playing together. It's as cold as a lusty song can get about a lover whose just had her last night of love making with a guy who doesn't know he's had his last good time with her as she checks to make sure she hasn't left anything behind.
Also featured are The Staples Singers' "Why Am I Treated So Bad?" and Z.Z. Hill's deep soul blues ballad, "I Need Someone." She brings three of her own originals to the session, including the sultry and seductive "Leaving Again" which has a funky 70's feel with Kid Andersen's wah-wah and Jim Pugh's Rhodes, the emotional ballad "Even When I'm Not Alone," and Tia's inspirational message song, "Move On" which features Brazilian blues guitarist Igor Prado on lead.
Candice Ivory, Queen of Avant Soul, released her third album on August 23rd celebrating the 50th Anniversary of the passing of Memphis Minnie. It's called When the Levee Breaks: The Music of Memphis Minnie. She takes a fresh jazz inflected approach to the catalog of one of the best loved matriarchs of 1930s blues. The album was produced by Charlie Hunter. The Memphis-raised and St. Louis-based Queen of Avant Soul, Ivory hails from an illustrious Memphis family that shaped the city's secular and sacred sounds. Her great-uncle was the singer/guitarist Will Roy Sanders whose band, the Fieldstones, was one of the premier Memphis blues groups from the 1970s to the '90s.
Ivory had long planned to record an album of Memphis Minnie's music, but the stars didn't align until 2023, which happens to be the 50th anniversary of Memphis Minnie's death at the age of 76. Candice explains "As a working musician while still in high school, I had an epiphany when I visited Memphis Minnie's grave in Walls, MS, just a few years after Bonnie Raitt purchased a headstone for the long-unmarked plot. I was amazed to discover that Minnie's grave had been transformed into a shrine by all the visitors from around the globe. That made an unforgettable impression on me, yet she's mostly unknown."
Mark your calendar for Wednesday, October 4th for the start of a four-day wang dang doodle that proclaims the blues alive and well. You want legends and legacy? Saturday night headliner is Louisiana Wetlands firebrand Tab Benoit backed by The Big Easy's Dirty Dozen Brass Band. This Grammy-nominated singer, songwriter and guitarist is home grown, but his dexterity on guitar is needle sharp, and his rapport with an audience is nothing less impressive than what I'd expect from an Apollo Theater crowd on a hot Saturday night in Harlem. It's the kind of bonding that eliminates the distance between the stage and the fans.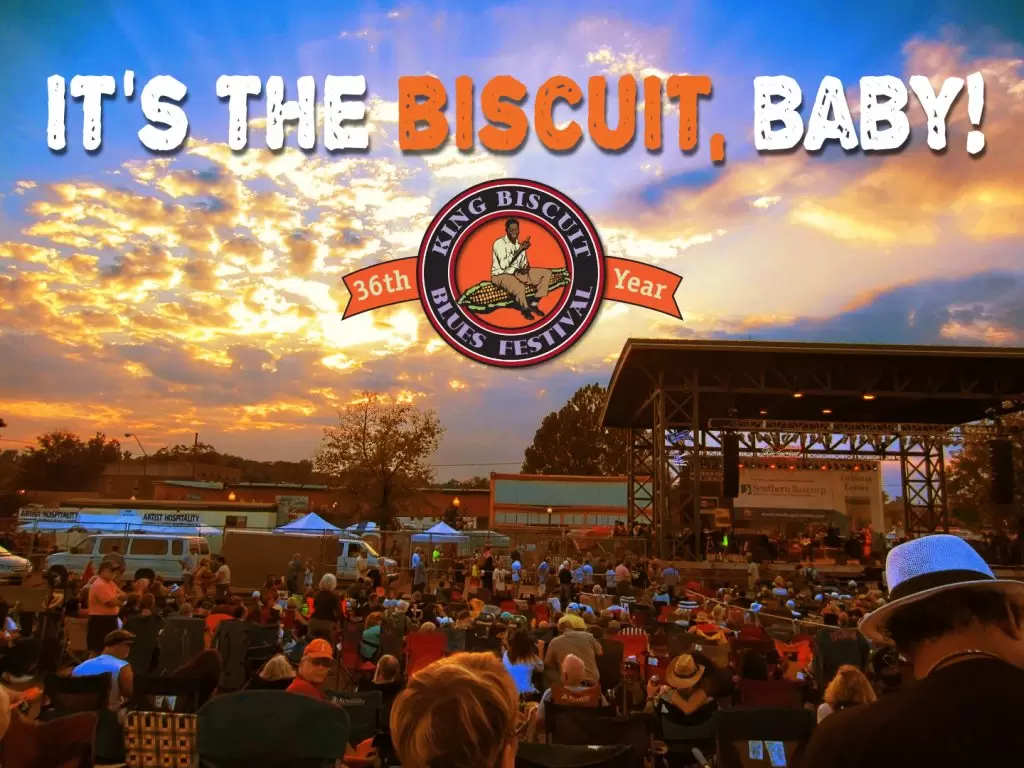 Thursday headliner Ruthie Foster is the winner of seven Blues Music Awards and has been nominated three times for Best Blues Album Grammy. "I'm not just singing the blues, I'm singing my own story," says this singer whose repertoire covers gospel, blues, jazz, folk, and soul. When she played the Biscuit in 2015, she told me it felt like home. Her music is "my story as a woman that's grown up with gospel music. It's really all these different types of genres being raised in Texas. I look at music as in the beginning it really was a way of kind of a healing for me in a lotta ways."
Friday's headliner offers the primal screams of Chicago South Side veteran Nick Moss and his very electric band. His music combines postwar electric sounds in the Chess tradition with hard-rocking contemporary blues. If you like big city blues done with pinpoint precision and a hard edge, this is as good as it gets.
Editor's Note: Join two blues journalism and preservation legends, Roger Stolle and our own Don Wilcock, as they moderate two-hour-long "back fence" conversations with celebrated musicians at the 11th annual Call and Response Seminar.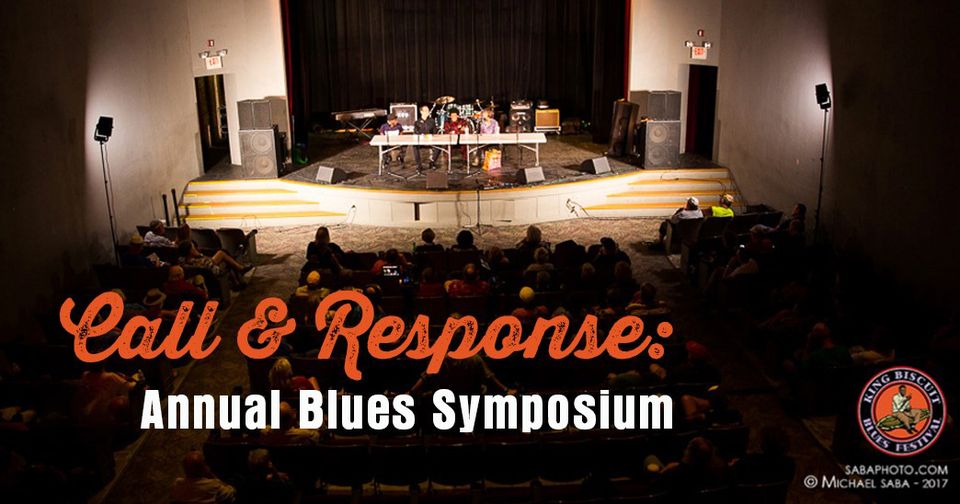 WHERE: Malco Theater, Cherry St., Helena, Arkansas
WHEN: Saturday, October 7th – 10:00am-12:15pm
FREE ADMISSION
—–
PART ONE – 10:00 A.M.-11:00 A.M.
with Charlie Musselwhite, Kent Burnside, Jimbo Mathus, and Jimmy Burns
Moderator: Roger Stolle
—–
PART TWO – 11:15 A.M. -12:15 P.M.
with Munnie Jordan, John Primer, Nick Moss and Dennis Gruenling
Moderator: Don Wilcock