Let me take you on a journey through the captivating sounds of My Son The Hurricane: a band that brings a storm of musical brilliance to the stage.
First and foremost, one must acknowledge the band's sheer size. Usually comprising a staggering twelve members, the touring group consisted of nine. With an amalgamation of horns, guitars, percussion, and vocals, they create a wall of sound that crashes upon the audience like a tidal wave. It's an assault on the senses that leaves you satisfied, yet craving for more.
Hailing from Toronto, Canada, the band's live performances are a spectacle to behold. The eye of the storm, lead singer Sylvie Kindree possesses a voice that can simultaneously soothe and electrify and commands the stage with an energy that is infectious. Each member contributes their unique musical prowess, seamlessly blending genres like funk, rock, jazz, ska, and hip-hop into an irresistible concoction that could be served on the streets of New Orleans. The combination of the bands symbiotic dance moves and musical talent showcase a tight choreographed performance that elevates them from a tropical storm to a full on Category 4 hurricane.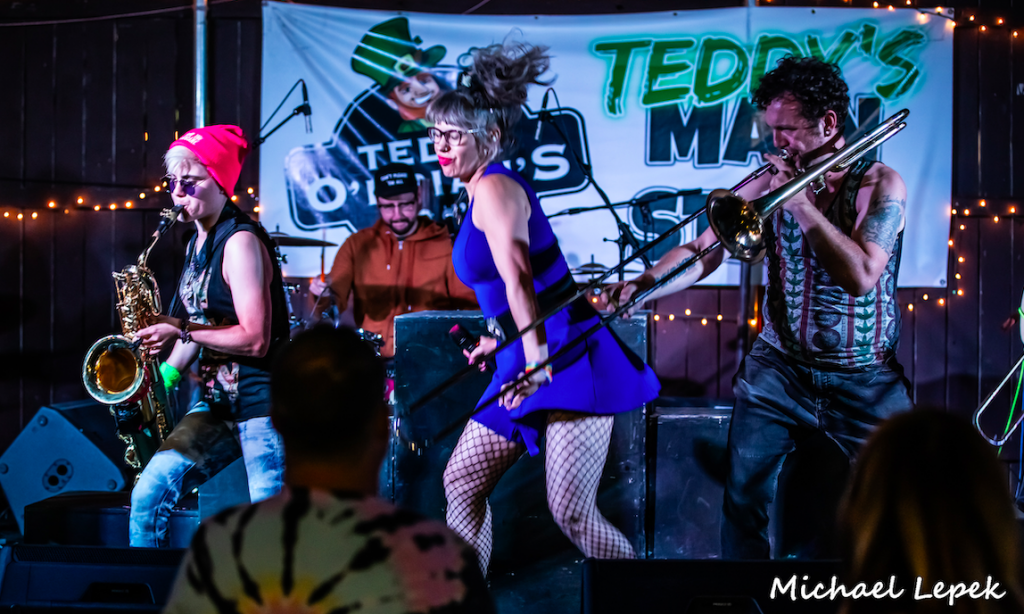 One cannot discuss My Son The Hurricane without mentioning their impeccable musicianship. The brass section consisting of Lisa Gugeon on Trumpet, Alyssa Shangham and Craig Darling on trombone, and Kristen Prince on Tenor sax, blares with precision and fervor, injecting each composition with a surge of adrenaline. The rhythm section led by Danno O'Shea on drums and Fraser Gauthier on bass lays down a solid foundation, driving the songs forward with an unwavering groove. And the guitar work of Chris Sipos weaves and dances, adding texture and depth to the sonic landscape accentuated by Ashlee Standish on the keys.
In an era where music can often feel formulaic and predictable, My Son the Hurricane offers a refreshing gust of originality. They defy categorization, refusing to be confined by the boundaries of a single genre. Their music is an amalgamation of influences, a storm of creativity that breaks down barriers and captivates the listener.
My friends, if you have yet to experience the whirlwind that is My Son, The Hurricane, I implore you to seek them out. Let their music wash over you like a torrential downpour, leaving you drenched in the sheer power of their artistry. They are a force of nature, a band that demands to be heard and felt. Brace yourselves, for My Son The Hurricane is coming, and they are here to stay.
Images: © Michael Lepek for American Blues Scene