Bob Margolin gives Thanks to celebrate 50 years since he joined Muddy Waters Band. He plays the same Gibson archtop electric guitar that he played next to Muddy and The Band in The Last Waltz on every song on the album.
He recorded one song by Muddy from 1952, and one that he and Muddy wrote together in 1977. He sings "The Shape I'm" In by The Band as a blues with 4-part harmony. He interprets Willie Dixon's "Who," first done by Little Walter but later performed with Bob by R&B legend Nappy Brown. He covered "Hard Working Man" by his friend Jimmy Rogers, a Chicago Blues legend who played guitar with Muddy 25 years before Bob did. He rearranged Paul Gayten's "For You My Love," which Bob used to play with piano legend Pinetop Perkins when they played together with Muddy until Pinetop passed at 97 in 2011. And he played four of his own songs, rearranging them to be played on that Gibson archtop now.
Old songs, old guitar, new fire.
Bob created every sound on the album except for the joyous bark of Levon Margolin, Bob's Border Collie, during the guitar solo in "No Consolation." He tracked, mixed, mastered and produced the album — a very personal labor of love and a five-decade journey. His time in Muddy's band ended in 1980 and Muddy passed in 1983. Muddy's unique spirit and voice are gone, but he deliberately placed Bob on the bandstand where he could follow, watch and learn. Particularly on slide guitar, Bob can evoke Muddy.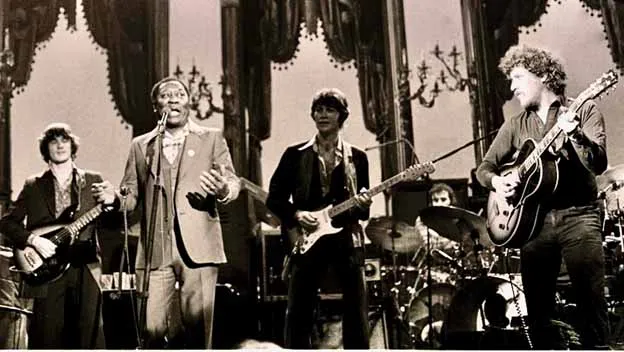 In case you missed it, listen to "Going Down to Main St." Originally released in 1952 by Muddy and his original band featuring Jimmy Rogers on second guitar and Little Walter on harp, it has always been one of his favorite Muddy songs from before he was in his band.
Muddy didn't play it often, but In 1975 Margolin recorded it with him for The Muddy Waters Woodstock Album, featuring Levon Helm and Paul Butterfield. He dedicates this song to Levon, too, who also liked singing it. With that same special slide guitar that sings, the song swings!