"Getting to play with R.L. Burnside and Jr. Kimbrough was a lot of time growing up. I was young, and I really wanted to be like those guys. I wanted to be black. I wanted to be southern. I wanted to be from Mississippi, and it's just not the case. That's not who I am. That's not where I'm coming from. Those people were the lesson of hey, man, just be who you are – coming from real blues people who didn't tell me to sound like that. I certainly don't try to be like them. Don't try to be them."
In 1992 at age 18 Jason Ricci began hanging out with artists who included Sam Lay, Norton Buffalo, Eddie Shaw, Mark Hammel, and Smokey Wilson. "There was a club in Boise, Idaho called The Blues Bouquet run by a Hammond B-3 player and piano player from Boston, Ken Harris. This club brought in all of the top touring talent from all over the country to little old Boise, and I was in college studying wildlife management."
Jason was underage and didn't have a fake I.D. Wait a minute, I said to him. He had just destroyed his image, and we were not two minutes into the interview. He cackled. "I'm good at that. I love destroying my image."
Ken Harris became a father figure to Jason. He took him in and paid him $10 to play harmonica every Tuesday night. That way he was a legal employee even if he was underage.
"When I started doing well and started doing what he told me to do, he would reward me, and he would talk to Sam Lay and all these guys and say, 'Hey, listen, let the kid sit in on a number. He's really trying.' He would introduce me and additionally there was a woman in Boise who was a car salesman, Dara Longabardi, and she would host parties at her house after the shows.
"These musicians would come back, and they would be partying and doing all kinds of stuff in a room I wasn't allowed to go in and didn't even know what was happening in there. Then they would come out all jacked up, and they'd be teaching me harmonica until like 9 or 10 in the morning until a van pulled up to get them, and bring them to the next gig."
Thirty-one years later, Jason's resume includes gigs playing harp on albums by Johnny Winter, Ana Popovic, Joe Louis Walker, Cedric Burnside, Walter Trout, Mike Zito, Joanna Connor, JP Soars, Nick Moss, Peter Karp, Nick Curran, The Mannish Boys, Too Slim and The Tail Draggers, and Walter Trout. He's toured or played on shows with John Fohl, The Iguanas, Damon Fowler, Papa Mali, Walter Trout, Nick Moss, JP Soars, Eric Johanson, Big Chief Monk Boudreaux, Anders Osborne, Joe Krown, and many others. His style is aggressive, unique and puts him in the same league with the legendary blues men he emulates.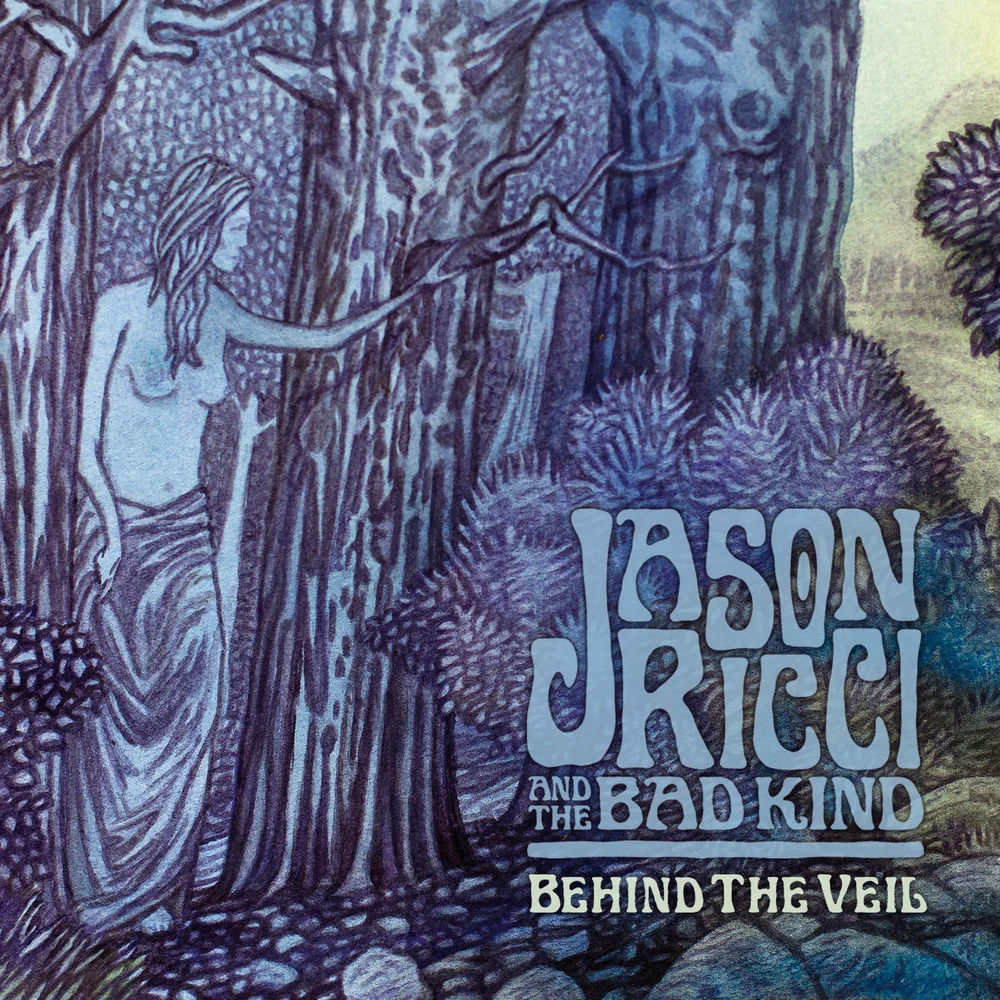 Jason's just released album Behind The Veil on Mike Zito's Gulf Coast Records is a potpourri of covers and originals featuring his band The Bad Kind and his wife Kaitlin Dibble on many of the vocals. "Why Don't We Sleep on It" is a vocal duel/love song based on an argument the two had. "Yeah, we had a big fight. We don't fight too often, but she has this really annoying habit of waiting until the tour is over, and we're riding home, and you know how those agents are. They'll book the last gig in New Hampshire or Seattle, a 40-hour ride home, right? We'll wait until the last 30 minutes right when we're gonna be home and so at peace, and she'll start an argument. I was so mad at her."
He recalls how they met. "I took her mother to Chinese food just to talk because she was an intellectual, and she gave me her daughter's CD, and I was like 'Oh, God!' Right? Like I'm gonna listen to this? It's gonna be terrible.' I listened to it and was extremely intrigued. Like, who is this person? Next thing you know we started talking on the phone for hours and hours. That was in 2011.We've been together ever since. We've been married now for six years coming up next spring.
"After that fight, I was motivated, so I started writing this song about how much better I would be without (her), and as I was writing the song I realized how ridiculous it was, and I would hear her voice coming" One of Kaitlin's Facebook entries states, "I'm three years married, purple-haired, 42-year-old touring American, a touring musician, a retired stripper, and word-loving songwriter, and disagreeable riot girl."
"Yeah, that's neat," says Jason about the post. "She constantly provides a much-needed sense of reason. She's a right good ole lover and a very rebellious spirit, And she's Bostonian. She's a New Englander."
Jason's favorite cut is "5 – 10 – 15" originally recorded by Ruth Brown and sung by Kaitlin. "I really wanted to return to that New Orleans R&B, traditional blues sound that comes from Fats Domino stuff. The entire record was inspired by listening to the Wednesday night WWOZ radio show and that whole '50s R&B and blues." The album was recorded with the entire band in one room like the old two-track recordings from decades ago.
Kid Andersen mixed the album. "Mike Zito's insistence on Kid Andersen was incredible because I was terrified to let the album be mixed and mastered by anybody but Tony Daigle because I was like here's the one guy that gets it. Mike finally goes, 'Listen, let him mix three songs and if you don't like it, I'll pay out of my own pocket, and you can have Tony mix the rest.' And what happened of course was Kid Andersen more than got it and did a wonderful job, and I haven't heard from Tony yet, but I only hope Tony is as happy as I am because the two of them together two heads are better than one."
Jason's struggles with alcohol and drug addiction, including a year in jail, have been problematic to his career and much more public than perhaps anyone else in blues. Now clean and sober, he talks openly about the struggles he's been through. He calls Nick Moss his "rock for many years" and his dearest friend. He recalls a time "I was on probation in Indiana, and they allowed me to go on tour with Nick. I had gotten hired by Nick to do a couple of shows up in Chicago and record on one of his CDs. We had been friends for years. You're not supposed to drink alcohol.
"So, I got up there and we're having a beer here and a beer there. I'm trying to show Nick that I don't have a problem drinking, but the problem was drugs and alcohol. It wasn't drinking. So, inside I'm fighting it. Like I want to have 16, but I'm just drinking this one to show my big brother that I can have one and leave me alone. We make it through the gigs. It's the last day, and we're watching The Bears football game. I'm sitting there in Nick's living room, with those pit bulls climbing all over me. We're watching this, and I know there's all these beers in the bottom drawer of the basement refrigerator, and all I can think of is I'm done with the gigs. Let's go and get one of those beers and watch football…
"So, finally I was arguing with myself. Don't do it! Don't do it! Finally, I just go down and get one of the beers and bring it upstairs, and I open it, and I'm sitting there nonchalantly drinking, and Nick says to me, 'Hey, man, isn't that not allowed to do on your probation?' I said, 'What do you mean, man?' He goes, 'Doesn't part of your probation say you're not supposed to drink alcohol?' And I said, 'Yeah, man. You know! Fuck those guys, man. They can't tell me what to do. Like I don't have a problem with alcohol as demonstrated by the whole week. Did you see me do anything like that?' He goes, 'See! Put it to ya this way, bro. If they told you if you had a cheeseburger, and if they caught you having a cheeseburger you could do 12 years in prison, can you honestly say right now you'd be eating a cheeseburger?'
"And it was true. I knew right there I had a problem with alcohol. That's my big bro. And he's gonna tell it to you from the heart the way he sees it. He might not always be right, but he always means right, and he usually is right. I've met a few people in this industry that are as straight focused as Nick Moss, and you can always count that whatever Nick says, it's what he actually needs."
One of the covers on Behind The Veil is "St. James Infirmary." "When I sing about it, I think about my friends who prematurely overdosed, and I think a lot about people that didn't make it and down the line are stretched out on a cold table. One minute somebody's alive, and the next minute they're dead. What that feels like. So, that's where I'm coming from on my singing, but I mean the song is like the 'Mustang Sally' of New Orleans. I was very hesitant to even do the number, much less record it, but once we started doing it, I realized there was sincerity in the way I was singing it, and that it was suited well for me."
Jason spent a day with Johnny Winter in 2015 recording a number on Johnny's last album, Step Back. "When I met Johnny Winter, I was almost 90 days sober at the time, and getting to do that recording he was extremely supportive of me no matter where I was. So, whether I was actively using or actively sober, there was no judgment at all, and we really bonded right away over all of that.
"I found him to be very funny, extremely sharp which I didn't expect, and unbelievably intuitive. When they say somebody can see right through you, that's how Johnny Winter was, and there was no judgment in seeing right through you. So, whatever it was he was looking at that you might want to hide, you sort of felt you didn't want to hide it anymore because you felt loved. I don't think love is the right word. Understood. I felt understood by him."
At the end of our interview Jason says to me, "I really thank you for reading Kate's post and asking so much about her because I think she's the real secret shining star and certainly the motivation behind the record. So, I think the next record is going to really, really take off because we're really, really going to get her going in the next one. Not that she didn't do it on this one, but I also feel that she is a very authentic singer and presenter and I crave more of that. I really think she is something and I thank you very much for reading how the riot girl proposed to me. It means a lot."