Jonah Tolchin may be best-known as an Americana songwriter bringing heartfelt, affecting, lyric-driven songs. He's set to affect in a new way on his new album: with his guitar. Tolchin has joined forces with co-producer Luther Dickinson (North Mississippi Allstars) to record his forthcoming album Dockside at the legendary Dockside Studios in Maurice, Louisiana, which artists like Dr. John, B.B. King, Levon Helm, Taj Mahal, Derek Trucks, Ani Difranco, and Mavis Staples have decamped. Its October 20 release date marks the first album to come out on Clover Music Group, Tolchin's newly established label, to which he has already signed other artists.
"When Jonah told me he wanted New Orleans flavor with a destination studio," says Dickinson, "Terence Higgins and Dockside Studio were the obvious choices. The location and the chemistry was perfect for Jonah to rise up and fly! Recorded live in two days, the session was joyful and effortless."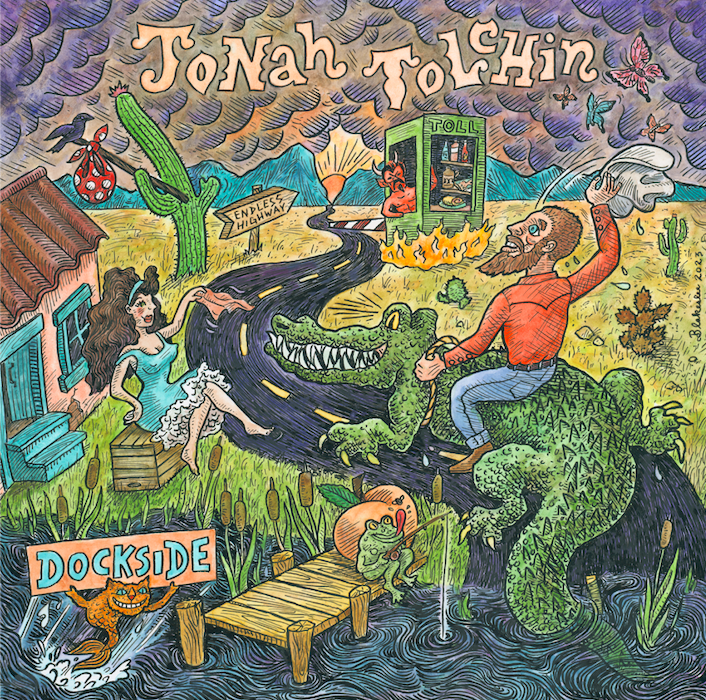 As a blues-inspired album, Dockside brings Tolchin full-circle. Many know him as a powerful fingerpicking acoustic guitar troubadour but his first appreciation for roots music came via his father, who owned a record shop in the Mississippi Delta and exposed his son to blues early on. Jonah's first stage appearance came in a guest spot as a teenager with four-time Blues Music Award-winning guitarist Ronnie Earl.
Tolchin has collaborated with renowned artists such as Jackson Browne, Rickie Lee Jones, and Sara Watkins; and has shared the stage with names like Tony Joe White, Dave Alvin, Gregg Allman, and Richard Thompson. Fellow singer-songwriter/guitarist Dave Alvin has been quoted as saying, "Jonah Tolchin is one of my favorite artists working on the highways today. He is one of the very rare, totally honest performers in the often artificial world of contemporary music. Like my heroes Lightning Hopkins or Merle Haggard, Jonah follows his own, unique path through American traditions and it's always worthwhile to follow him down that path."
The album showcases Tolchin's exceptional talent on lead guitar, harmonica, and vocals, with Dickinson on rhythm guitar. Joining them are Terence Higgins on drums (Warren Haynes) and Nic Coolidge on bass. In addition, there are guest appearances by Chris Joyner on keyboards (Ben Harper), Carey Frank on piano (Tedeschi Trucks Band), and Chavonne Stewart (Jackson Browne) guest starring on lead vocal for R&B/soul tune "Too Far Down."
Tolchin has released the video for "Save Me (From Myself," a song that shakes up the dark shadows by expressing a relatable sentiment. Tolchin says it started with a riff and became his favorite on the new album. Of the video, he tells American Blues Scene: 
The album was engineered by Justin Tockett with overdubs by Sheldon Gomberg (Ben Harper/Charlie Musselwhite) and Kevin Smith (Neil Young/Jackson Browne), mixed by Nic Coolidge in Providence, RI, and mastered by Pete Lyman (Brandi Carlile/Jason Isbell) in Nashville, TN.