In blues vernacular he would be considered a griot. You may think of string man Marty Stuart on tour now as a country artist, but he grew up in Mississippi, hung out with John Lee Hooker, and thinks like Willie Dixon that music – all music regardless of genre – should be about truth. To Marty, country music is not just a soundtrack for hillbillies drinking in honky tonks on a wild weekend, but as American culture. It took blues a long time to understand that. Country is still catching up, and Marty is the point man for that effort. 
Marty Stuart is a true Renaissance man whose career has been a fairy tale existence. At the age of 13, he was on the road with bluegrass icon Lester Flatt who told him, "It's not about coming to Nashville, taking all the money, and all the fame and running away. It's about treating people right along the way." In other words, country music is not always about "my dog died" and "my wife left me." 
That perspective has landed Marty one platinum and five gold albums, four GRAMMY Awards and numerous collaborations. He toured with Johnny Cash for six years in the '80s, married Johnny's daughter Cindy, and held Johnny in his arms while recording one of that legend's last albums when Johnny cried over the death of his beloved wife, June.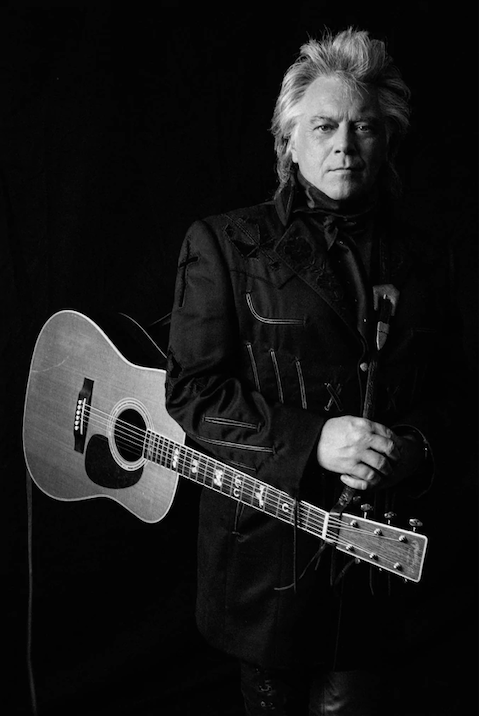 Marty toured with Bob Dylan and fiddler Vassar Clements and worked with Doc and Merle Watson. He's played as a session musician on albums by Willie Nelson, Waylon Jennings, Emmylou Harris, Neil Young and Billy Joel, and his work with Ken Burns on the PBS documentary Country Music in 2019 was proof he was up to the job. 
"When I heard Ken and his crew were considering this, it was like having the cavalry come across the hill because I knew the minute Ken Burns touched country music, we would be elevated to the ranks of the Roosevelts of jazz and baseball, and that's how it works with him, and it was a blessing." 
Billboard said this about the eight-episode the Burns country documentary: "Burns fiercely dismisses the notion that country music is any less weighty a topic than his previous documentaries. 'A lot of people have segregated and imprisoned country music in a very narrow band,' he says. 'American history is much more than just the sequence of presidential administrations punctuated by wars." 
Of all the legacies appearing in that Ken Burns Odyssey, Marty came across as the historian that pulled all the threads together.  
 "I heard that Ken Burns was going to do a show about country music, or was considering it. I wrote a fan letter, and three months later I got a reply. Four months later, there was a knock at my front door. Ken Burns came to my house, and we played country music, had cheeseburgers and talked. We went to work the next morning. 
"We worked on that show for eight years. The first thing I did, I told him, 'I can't fly a space ship, but I am the (beacon) of country music. If I don't know it, I can get you to it.' The first thing I did was make a list. 'Here's the people you need to talk to yesterday because they are old, and they need to be talked to.' 
Merle Haggard was the first on that list to die. Marty didn't see that one coming. "I didn't. I didn't. Nope. I didn't see that one coming as fast as it did. There were some folks like Don Maddox of the Maddox Brothers. That was obvious, but there were some that weren't obvious and losing Hag was pretty profound." 
Maybe in the technical definition of the term, Marty is not a bluesman, but don't tell him that. "To begin with, I'm from the state of Mississippi, so everything down there comes from the blues. I think it actually comes from the church, but everything down there has a tinge of the blues as you and I both know if it's worth a shit.  
"If it's reasonable, it has the blues, and I think first and foremost there's such a razor thin line between the most profound country artists and the most profound blues artists — because if you listen to George Jones, he's nothing but a white blues singer. You listen to the recordings of Bill Monroe, the Bluegrass Boys, the greatest of bluegrass is kind of the blues. 
"Everything I do has a blues tinge. I could talk for 40 minutes about blues, and country music. In the '90s there was a record called Rhythm, Country and Blues which was not a great record, but it was a great idea. Don Was produced it, and it was a record that paired us hillbilly singers with rhythm and blues stars, and I had a suicide mission to do 'The Weight' with the Staples which I wish we'd never done that song. It was done right with The Band, but what it did do was give me a lifelong relationship with The Staples.  
"I distinctly remember at the sessions I said, 'Mavis, who did you listen to growing up?'  
"She said 'Grand Ole Opry.' Who did you listen to?' 
 Marty's answer? The Staple Singers' 1956 hit version of "Uncloudy Day."  
"It's the same music basically," says Marty. "I always wanted to meet John Lee Hooker, and we were (near) where John Lee was working. I got my camera and got myself backstage at John Lee's show, and when John Lee came in the room, he was in a wheelchair, and he had a couple of Amazon white girls pushing his wheelchair. 
"In the early '60s, mid '60s (artists like John Lee Hooker and Bill Monroe, the father of bluegrass) played to 40 people some nights and had to borrow money to get out of town, but Bill Monroe left this world knowing there were bluegrass festivals all over the world. There were generations of kids coming on that would continue to play his songs.  
"So, when you get guys like John Lee and Bill Monroe, Buddy Guy, those kind of characters, they're the same guy, the same kind of person. The stories are the same in a lot of ways, but the big news is the kids out there are going to keep playing it and that's what it's all about. 
"As long as I was working for somebody else, it was great, like Johnny Cash. When I started my own band, I had to go from the top of the world to the bottom and work my way up with a whole bunch of shit time in the middle. So, it's an earned existence, but I was blessed. It's been a blessed journey. I wish every kid could have the upbringing that I've had. I've had access to the masters. They all enriched my life, and gave me life that I carry to this moment." 
For upcoming Marty Stuart dates with his band, The Fabulous Superlatives, head here.