Dom Martin released Buried In The Hail, his third studio album, on September 23, 2023. Martin is one of those artists who bear the label of "greatest guitar player you have never heard of." He has been compared to fellow Irish countryman Rory Gallagher who also bore that label. He has also been compared to Roy Buchanan, yet another greatest guitar player you never heard of.
No doubt Martin admires those guitar legends and many others. You can certainly hear their influence in Buried In The Hail. It is no wonder the accolades have been piling up since the release of his debut album – Spain To Italy – back in 2019. A Savage Life followed in 2022 earning even greater praise. The European media has used such glowing terms as "absolutely wonderful stuff" and "the next rising star in the global roots scene" to describe Martin and his music. And while it may sound like hyperbole, Blues in Britain has proclaimed him to be "a rare talent of such sheer genius."
Martin may be a genius but he is a modest, maybe even a reluctant one. In discussing Buried In the Hail he admitted he was not happy with his first two albums. "I've nothing against them really," he says. "They just weren't the way I wanted them to be recorded. If it were up to me I would have recorded them a little differently."
He is quite open as to the reason why he is not happy with them. "The first album I was very, very drunk," he told me. "I have no memory of recording that first album at all. And the second album, I was equally messed up." Consequently, he had little control over the recording sessions and the end products were not quite what he was looking for. This third effort was different.
"This album is a true representation of what I'm about," Martin says. "So I'm just very, very grateful that I was finally able to create something I can leave behind. If I die tomorrow, I'm pretty happy I was able to get out something that I needed to get out of my body, get out of my mind. I'm very glad to have the opportunity to do that finally, on this album."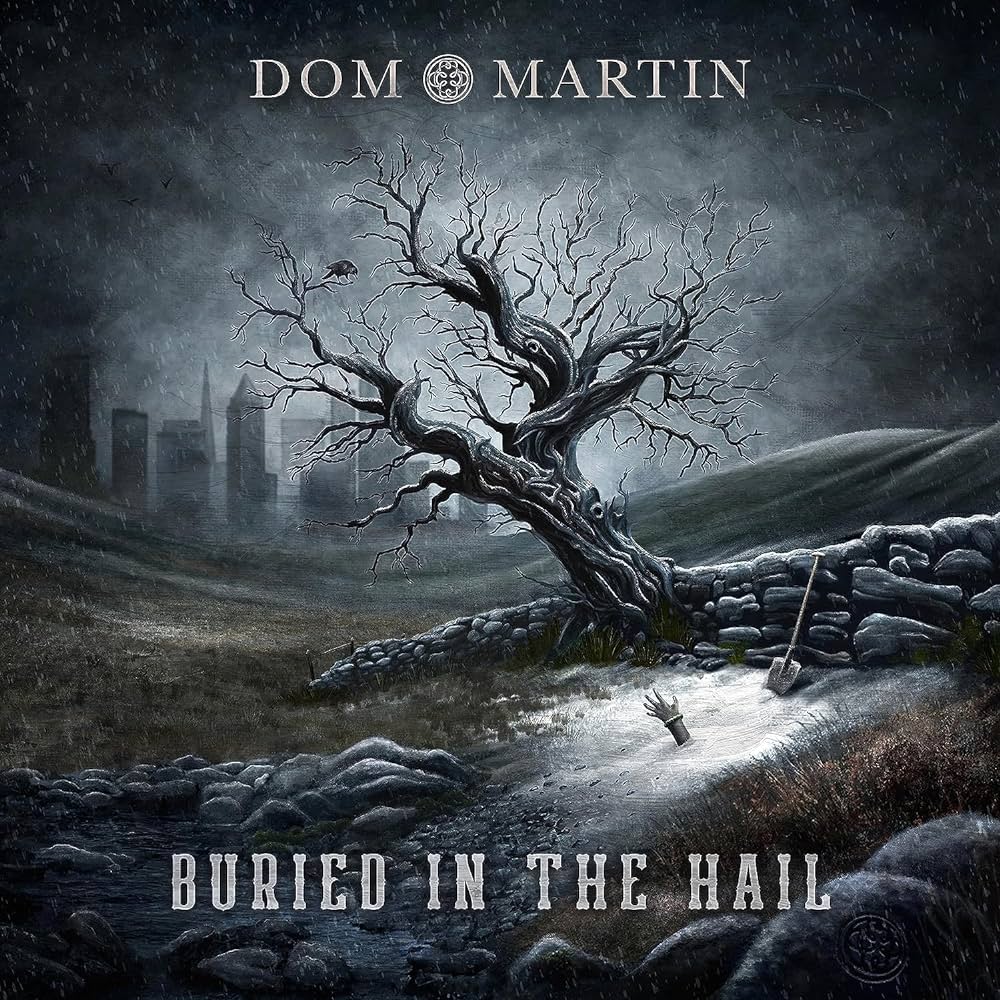 Martin's writing is very personal. Buried In The Hail is for those who feel buried or overwhelmed. It helped him grow a lot and "hopefully anyone who listens will grow with it."
Grow in what way? "I don't know. In whatever way they want, I guess," Martin says with a laugh.
"I never intended to put these songs out there," Martin continued. "They were not written for human consumption. I made these albums for myself, really. I use songwriting to get over various things. It's helped me tremendously."
Songwriting is cathartic for Dom Martin, a way to exorcize old demons. He never gave that much thought, though. "It's just something I've always done," he told me. "I don't know how people cope without it. I really don't."
"Belfast Blues" is the latest release from Buried In The Hail. It is a little glimpse into Martin's life as pub singer when he was starting out in Belfast. Martin described the song as "Just a little glimpse of all the mayhem I used to encounter in Belfast when I was playing concerts there. I don't play there much now. Back in the day I used to do pub gigs. They were very low key. Little bars and clubs and stuff. Which were great fun. But I would play on Tuesday nights, which were very quiet. It was very easy to get into a fight on Tuesday nights in Belfast, trust me. It's when the crowds are there I find it a lot easer."
He spoke with a bit of fondness about his time playing in Belfast, even when he was playing outdoors at Christmas time "and it was always freezing and sometimes it was just so cold your hands didn't work. I'll never forget just the bitter coldness in those beer gardens around Christmas time, trying to make a living on them streets."
Through it all, despite the freezing temperatures, the fights breaking out, someone trying to steal his shoes – "I have no idea why" – and even being attacked with his own microphone stand, Martin is able to say, "I enjoyed (playing in Belfast). I really did."
"Belfast Blues," then, is a song that says, "this is where I have been and this is where I am from." But even as fondly as he looks back on it, Martin says, "I've done my time, playing in those pubs and clubs and stuff. I don't want to go back there. I have enough scars from it and I don't want anymore."
Martin does a cover of Patsy Cline's "Crazy" that is much sadder, slower, and bluesier than one usually hears. Its inclusion on Buried In The Hail is no accident. "I always try to include a cover on an album," he says. "And I was feeling out of sync with reality a little bit at the time. My mind was slipping a little bit, at the time. And I was looking for a cover anyway and the lyrics to 'Crazy' just kind of crept into my head."
After a brief pause he continued, "The lyrics just fit the time. And I like Patsy Cline. I think she's a legendary singer. She had a very sad end to a very sad life for her. And Willie Nelson… This time I'm tipping the hat to two legends, one of whom is still with us, thankfully. And who knows? Maybe he will hear it and like it."
Martin was very candid about being depressed at times and how alcohol controlled his life at times. But he says the latter, at least, is well behind him.
"Yeah, I went to work very young," he says. "And I don't know… I got lost along the way as we all do. There are a lot of things I can't really recall. I'm glad I got out in the end. I'm clean and sober now. I'm very happy to be off all that and away from the crowd I used to be in."
For the record, he has been nine or ten years clean and four years sober. He is also very appreciative of those who listen to his music. And if he still feels frustrated at times with his music, he is "happily frustrated" – just in different ways.
Martin told me he had thousands of songs in the works, just like any true songwriter. "But I don't know if we will ever get to record them. They may be just for personal consumption over the next couple of years. We'll see what happens.
"I find there is a great finality on making a record now. You can move on from those songs and just keep your focus on going ahead, going forward. You can keep evolving, keep changing. You can just bloody try to navigate and survive this crazy world."
Buried in the Hail was released by 40 Below Records, which is also home to Grammy-nominated artists John Mayall and Sugaray Rayford. Martin co-produced the album with Chris O'Brien and Graham Murphy. Joining him in the studio were bassist Ben Graham and drummer Jonny McIlroy.