Since the release of his breakthrough single "Maybellene" in 1955, guitarists around the world have been attempting to emulate and master the songs Chuck Berry and his guitars so effortlessly yielded. From Angus Young to Keith Richards, every rock guitarist to ever strap on a six-string is in debt to Berry and his musical innovation.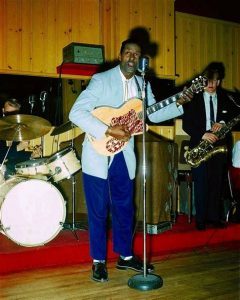 Throughout his long career the granddaddy of rock 'n' roll was renowned for playing Gibson guitars, but before they were on the scene, he was pictured playing a Kay Thin Twin K-161.
During his early career Berry's go-to guitar was a 1957 Gibson ES-350T which sported the company's new P.A.F. humbuckers, and was used to cut the majority of his recordings with Chess Records. He was also be seen playing a 1956 Gibson hollow body ES-350TN, with a thin natural finish, on numerous TV appearances.
Eric Clapton described the ES-350TN as "beautiful," and bought the same model as a tribute to Berry, who is one of his heroes. He played it in concert with him in 1986 and later expressed that he had hoped to impress Berry by appearing on stage with the guitar, but laughingly recalled that he never even noticed what he was playing.
By the late 1950s Berry was already fond of the ES model guitars, and when the ES-335 was issued in 1958, the same year as his hit single "Sweet Little Sixteen," he began using it and remained a torchbearer for the model until his death.
Berry was photographed with a number of ES-335's but it's believed that some of them were provided to him so that he wouldn't have to fly with his own beloved instrument. He was also seen playing a Gibson ES-330 hollow body electric, and a black Gibson Les Paul custom, while in the 1980s he favored a BB King Gibson Lucille signature.
The most iconic guitar that Berry played was his cherry red Gibson ES-355. Despite playing numerous versions of the instrument, some with Maestro vibratos, some with Bigsbys and some with no vibrato at all, the guitar can be told apart thanks to the split diamond inlay on the headstock.
Besides Gibson's, Berry also dabbled with a few other brands, most notably Gretsch. He was seen playing a 1959 Gretsch 6121 Roundup, and a Gretsch 6120, as well as a Gretsch G6136DC White Falcon double cutaway.
In later years the rock 'n' roll architect was photographed using a cherry red 1967 Gibson Flying Vee, as well as a Gibson Super 400. While the whereabouts of a few of these guitars is unknown, some can be seen in museums, and one will never be seen again, as Berry was buried with his famed Gibson ES-355 guitar in 2017.