Kenn Kweder, a fiercely independent-songwriter, has been a Philadelphia icon since the 1970's. Born in Upper Darby, PA, the folk-rock musician first wanted to be a professional basketball player. He hit the scene making his mark with his first band, Kenn Kweder & The Secret Kidds. Influenced by Leaonard Cohen, Bob Dylan, David Bowie, Lou Reed, and Captain Beefheart, he was nearly signed by Clive Davis to Arista Records. Kenn stuck to his guns and resisted as Clive wanted to fire his hometown band and drastically change his sound.
Kweder has worked with The Ramones, Patti Smith, and Cheap Trick. Also, he has a performance record; he has performed at Smokey Joes, a University of Pennsylvania bar, for thirty years straight. By his estimation he has played over 1,500 gigs at Smokey's. Kweder's song "Heroin" is a hit around Philadelphia and "Manute Bol" was played on ESPN in the 1980s.
Kenn Kweder's press conference is now available to listen on Apple Music and multiple online platforms. For Kenn's diehard fans, this is a real treat and new perspective into Kenn's near six decade long run in the music business. No one else in the Philadelphia area has done anything quite like this. In fact, I can't think of anyone who has done anything like this. Everyone who is into music should listen to this. This is a musical history lesson equivalent to a semester of college music credit.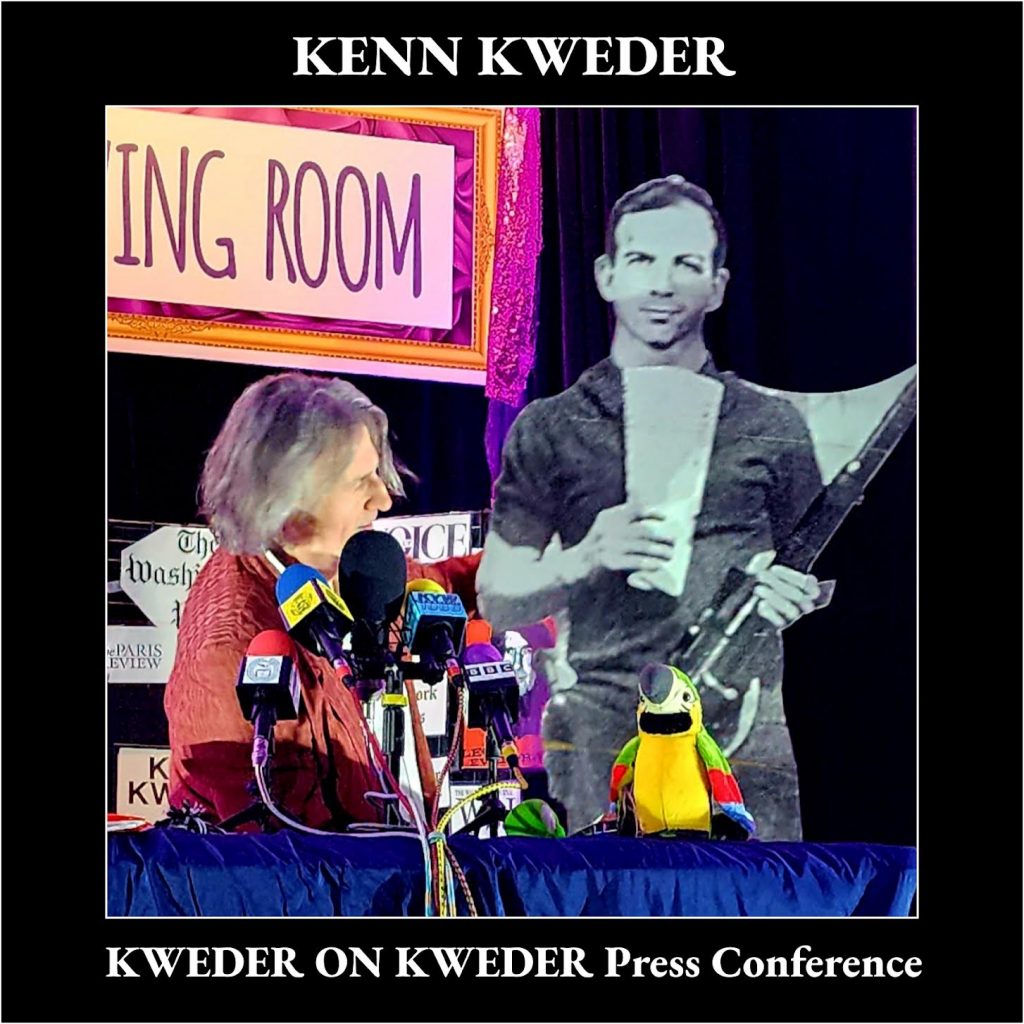 For over an hour and half, audience members ask Kenn unique questions ranging from his life philosophies and music career to run-ins with Elon Musk, Tom Waits, Andy Warhol, and Bruce Springsteen. Kenn is witty as can be, humorous, engaging, electric, and downright intelligent. He loves telling stories and is an excellent performer. He has a deep love for his fans and is eternally grateful for them.
Kweder's stories throughout the show are legendary and beyond comical. Midway through the show, Kenn talked about his Andy Warhol days. To keep a full head of hair, Andy taught him to rub raw silk over his head. Dr. Bones, Kweder's longtime voodoo witch doctor, used to clear out his household energy anytime he moved and would cast spells on Kweder bandmates who wouldn't show up on time to rehearsal. In the early seventies as Kenn started making his mark in the Philadelphia music scene, he posted photos of his name with the word Folk and an image of Lee Harvey Oswald being shot. Thousands of his posters were glued with carnation milk all over Philadelphia and some remain posted even to this day.
Another fantastic story includes Bruce Springsteen. When Kenn went to see him perform at The Main Point in Bryn Mawr, PA, he was amazed how good Springsteen was. Kenn being highly competitive and musically confident, his blood pressure kept rising throughout the show. Springsteen's talent ended up giving Kweder an explosive nosebleed during the show. Also, Kweder talked about hiding his money in other people's homes. He has put it everywhere; behind walls, under rugs, and even in freezers. This is what he believes one should do when receiving unexpected vast amounts of money.
Kenn knew Elon Musk back during Elon's college days when he used to work at The Philadium, a University of Pennsylvania bar. Elon was his barback. Also, Iqram Magdon-Ismail who invented Venmo used to open shows for Kweder at Smokey Joes. Kweder calls it bizarre that he is tied into the financial sectors of the world yet is totally broke. The pinnacle of the press conference revolves around Tom Waits. Kenn's longtime manager Bill Eib, who booked acts for colleges and went on to manage Amos Lee, had him pick up Waits for his east coast shows. He became Waits' limo driver and after seven to eight trips became lackadaisical.
Eventually, Kweder started helping himself to the free backstage booze. When Kweder was too intoxicated, he brought his friend along who would drive Waits. A few times Kweder woke up in the back of the car to Waits driving him. This ended Kenn's brief limo driving career. There are so many fascinating Kweder tales throughout the conference and other stories include poet Marty Watt, Manute Bol, Tommy Travins, Kenn's diet, Taylor Swift, and Bob Dylan.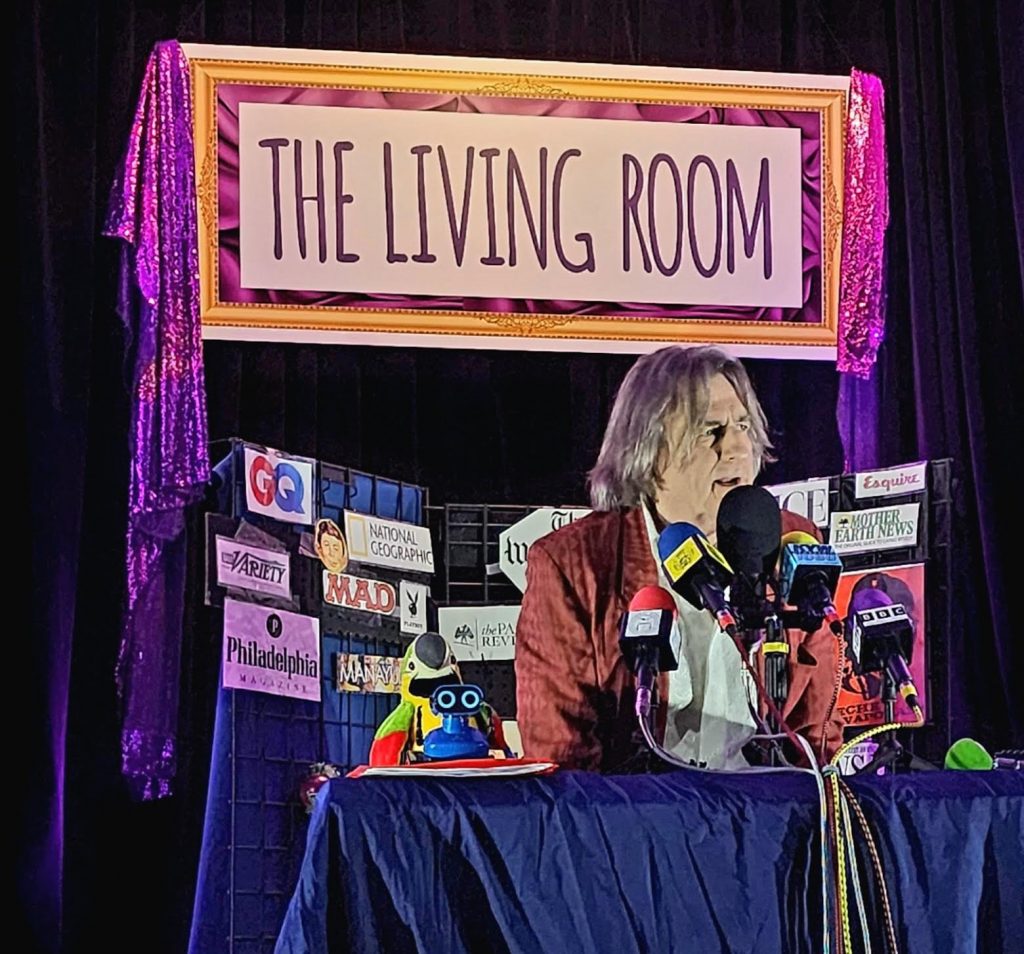 This press conference is a summation of Kenn's entire career and is an important piece of performance art. As a young college student at The Berklee College of Music, I wanted to be a recording engineer. After my first year, I interned at Third Story Recording in Philadelphia with chief engineer Scott Herzog. I didn't know who Kenn was at the time, but at Third Story on the walls were amazing unique press photos with the name Kenn Kweder. They left an indelible mark on me. After the summer and back at Berklee, I didn't get into the recording engineering program. I remembered Kenn's name from the photos and started listening to his music. This led to the realization that I wanted to write songs, so I pursued Berklee's Songwriting degree. Kenn's music and personality have inspired so many people. The Kenn Kweder Press Conference will not only entertain but also inspire.
The conference was filmed and recorded June 17th, 2023 at The Living Room & Cricket Café in Ardmore, PA. A special thank you to venue owner Laura Mann and legendary photographer Carolyn Miller. Steve Haldis filmed the event and Eli Taylor engineered it. Toby Pimms and Lynne Finkelstein were executive producers. Ian Maley hosted the conference and production crew included: Cindy Pierson, Steve Curtis, Greg Curtis, and Veck McCartin.
Editor's note: Kenn Kweder and Brant Buckley worked together to create edit notes from the initial live conference recording. From the notes, Joe Tessone of Mystery Street Recording, Chicago, IL, edited and mastered the audio. Kenn would also like to thank Bluesman Jesse Graves for giving his blessing to the entire project.