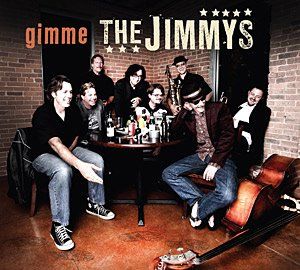 So what do you think of when you think of Monticello, Wisconsin? Yeah, right? Some cows maybe. Farms. The Packers are way over in Green Bay. By now you're even wondering where Monticello is, right? It's right there in the middle of DairyLand, USA, (a skosh south and west of Madison) where you'll find the Voegeli Farm, established in 1854. Over a hundred years later and they still produce world renowned dairy geneticists and… one Wisconsin Area Music Industry 2011 keyboardist of the year, Jimmy Voegeli.
Enter The Jimmys and their boogie-woogie jump blues sound that is every bit as excellent as the cows that come from Voegeli Farm, the Green Bay Packers, and Wisconsin cheese. Their late 2011 CD titled simply, Gimme The Jimmys is worth every second, and if you're catchin' them live, you'll be dancing.
This CD opens with a HaDaYa HaDaYa, a jump tune if ever I heard one! Something about adding horns that brings an element of fun to an upbeat blues tune. And the horn section here is the Amateur Horn Stars, featuring Bryan Husk, Chad Whittinghill, and Peterson Ross. Like all the songs on this CD, Jimmy Voegeli wrote the music and lyrics and this is a great way to open an album. In Girl All Woman, there is a deep boogie funk movement of the bass (John Wartenweiler), drum (Mauro Magellan), and piano. The accent is a great harmonica piece by Ken Olufs. Hell or Heaven follows, a nice smooth R&B tune built on a great mix of electric piano and organ. Jimmy's Groove opens with organ, guitar and bass, and the rest of the band works itself in as the song fleshes out in this jam, featuring Bun E. Carlos on drums. Dig the southern drawl on the slide guitar of Dan Baird in She Don't Love Me. Two contrasting dance tunes, the upbeat Love Will Find A Way will have you swing dancing, and then a nice slow dance tune in your baby's arms with organ and brushes in Baby's So Fine. JiMo Boogie is drum and piano getting it on, and another very danceable tune. Man, move the tables out of the way! Tofflers Pub and Grill in New Glarus must be jumping on Thursday nights when The Jimmys play! A Dave Potter guitar solo and a vocal embellishment fill in a slower funk groove on All I Ask, before the album ends in an interesting juxtaposed pair of tunes. First, the dirge-like The Tree, with a slow New Orleans style wailing horn sound, strings, and a marching drum in the back, is definitely gonna leave you blue, and then the album ends on a reprise of Heaven Or Hell.
So now you know what's in Monticello, Wisconsin. The farms have the cows. The cows have the geneticists. The rest of us have the Jimmys. Lucky us.