In honor of the upcoming International Blues Challenge  tomorrow, we're reposting last year's article on Memphis and it's place in Blues history!
Memphis, Tennessee is one of the most musically rich cities in the world. It was home to such diverse geniuses as Booker T., Furry Lewis, B.B. King, Sam Phillips, Elvis Presley, and the Memphis Horns; names that are just a drop in the greater bucket of Memphis music. What do each of these acts, and the hundreds of other Memphis exports have in common? The Blues. In fact, Congress officially named Beale Street, Memphis "The Home of the Blues" in 1977, and Memphis has the very unique title of being named "The birthplace of Rock n' Roll". It might be unique, but it's no surprise, given Rock's long love affair with the blues.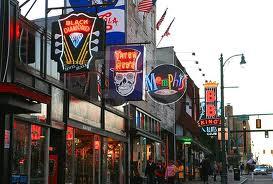 The world famous Beale Street is frequented by millions of visitors yearly, and hosts the Blues Foundation's International Blues Challenge annually. B.B. King got his first big break on Beale, originally naming himself "Beale Street Blues Boy", before shortening it to "Blues Boy" and then simply "B.B." And in 1953, a shy young man named Elvis Presley walked into Sam Phillip's Sun Records hoping to record a song for his mother's birthday. Several months later, Sam Phillips called him back and asked him to record an album. His first success was a track by bluesman Arthur "Big Boy" Crudup. Elvis grew up listening to the blues and for the first few years of his musical career, he simply played what he knew; blues music. Sun Studios is also where owner Sam Phillips discovered what he often called his greatest discovery: Howlin' Wolf. "When I heard Howlin' Wolf," said Sam, "I knew, 'this is where the soul of man never dies."
In 1962, at the legendary soul label Stax Records, singer Johnny Jenkins had some time left in the studio, so his young driver, Otis Redding, convinced Johnny to let him record a track that he'd wrote. When they asked him what key he wanted it in, "I don't care" was his nonchalant response, and the rest was history. Stax produced a strong soul and blues sound for decades, deeply influenced by southern gospel and blues. Among the many Stax artists was none other than Albert King.
Why was it Memphis that produced such a strong musical foundation? What made Memphis special? During the era of sharecropping, many of the most talented musicians in the Mississippi Delta would make their way to Memphis, the nearest populated city, and Beale Street, sometimes to record the blues, other times to play it on the streets and in it's clubs for money. With that many musicians converging in the same place for decades, their influence on one another and others exploded, and Memphis quickly grew into a musical mecca, one who's influence rocked the world and singlehandedly shaped music as we know it.
For your enjoyment; another Memphis artist; Sam Cooke… Live at the Harlem Square Club in 1963. Have you ever heard a voice so unique?!