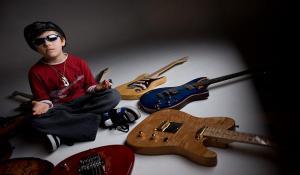 Check back soon to catch our chat with Tallan Noble Latz, a fascinating and hugely talented 11 year old bluesman who might be one of the hardest working folks in the blues right now! He's made dozens of national and international TV appearances, including an impressive run on America's Got Talent! Tallan's mighty skills have earned him stage time with a huge list of unbelievable musicians that would make almost everybody's jaw drop… And in between his rigorous touring schedule, TV appearances, and studio work, he still has time to swing down to Texas to make instructional videos for those getting into guitar.
He may be young on the outside, but Tallan has what you'd call an "old soul", and he's sharpened his teeth with the likes of Buddy Guy, Les Paul, Walter Trout, Jimmie Vaughan, Dave Ulrich, Guitar Shorty, and dozens of others.
Keep watching for Tallan; he has nowhere to go but up –and quickly! And be sure to check out what he has to say to American Blues Scene as he talks about Robert Johnson, playing with Walter Trout, and his fantastic journey so far!