Joe Bonamassa is set to release his 12th full length solo album Dust Bowl on March 22nd. The album, made in collaboration with long time producer Kevin Shirley, breaks all the rules of genre, which is everything Joe's ever-growing legion of fans have come to expect from his albums.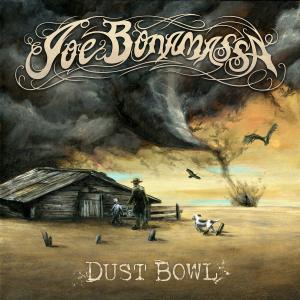 Bonamassa is one of the most exciting artists in music, and Dust Bowl helps to solidify the fact that he can't be pigeonholed into one musical class; blues, country, hard rock, even some spanish influences pepper the record. The diversity of his guitar playing carries a broad range of musical styles and influences, and the expert use of a deeply-rooted blues base gives the album a solid and consistent theme.
The first track  begins with a sound like a train leaving the station, compliments of the drummer, and explodes into a fusion of gritty blues and hard rock; Joe's blistering guitar and falsetto create both a haunting and electrifying start to a exquisite album. "Tennessee Plates", with John Hiatt (who wrote the track) has a solidly old-school country feel. The track is interestingly spiced up with Joe's second-to-none stinging guitar riffs. "The Meaning of the Blues" is a blues song about hard times, with a scorching hard rock hit, while "Last Matador of Bayonne" has the flavors of a Spanish medley mixed with heartfelt blues in a timeless message. Ultimately, there's not a single unlikable track on the album, and every song drips with power and emotion, which isn't surprising, since those qualities are what have made Joe Bonamassa one of the most powerful and unmatched guitarists in the world.
One of the continuing key qualities of Joe Bonamassa's albums is the sheer amount of energy, in which Dust Bowl is no exception. While many studio recordings are rather subdued in comparison to their live show counterparts, Joe's albums consistently break that rather dull rule and seem packed so full of energy that the music nearly explodes through the speakers. Dust Bowl is a surefire hit, and a must-have for anybody looking for the true evolution from delta blues to modern rock.