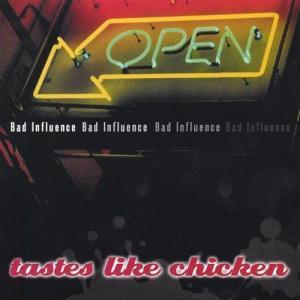 Washingtonian Magazine hails Bad Influence as "a part of a long and worthy Washington blues tradition." With an award for best blues band, 2003, by the Washington Area Music Association, Bad Influence has garnered a devoted following all over North America and Europe, including performances at the prestigious Kennedy Centre for the Performing Arts. Eleven of the twelve songs on this CD are penned by band members, Michael 'Jr' Tash, Roger Edsall, Bob Mallardi, and David Thaler.
"Love Dot.com" jumps right into it, literally, with a tale about a married man's best friend in this computer age (wink, wink). "Don't Forget Your Nightclothes" moves smoothly along with background sax from Jay Corder, with Michael Tash on guitar. We can see why this group is so popular on "She What?" Audiences will be enjoying the groove, coupled with shout-out hooks that keep on coming. "Road House", and "B-Flick Man", give a smile at our own foibles while keeping the beat bright. Sliding into a slow blues, "Talkin' To the Wall", written by Michael Tash, with a nice wailing sax solo, speaks to the pain and futile effort in trying to salvage a relationship beyond its 'best before date'. "I have a teacher friend who has played this song for his class after turning out the lights and asking his students to close their eyes. When the tune ends and the lights go on the class is instructed to draw what their impressions were", shares Michael Tash. He goes on to say that a woman contacted the band to tell them she was so moved by this track that she had to pull the car over.
On "DC Driver" we are up and dancing, or driving far too recklessly with this story about road rage in the Nations Capital. After "Break Out" we move to a solid bass line that slips easily into "When I'm With You", a sweet love song, written by Mallardi. Michael Tash's playing here more than satisfies on many levels. Using a 1960's Magnatone M10 amp with Fender Strat guitar, "Run To The Money" moves along to dove-tail into the instrumental "Cat Fight", showing off the skills of Edsall on harp, Guest Eric Shramek, stand-up bass, and Thaler, on drums,
The finishing touch is a very capable cover of a James Harmon tune, The Clown. Having heard Harmon play this, it had me smiling and bobbing my head in homage to the master musician/composer/vocalist. Another thing I appreciated about this product was the liner notes giving details of the gear used in its creation.
Well done, Fellas, we're looking forward to the next album release which I am told is slated for later this summer.