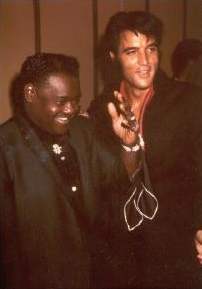 This time in our Behind The Keys series, we'll take a look at the life of Fats Domino, a rock n' roll icon. In the Fifties with a rockin' piano, Fats Domino emerged from New Orleans to become one of rock-and-roll's earliest and finest stars. With over 65 million record sales to his credit, Fats out sold every Fifties rock and and roll pioneer except Elvis Presley. He was the first musician to become a rock 'n' roll icon solely on the strength of his music, and not as an image or novelty.
Born Antoine Domino on February 26, 1928 in New Orleans. Being Creole, the first language he spoke was French. When he was a child, his brother-in-law (who was twenty years older) taught him to play the piano. Fats fell in love with it, and played every chance he could. He was strongly influenced by the music of Albert Ammons and Fats Waller, among others. When Fats first performed in public, he was a nimble 10 years old, and was even a hit early on! At fourteen, he left school and worked days in a factory so he could perform at local nightclubs around "the Big Easy", as New Orleans is lovingly called. Fats was playing at a club when band leader Dave Bartholomew, (who would become his writing partner on many of Fats' hit songs), heard him and asked the young musician to play in his band. Fats joined the Dave Bartholomew Band in the mid-40's as a piano player and singer, but soon out-shined the other members in the band, and struck out as a soloist.
In 1949, he signed with Imperial Records, and at his first recording session, he made sure to record the traditional "Hey La Bas". La Bas is originally the voodoo god of luck, and was identified with St. Peter in French-Catholic Louisiana. The record indicated a coming together of many years of New Orleans history and musical influence. It was not, however, his first record to be released. A song about drugs called "The Fat Man" was cleaned up a bit for his first commercial release, and it made the R&B chart in 1950. "The Fat Man" featured a rolling piano and Domino doing "wah-wah", vocalizing over a strong back beat. It sold over a million copies and is widely regarded as the first rock and roll record to do so. The Fat Man also became a nickname that stuck and the name "Fats Domino" was born. Another song that made the R&B chart for him, "Every Night About This Time", used a piano triplet for which Fats was to become famous. It showed how his music had been influenced by that of Little Willie Littlefield. Fats had another R&B hit with "Goin' Home" in 1952.
Domino often found lyrical inspiration in the experiences of everyday folks. "Something that happened to someone, that's how I write all my songs," he said. "I used to listen to people talk every day, things would happen in real life. I used to go around different places, hear people talk. Sometimes I wasn't expecting to hear nothin', and my mind was very much on my music. Next thing I'd hear, I would either write it down or remember it good."
He exploded onto the rock-and-roll scene in 1955 when his song, "Ain't That A Shame," was covered by Pat Boone. Boone's version went to number one, and Domino's version on Imperial went to number ten. Though Pat Boone's milder cover of the song received wider radio airplay in that racially-segregated era, it did established both artists as stars. Fats recorded background tracks on the records of other artists too, such as Joe Turner and Lloyd Price. He continued to write songs with Dave Bartholomew, many of which became hits. In 1956 he put five songs in the top forty, including "I'm In Love Again" and Fats' rendition of a song that had reached number one for Glenn Miller in 1940, "Blueberry Hill". This up-tempo version of the Vincent Rose, Al Lewis & Larry Stock song reached #2 in the Top 40, was #1 on the R&B charts for 11 weeks, and was his biggest hit! "Blueberry Hill" sold more than 5 million copies worldwide in 1956-57. The song had earlier been recorded by Gene Autry, Louis Armstrong among many others, but it was Fats who made it into his own, with a pounding piano triplet figure that wouldn't let you lose the groove, and the version set radios across the world on fire! After that, there was no longer a need to use Pat Boone to get Fats Domino's music into the ears, radios, and turntables of white listeners.
After "Blueberry Hill", Fats Domino's popularity exploded. In 1957 he appeared in a movie that many consider to be the best rock-and-roll film ever made, The Girl Can't Help It, singing his hit "Blue Monday." Another Fats Domino hit, "I'm Walkin'," was covered by Ricky Nelson in 1957 and helped to launch that teenage singer's career. Even as rock 'n' roll's popularity waned as Little Richard retreated into the ministry, Elvis donned Army fatigues, and a battalion of well-scrubbed teen idols invaded from Philly, the Fat Man kept on rocking with "Whole Lotta Loving," "I'm Ready," "I'm Gonna Be A Wheel Someday." " I Want To Walk You Home," and "Be My Guest", which wafted down to Jamaica and ended up a cornerstone of ska's birth. "Be My Guest", also had a curious origin — a teenager was told by his father to get a job or get out of the house, so he wrote "Be My Guest" and waited in line for a chance to pass it on to Fats Domino. He was able to do so, and heard from Domino's agent some time later; thus was begun the songwriting career of Tommy Boyce.
Domino continued to have a steady series of hits for Imperial through early 1962. After Imperial Records was sold to outside interests in early 1963, Domino left the label: "I stuck with them until they sold out," he claimed in 1979. In all, Domino recorded over 60 singles for the label, placing 40 songs in the top 10 on the R&B charts, and scoring 11 top 10 singles on the pop charts. Twenty-two of Domino's Imperial singles were double-sided hits.
Domino moved to ABC-Paramount Records in 1963, and right away the label started making changes. The label dictated that he record in Nashville rather than New Orleans. He was assigned a new producer (Felton Jarvis) and a new arranger (Bill Justis); Domino's long-term collaboration with producer/arranger/frequent co-writer Dave Bartholomew, who oversaw virtually all of his Imperial hits, was seemingly at an end. Jarvis and Justis changed the Domino sound somewhat, notably by adding the backing of a countrypolitan-style vocal chorus to most of his new recordings. Perhaps as a result of this tinkering with an established formula, Fats' chart career was drastically curtailed. He had his final top ten song in 1960 with "Walking To New Orleans". He recorded some old Hank Williams songs such as "Jambalaya [On The Bayou]" and "You Win Again" and he did old standards such as "Red Sails In The Sunset," which was his final top forty song, in 1963. He released 11 singles for ABC-Paramount, but only one ("Red Sails In The Sunset") was a top 40 entry. By the end of 1964, the British Invasion had changed the tastes of the record-buying public, and Domino's chart run was over.
Despite the lack of chart success, Domino continued to record steadily until about 1970, leaving ABC-Paramount in mid-1965 and recording for a variety of other labels: Mercury, Dave Bartholomew's small Broadmoor label (reuniting with Bartholomew along the way), and Reprise. His final chart single was on Reprise, a cover of The Beatles' "Lady Madonna" which peaked at #100 in 1968. He also continued as a popular live act for several decades, playing Las Vegas frequently, and at the Royal Festival Hall in London in the 80's. He made some more films along the way, including Shake, Rattle and Roll, The Big Beat, and Jamboree. In the 1991 Fats had to leave a tour of Great Britain due to health problems.
After that, Fats decided he would no longer leave New Orleans. Having a comfortable income from royalties, a dislike for touring, and claiming he could not get good food that he liked anywhere else, Fats told everyone he was staying in New Orleans. His induction into the Rock and Roll Hall of Fame and an invitation to perform at the White House failed to persuade Fats to make an exception to this policy, but he was persuaded to perform out of town periodically for Dianna Chenevert, agent, founder and president of New Orleans based Omni Attractions. Most of these engagements were in and around New Orleans, but also included a concert in Texas at West End Market Place in downtown Dallas. Mostly Fats just wanted to cook Gumbo and stay at his home in the predominantly working-class Lower Ninth Ward neighborhood (his home from the day of his birth!), where he was a familiar sight in his bright pink Cadillac. He made yearly appearances at the New Orleans Jazz and Heritage Festival and other local events. In 1987 Fats was awarded the Grammy Lifetime Achievement Award, and in 1998, President Clinton awarded him the National Medal of Arts. In 2004, Rolling Stone Magazine ranked him #25 on their list of the "100 Greatest Artists of All Time."
When Hurricane Katrina was approaching New Orleans in August 2005, Dianna Chenevert encouraged Domino to evacuate, but he chose to stay at home with his family, partly because of his wife's poor health. His house was in an area that was heavily flooded. (It was actually one of the epicenters of Katrina's wrath). The day after the storm no one had heard a word from Fats, and Chenevert e-mailed writers at the Times Picayune newspaper and the Coast Guard with the Fats' last known location. Some thought Domino was dead, and one person spray-painted a message on his home, "RIP Fats. You will be missed," which was shown in news photos. On September 1, talent agent, Al Embry, announced that he had not heard from the Fats since before the hurricane had struck. Later that day, CNN reported that Fats was rescued by a Coast Guard helicopter. When photos of Fats' rescue from his flooded home finally hit media outlets, the planet breathed a collective sigh of relief. The Domino family was then taken to a Baton Rouge shelter, after which they were picked up by JaMarcus Russell, the starting quarterback of the Louisiana State University football team, and Fats' granddaughter's boyfriend. He let the Dominos stay in his apartment. The Washington Post reported that on September 2, they had left Russell's apartment after sleeping three nights on the couch. "We've lost everything," Domino said, according to the Post.
Soon, an outpouring of help came to the rescue. Fans from around the world started sending Donations and Tipitina's, an internationally famous club in New Orleans, started a foundation for Domino and the restoration of his home, where he eventually returned. "I like it down there" he said in a February, 2006 CBS News interview. Chenevert replaced the Southern Stars poster Fats Domino lost in Katrina, and President George W. Bush also made a personal visit and replaced the National Medal of Arts that President Bill Clinton had previously awarded Fats. All of Fat's gold records were replaced by the RIAA and Imperial Records catalog owner Capitol Records.
Domino was the first artist to be announced to perform at the 2006 Jazz & Heritage Festival. However, he was too ill to perform when scheduled and was only able to offer the audience an on-stage greeting. Domino also released an album Alive and Kickin' in early 2006 to benefit the Tipitina's Foundation, which supports indigent local musicians. The title song was recorded after Katrina, but most of the cuts were from unreleased sessions in the 1990s.
On January 12, 2007, Domino was honored with OffBeat Magazine's Lifetime Achievement Award at the annual Best of the Beat Awards held at House of Blues in New Orleans. New Orleans Mayor Ray Nagin declared the day "Fats Domino Day in New Orleans" and presented Fats with a signed declaration. OffBeat publisher Jan Ramsey and WWL-TV's Eric Paulsen presented Fats Domino with the Lifetime Achievement Award. An all-star musical tribute followed with an introduction by the legendary producer Cosimo Matassa. The Lil' Band O' Gold rhythm section, Warren Storm, Kenny Bill Stinson, David Egan and C.C. Adcock not only anchored the band, but each contributed lead vocals. Swamp pop legend Warren Storm lead off with "Let the Four Winds Blow" and "The Prisoner Song," which he proudly introduced by saying, "Fats Domino recorded this in 1958… and so did I." The horn section included Lil' Band O' Gold's Dickie Landry, the Iguanas' Derek Huston, and long-time Domino horn men Roger Lewis, Elliot "Stackman" Callier and Herb Hardesty. They were joined by Jon Cleary (who also played guitar in the rhythm section), Al "Carnival Time" Johnson, Irma Thomas, George Porter, Jr. (who, naturally, came up with a funky arrangement for "You Keep On Knocking"), Art Neville, Dr. John and Allen Toussaint, who wrote and debuted a song in tribute of Domino for the occasion. Though Domino didn't perform, those near him recall him playing air piano and singing along to his own songs.
Fats finally did returned to stage on May 19, 2007, at Tipitina's at New Orleans, performing to a sold out house.
In September 2007, Domino was inducted into the Louisiana Music Hall of Fame. He has also been inducted into the Delta Music Museum Hall of Fame in Ferriday. In December 2007, Fats Domino was inducted into the Hit Parade Hall of Fame.
In May 2009, Domino made an unexpected appearance for The Domino Effect, a namesake concert aimed at raising funds to help rebuild schools and playgrounds damaged by Hurricane Katrina.
No other veteran R&B artist of his era would come close to equaling his long-term impact on rock 'n' roll, as evidenced by the wide variety of artists covering his songs, from Bobby Darin, Ella Fitzgerald, Ricky Nelson and Ike & Tina Turner to John Lennon, Paul McCartney, Sheryl Crow, T-Rex, Los Lobos, and Cheap Trick. He was an important influence on the music of the 1960s and 1970s, and acknowledged as such by some of the top artists of that era. Paul McCartney reportedly wrote the Beatles song "Lady Madonna" in an emulation of Domino's style.
"On and off the stage, he's a true man who belongs to the public," said the late Roy Montrell, his longtime guitarist. "Everything he does, he does it with his public in mind." He's still a man of the people. Fats Domino remains beloved, not only in his native Crescent City, where he's a virtual deity, but everywhere. As one of the irreplaceable rock 'n' roll pioneers of the 1950s, he deserves no less.