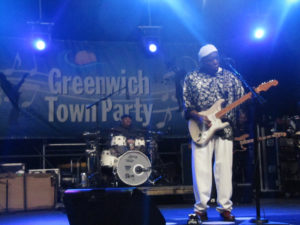 The lead song off blues legend Buddy Guy's latest album, Living Proof, is "74 Years Young." He ain't lyin'!
A mere month from turning 75, the six-time Grammy winner was a ball of energy this past Saturday at the first annual Greenwich Town Party, a 12-hour outdoor event that saw Guy's hour-and-fifteen-minute set end things with a bang.
Some in the crowd at Roger Sherman Baldwin Park had seen a rotating cast of musicians all day, from Robert Randolph and the Family Band to the current cast of singers calling themselves The Temptations, but nobody came close to preparing them for the Buddy Guy experience.
Working every inch of the stage, possessing the kind of charisma that could make a racist woman fall in love with him, as skilled a showman as he is a guitar player and vocalist, Guy entertained with every fiber of his being. Even when he's not almost lighting the stage on fire with scorching guitar solos, he's prompting smiles with hip gyrations and facial contortions as he's bending strings. Guy also at times rubbed his guitar against his torso and butt to great comedic effect. Near the end of the night, he even played with his teeth for a time on Jimi Hendrix' "Voodoo Chile."
Scot Weicker, president of SPW EventsGroup, which put on the event that brought Guy to Greenwich – the third wealthiest town in Connecticut – said he wasn't sure if most residents knew who Guy was prior to all the publicity about the town festival. However, "Thirty-eight-hundred people fell in love with Buddy Guy tonight."
Guy kicked things off with "Nobody Understands Me But My Guitar" after taking the stage right on time at 8:45 p.m., but soon paid tribute to one of his musical heroes with his own version of Muddy Waters' "Hoochie Coochie Man." Guy began, "The gypsy woman told my mother, before I was born, you gotta boy-child coming, gonna be a…"
When the crowd failed to finish the line by yelling out the words "son-of-a-gun," Guy stopped the music, scolded them and threw in a curse word knowing he'd get a laugh.
"Wait a minute, wait one minute now," he said. "I did the same song in India three weeks ago…and they didn't f*ck up the song like you just did."
Guy then began the song again and the second time around, when prompted to finish the line, the crowd didn't leave him hanging. "Oh yeah," responded Guy.
Guy then tackled "She's Nineteen Years Old," another Waters tune, before morphing into a brief medley of "Love Her With a Feeling" and "Man of Many Words."
Up next was "Slippin In,'" the title track off of his 1994 album, and a staple of Guy's concerts. The crowd always provides an assist on the chorus ("While you were slipping out, someone else was slippin' in") and the Greenwich crowd didn't disappoint. Of course, Guy fed them the entire line once or twice before seeking their input, unlike on "Hoochie Coochie Man."
Thirty-five minutes into the show, Guy got into "74 Years Young," a song that initially leads you to believe Guy has mellowed a little. However, the tempo builds little by little and culminates with a fiery guitar solo that makes you realize Guy is still his same old self; a highly-skilled Chicago bluesman who is so versatile he can show up any so-called rocker. He's equally adept at playing a John Lee Hooker song (which he did with "Boom Boom") as he is playing Hendrix. What other bluesman who recorded with Muddy Waters and Howlin' Wolf can play down home blues or truly attack a fretboard like Buddy Guy? The answer? Only one guy. Buddy Guy.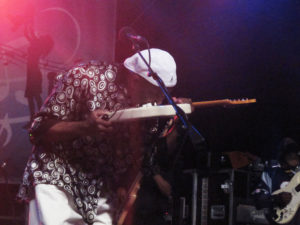 Guy showed his softer side with "Skin Deep," a song that advocates treating people the same, no matter their color. He kept his voice hushed for the most part but let his guitar do all the shouting on a mid-song solo. Guy did a second song from his new CD – "Let The Door Knob Hit Ya" – before the segment of his show where he talks about how he and other blues players in Chicago had to be diverse if they wanted to get paying gigs. That meant being able to play all of the popular songs that were on the radio, from "Fever" to "Meet Me With Your Black Dress On", which Guy did for Saturday's crowd. After that short departure from the blues, Guy reeled everyone back in with some incendiary guitar playing on songs many in the crowd were definitely more familiar with – "Strange Brew," recorded by Cream (Eric Clapton's old group), Stevie Ray Vaughan's "Mary Had A Little Lamb" and Hendrix' "VooDoo Chile."
Adding to Guy's already impressive version of "Voodoo Chile" was the fact he repeatedly whipped a hand towel against the strings of his guitar, all while staying on point with the band.
When the show came to an end a minute or so later, no one felt the need to demand an encore song. That's because they had been thoroughly entertained seeing, in the flesh, the man Eric Clapton calls the world's greatest living guitarist.