We all know Ana can play. We all know she can sing. As if she has something to prove, she absolutely tortures the fretboard on "Unconditional" and  she belts out tune after tune.
A seasoned veteran now, she's been playing since she was 15, after years of watching her highly recognized guitar / bass player father Milutin jam almost nightly, she picked up the tool that would forge her career. Popovic has clearly developed into quite a player and all around musician, proving that she can easily adapt to many musical situations. Ana steps out of the box on a number of occasions, throwing in some jazz and a touch of soul in just the right spots!
The title track "Unconditional" , her upcoming release on  Eclecto Groove Records takes us back to a time long before she was born in Yugoslavia and takes advantage of some very solid, if not brilliant piano work that fits it in very nicely with her tasty guitar licks. It's obvious she is heavily influenced by her father's impressive blues and soul record collection.
Track 4 "Reset Rewind" for reminded me of the The Band and The Allman Brothers and I found that I like it quite well, especially after the second or third time through. "Slideshow" is a smokin', guitar driven number with a thick pounding bass, riding shotgun. Toss in a spot on shuffle beat and you have recipe for action out on the dance floor. I almost forgot that one was an instrumental and almost five and half minutes long! They found the pocket and it was great!
On Track 9 "Summer Rain" Ana once again proves she has mastered her tone and her instrument.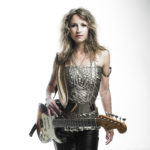 This CD really is a demonstration of just how many dimensions and layers there are to her music and proves that she is at the top of her game.
I am gonna go ahead and toss this out there, Ana showcases many blistering blues guitar licks throughout that will stand up against any of her male counterparts in the blue world.
I really think there is something for everyone on "Unconditional" from serious guitar driven blues rock to a soulful jazzy mix  and everthing in between.
I thoroughly enjoyed this and would highly recommend grabbing a copy.