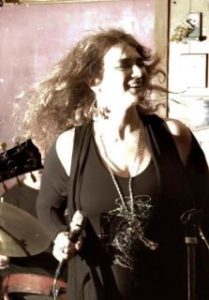 Have you ever had an emergency responder encourage you to go near an active volcano? You have now. One active volcano you are encouraged to visit is Cee Cee James, the Vocal Volcano herself, and the smaller the venue the better. Be prepared to be swallowed up in vocal lava!
Cee Cee James recently returned to her Washington home on Whidbey Island for a trio of shows, one in Tacoma being a fund raiser for vets, and the other two at Cozy's, a bar in Clinton on the south end of the island. Troy and Stephanie hosted the events at Cozy's, one of those shows being an impromptu booking due to a cancellation at another venue.
Having just come off several weeks of illness that sidelined her, saw her rhythm guitarist and husband in the ER, and bass player Dan Mohler still fighting the crud, it was purely her heart that made her come out hot. Dan's bass rattled the rafters, and Slide Boy, the aforementioned rhythm player, was his usual self and laying down the melody better than ever. He looks a lot like Greg Allman these days, bright eyes, smile and all. You would never have known that band member sickness preceded these shows.
So what goes into a Cee Cee James eruption? Well, a little warm up first. As she loves to do in small venues, she works the crowd before the show. Table to table, greeting friends, and mostly saying, "Thanks for coming!" It's part of who she is. The band is tuning their instruments, she tunes the crowd.
And then it begins. In the first of these two shows, it was the four man gig, with Dan, Chris Leighton on drums, Rob "Slide Boy" Andrews on rhythm guitar, and Cee Cee on vocals that did the first set, debuting cuts from her soon to be released CD, Blood Red Blues. And right away, if you're a fan, you notice that this woman, in the short time she's been away, has become even better. No resting on the laurels of past achievements and skills.
From the crooning, sultry, and soft "Wounds" and "100 Ways to Make Love", (whoa, baby) to the kick ass slug of whiskey that was "Right to Sing the Blues", she demonstrates that there is no moss growing on that stone. She will rip open your heart, and then get your tush out on the dance floor to shake what your mama gave ya! Lest the surprise be ruined, I'll say no more about the new CD. Go buy it and get lava-fied!
The influence of Jim Gaines was not only noticed, but acknowledged by Cee Cee, and as I promised, I won't divulge what Mr. Gaines so generously shared with me. However, let us all be thankful because that influence then spills out of the magma chamber and into the country side as Cee Cee launches into past tunes she has written as well as some of the old standards.
In tunes like "Red House", there are eye witness reports though of literal jaws hanging open at her rendition. Why? Because Cee Cee uses her voice as an instrument, and watching her duet up with a lead guitar on the track evoked dropped jaws. She is that good. Here comes that lava stream!
A paired set, "I Just Want to Make Love to You" seamed with "Rock Me Baby" is very cool. At this show, lead player Tim Ender blended Foghat's version with his obvious influence of Gary Moore excellently and obviously.  "Crossroads", "Hoochie Koochie Man", "Me and Bobby McGee", and "Mercedes Benz", which Cee Cee performs a capella, are just some of the classics that they play. Add some of her own originals like "Love Makes Change", "Low Down Where the Snakes Crawl", and "Make it To the Other Side" and you'll quickly see that you are dealing with an original and an artist.
Her last performance on this small island in the Northwest was St. Patrick's Day. Cozy's, the venue, sold out weeks in advance. Cee Cee worked the crowd, engaging the people. And once the show started, it didn't stop. Two and a half hours of blasting it out, because she wanted her band mates from Seattle; Dan, Tim, and Chris, to get on a ferry and get home at a reasonable time. That's what you call a volcano with a heart. The originality, the artistry, and the heart make Cee Cee James what she is, and worth the effort to see. Look for her new CD, Blood Red Blues, coming in May, and don't be afraid to bask in the heat of this Vocal Volcano!