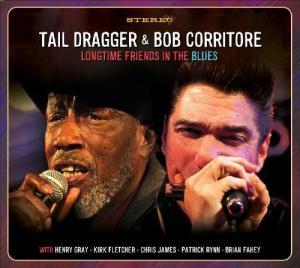 Fans of traditional Chicago blues are in for one heck of a treat. The title to the latest by Tail Dragger and Bob Corritore, Longtime Friends in the Blues, released by Delta Groove Productions, says it all. Tail Dragger is a long time creator of "low down dirty blues," having played with Howlin'  Wolf for years in Chicago. Bob Corritore is one of the greatest performing traditional harmonica players in the blues — a title which he easily proves on Friends.
The album is filled with traditional Chicago blues from the best in the windy city. It's also a virtual nod to the late, great Wolf. Tail Dragger channels the blues master, especially in the first two tracks, with the trademark howl and Wolf-themed licks. Dragger has his own, somewhat slurred vocal style, and Corritore blows an amped up harmonica like the wind behind him — a potent combination. Henry Gray, who played piano with Big Maceo Merriwether and later Howlin' Wolf, adds a valuable, exciting barrelhouse piano sound to the album. On "Boogie Woogie Ball", the long time piano master really gets his time to shine, as he plays a rockin' boogie tune while exchanging an entertaining back and forth with Tail Dragger.
Nine of the ten tracks are original, bringing a great aire of freshness to a traditional sound. Meeting the day after Howlin' Wolf died, the two incredibly skilled musicians have been friends since the 1970s. With the best in that trad. Chicago sound, including Kirk Fletcher and Chris James on guitar, Patrick Rynn on bass, and Brian Fahey on drums, the album was destined to be a modern Chicago blues hit.