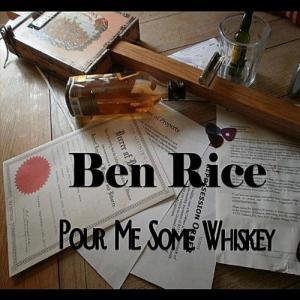 So many kinds. Whisky, or whiskey? Bourbon? Single malt? Highland single malt? Blended? Charred barrel or not? Oh the varieties. And so it is with the Ben Rice Band's Pour Me Some Whiskey.
This CD is like going into a bar and discovering that the shelves are all top notch whisk(e)ys. In this case, you have ample styles of blues to choose from, and what the hell, just say, "Barkeep, pour me some whisky. Surprise me…."
And he does.
The first thing you'll notice about this young man is that he plays slide guitar incredibly well. He teaches slide guitar, in fact. Ben has great energy, writes great songs, and plays really well, whether slide or not. With lyrics like "My father was a preacher, my mother a prostitute," you just know it's going to be good. Joining him are Ryan Rustrum on drums, and Tom Rice on bass. Three guys? Yea, for the most part. You know it's gonna be good, or go home.
Oh, a little Makers Mark? How about the Memphis soul sound of "I know You Love Me", with what sounds like a pedal steel — a Hawaiian swing!? On to the swing band "Chop You Up", and the added funk in "Cheaper By the Dozen", all songs with the added horns. Man, that was smooth, and that fire inside is starting to build.
A little Green Spot? Oh, stepping up now. "Give Me a Call," with its shuffle swing groove let's you know these guys can kick it up a notch. Opening with flames on the drums, "Country Boy," drops into a rocking Mississippi hills guitar riff and filtered mic. The title cut, "Pour Me Some Whiskey", is a straight up quarter note back beat groove. Can you feel it!? Velvet fire gonna get those feet a movin!
Here, try this. It's The Maccallan. At a certain point, you put the boogie out on the floor fun aside. It is time for some serious 30 year old drink. Sit back and marvel at what emerges. "Wreck On You" has a Steve Earle/John Hiatt wild boy angst all fueled with a four on the floor straight up rock beat augmented with wind in your hair slide work. This is the sippin stuff! Focus on it, hear that taste! The lap steel of "Wants Me Back Again" brings to mind that wonderful deep sound of Chris Whitley, layered with a beautiful bass line backdrop. "Bad Bad Boy" closes out the album with a slide tour de force, and this is one CD that gets you applauding from your chair! The finish lingers on the palette after the final notes have stopped….
You'll be surprised by that bar keep all right. All the different kinds of blues they know and the other styles that have influenced these young players means you're going to leave that ear bar a happy camper, and you will be back.
Whether his previous two CDs or this one, go ahead and ask Ben Rice Band to Pour Me Some Whiskey, and slake your blues thirst!