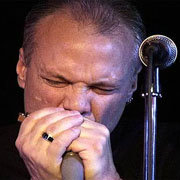 Award-winning soul blues singer/harmonica master Curtis Salgado will undergo surgery on July 18 in Portland, Oregon, to remove a cancerous growth from his lung, according to his manager Shane Tappendorf.
A partial lobectomy will be performed to remove a segment of Curtis's left lung where a metastasized mass was found. It is suspected to be the same type of cancerous mass that was removed from his lung in 2008.
Salgado will be hospitalized for a period of four to six days and will require a recovery time of up to four weeks. The acclaimed blues singer and his doctors anticipate a complete recovery.
Winner of the 2012 Blues Music Award for Soul/Blues Artist of the Year, Curtis Salgado has recorded eight critically acclaimed solo albums. He tours internationally with his own band and has also toured as vocalist with the Robert Cray Band, Roomful of Blues and Santana. Salgado is also credited with being the inspiration for John Belushi's character of Joliet Jake in The Blues Brothers. Salgado's new CD, Soul Shot, on Alligator Records, is being hailed as his greatest album to date and continues to receive rave reviews and radio airplay worldwide. Blues Revue calls Soul Shot, "A joyous celebration of life. Soul Shot is this millennium's finest soul blues record…deep, commanding, and essential."
"I am extremely grateful for the overwhelming support of my family, friends and fans and the courageous people that have faced this fight before me," the 58-year-old Salgado wrote from his home this week. "I also want to thank the promoters and venues for their understanding regarding my medical situation. We will do our best to reschedule all of our performances affected by my surgery."
I texted Curtis and told him we'd do what ever we could to help and in true Salgado fashion, here's his reply: "Cool beans….will pop this bad boy out and move on….it's showtime!!!!

Salgado, who was diagnosed with liver cancer on March 23, 2006, underwent successful liver transplant surgery on September 30, 2006 at the Nebraska Medical Center in Omaha, Nebraska.
If you've spent anytime on this website at all you know how fond we are of Curtis's music and as Curtis as a human being. He is truly one of the most caring individuals on the planet. If you are in a position to help this cause, you can do so below:
Donations to help with Curtis's expenses can be made online at: http://curtissalgado.chipin.com/curtis- salgado-medical- fund. Donations can also be made to the Curtis Salgado Fund c/o Odaglas LLC Donation Account at all US Banks or by mail to US Bancorp, 2550 NW 188th Avenue, Hillsboro, OR 97124.
For additional information please visit www.curtissalgado.com  and  Curtis's Facebook page