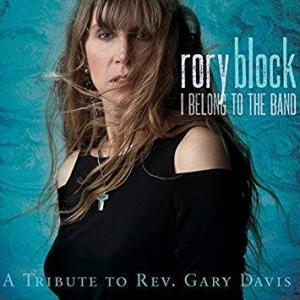 Every now and then we hear someone being referred to as "an American Treasure." Names that come to mind are Benny Goodman, Lionel Hampton, Duke Ellington, and Frank Sinatra. These were truly unique individuals that are part of the cultural fiber of America; they are the best that America has to offer and the world has endorsed that view. Rory Block has been an American Treasure for at least two decades, if not longer. A proponent of the Country Blues style, she has kept the roots of that style, and playing of the early masters alive, vibrant, and most importantly, relevant. She met and knew some of the greatest masters of the form including Mississippi John Hurt, Son House, Skip James, Mississippi Fred McDowell, and Reverend Gary Davis. With I Belong To The Band, Rory Block has cemented her indisputable position as a master of this genre.
You may wonder how a white girl who did not grow up in the Mississippi Delta could grow up to play blues so well — or why she would even want to. For years the so-called music industry would not acknowledge her abilities because she was a woman, and what could a white woman possibly know about playing the blues of the great masters? Early on someone exclaimed at one of her performances that "She plays like a man." Block persisted because this music has always touched her soul and moved her spirit. Over the course of her career she has paid tribute to various giants: Blues Walking Like A Man (Son House) and  Shake 'Em On Down (Mississippi Fred McDowell). She has now reached a definite milestone in her career with her current tribute, I Belong To The Band.
To say that I Belong To The Band is a masterpiece is an injustice. It is hauntingly beautiful, moving and authentic; and that's just the vocals! The atmosphere is sparse, as is the recording, which keeps the focus on the music. There is nothing overwrought on this album in an effort to make it "authentic" – it IS authentic, and wonderful! The playing is unassuming and moving; stunningly flawless. All the reverence and love that Block has for this music is apparent throughout. The influence and impact this performance will have on blues can be compared to that of Miles Davis' Kind of Blue and B.B. King's Live At The Regal. It's just that good. It is as much a gift to herself as it is to the rest of us. Don't deny yourself this experience; buy the CD.