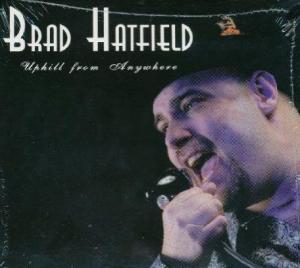 Often, folks will experience a cataclysmic event that changes their life forever. How a person deals with this event, and the changes that come from it, truly says a lot about who they are. Peter Green has fought his way back from mental illness. Jimmy Vaughan has overcome addiction and other demons that haunted him, and emerged as an elder statesman of the blues community (and one of the most humble and beautiful spirits you'll ever meet). Magic Johnson has managed to show people that not only is it possible to beat AIDS, but he has lived a full life of sharing and giving to others. Recently we lost Steve Jobs who chose to show us all how to live instead of how to die. Brad Hatfield, bringing the blues to Cincinnati is also such a person. Formerly a guitar player, a construction accident severely curtailed his movement and mobility, leaving him unable to play. So, he began to play the harmonica and has become one of the best out there today.
Hatfield's new album, Uphill From Anywhere is amazing! The album consists of 11 killer tracks, very well produced by Jon Justice and engineered by Dave Gross. The band is killer too: Brad Hatfield – Vocals & Harmonica; Jon Justice – Electric & Acoustic Guitar; Bernie Hatfield – Electric Piano, Organ, Wurlitzer, Upright Piano; Scot Hornick – Electric & Upright Bass, and Michael Bram on Drums and Percussion. Clocking in at just under 40 minutes, there is plenty here to be excited about.
While all the tracks on this album are good, there are several standouts. The album starts with "Witness To My Misery", a blues with some seriously tasteful guitar from Jon Justice, fine electric piano from Bernie Hatfield, and some great vocals from Brad Hatfield himself. Hatfield delivers even better vocals on "One More Night", which is just plain soulful. This track could be played as a Chicago blues, or even as straight-up Motown or Memphis soul – just a really incredible vocal performance! "She Got Time" is a steady pounding, foot tapping blues that does not disappoint. "Living Out The Lie" is a slow, funky, soulful blues masterpiece that harkens back to "Love That Burns" (as laid down by the Peter Green Fleetwood Mac); easily the best track on this album. The band has fun with the Son House standard "Death Letter", playing it as an old school Delta blues with some excellent piano that sets the whole song off perfectly.
The sound on this album will remind you at times of Tinsley Ellis, Joe Cocker, Luther Allison, and Peter Green among others. Brad Hatfield's harmonica playing is extremely good and his vocals are exceptional. This is a very well rounded, well written and well played album. If you don't pick up a copy of this you will be missing out.