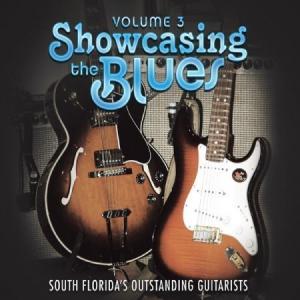 Showcasing The Blues, Volume 3 (South Florida's Outstanding Guitarists) is a collection of stellar Florida guitarists, culled from their recent CDs issued on the Mosher St. Records label, under the auspices of the South Florida Blues Society. With a generous 15 tracks, this CD will let you get your blues on for over an hour! Overall, this is an excellent cross-section of the current Florida blues scene which is full and bursting with quality blues and musicians. Florida is quickly gaining national recognition for its crop of fine blues players.
The CD opens with David Shelley & Bluestone's "Living With The Blues". Next up is J.P. Soars doing a bouncy version "The Hustle Is On". This cut has a great honky tonk blues feel to it. The guitars border on sparsely placed energetic rockabilly licks over a piano boogie; a well played cut all around. Josh Smith serves up "Sober Up Baby", which sounds very much like blues you would hear in a supper club: Organ leading over a great rhythm section, with a good basic blues guitar weaving in and out in small bursts. Adding old school R & B style vocals over the whole mix sets things off perfectly. Joey Gilmore's "You Put The Rush On Me" is a flashback to 70's style blues; great mix, soulful feel & production values, great basic blues guitar that is never pretentious that adds another layer of depth to the song. Famous Frank Ward represents with "Down By The C Side", which has a decidedly Albert King vibe to it. The guitar lines, backing organ parts and overall feel is definitely a nod to Albert King and a respectfully well done one at that.
Albert Castiglia makes a great showing with "Big Toe", which starts of with an acoustic guitar and gritty vocal intro, followed by the band coming in full on with some grinding, pounding electric blues. Albert tends more toward the blues-rock genre and does it so well. Up next is "Blues Attitude" by Az Kenny Tsak. This track is more rock than blues and has a decidedly Blackfoot feel to it, especially the guitar work, which is quite good. Joel DaSilva gives us "Boogie Real Slow". This well played track will almost instantly remind you of "Texas Blues" by Gary Moore; similar tempo, similar guitar only a fuller sounding and very tastefully played. Following DaSilva we have "Going To A.K.A. 61" by Josh "The Pitbull of Blues" Rowand. Indeed! Hearing the first few notes you already know you are gonna enjoy this tune. The guitar is an almost early, raw Stevie Ray Vaughan vibe and the tone Rowand achieves is really sweet! Michael Locke joins the fray with "Pleasure King", an energetic shuffle which also has a vaguely SRV vibe and great tone.
The home stretch leads off with "Sea Of Faces" by Shawn Starski. This is a great live-ready cut with a foot tapping beat and that background organ that just sounds so sweet. The guitar adds presence in just the right places, right on time all throughout the song. "Don't Change Me, Enjoy Me", by Jeff Prine is a well executed track. The guitar picking and rhythm playing are very good, as are the piano runs. The piece moves into an almost jazzy vibe; a very interesting and well played piece of music. Up next is "Fever" from Darrell Raines. This is another cut with that great 70's sounding slow, almost funky blues. Wow! The guitar playing is subtle, controlled, focused and just stellar, as the rest of the band keeps things tight. "My Bleeding Heart" by Eric Austin is a classic Chicago style slow blues with some great guitar licks and good, dripping guitar tone. Closing out the collection is Steve Laudicina's "SAN-HOY-ZAY", a very live sounding, smoking instrumental cut with some mighty fine playing. This CD is worth the price of admission and won't leave you feeling like you should have bought a case of brew instead. Pick up a copy now.