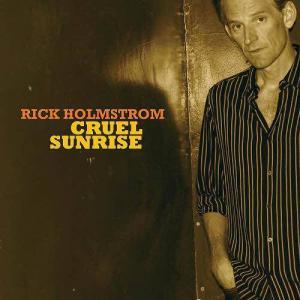 There are albums that you can just lose yourself in completely. Billie Holiday's Lady In Satin is great for a rainy day, as is Alone & Acoustic by Buddy Guy and Junior Wells. Kind of Blue, by Miles Davis is another album to get lost in. Blind Faith, Dark Side of the Moon, Let It Bleed; the list goes on and on. Cruel Sunrise by Rick Holmstrom is just such an album. Holmstrom earned a 2010 Grammy Award for his work on Mavis Staples' "You Are Not Alone," and has spent a great deal of time touring and recording with her. Cruel Sunrise is his first solo outing in since Late In the Night, released in 2007.
In many ways, this is an eclectic album. There are songs that are throwbacks to twangy country, and others that are slow, beautiful blues. There are songs that evoke the Jim Jarmusch/Neil Young sound of  "Dead Man." There are even hints of early 1970's Rolling Stones sprinkled about. One of the great aspects here is that everything comes across as natural, unhurried, and sincere. There is brilliant simplicity and no flash, but plenty of spark. Joining Holmstrom (guitar, vocals) are Jeff Turmes on bass, slide guitar, saxophone, and backing vocals, along with Stephen Hodges on drums and percussion.
While this is a good album all the way through, there are several standout cuts. The album's opener, "Need To Dream," is a nod to the country rock of  yesteryear. The title cut is good bluesy style pop with a good story, great guitar tone, and a nice solo over the band's excellent backing. Mavis Staples joins the band for the slow, bluesy "Owe You Everything," which is packed full of twang! "You Drive 'Em Crazy" has a soft, slow, almost Stones-like quality about it. "Creepin' In" is funky, with a solid solo, and will evoke memories of the riff from "Sunshine Superman" by Donovan; just really well played. Mavis Staples joins the band again for "Lord Please," which features excellent guitar work against a strong backbeat and vocals. "Break It Down" is an amazing slow blues with great tone and will remind you of the Neil Young soundtrack to "Dead Man." "I'm Not Afraid" has an almost jazzy quality to it thanks to great lines and chording, along with great backing from the band.
This is a well played album with excellent production and sound quality. Cruel Sunrise doesn't scream at you; it allows you to indulge yourself in the music, which is luscious, textured, and inviting. If you are a blues fan, treat yourself to something different.